'Gender Unicorn' Cartoon Teaches Transgender Issues With Optional Parental Involvement in NC Public School District
A North Carolina school district's pro-LGBT character the "gender unicorn" is being used for a training session in which faculty are told parental involvement may not be required for students struggling with gender identity issues.
Charlotte-Mecklenburg Schools had recently approved measures to allow transgender students access to the public facilities of their choice, in defiance of state law, before backing off for now.
Included in their plans for the new measures was a recently released training presentation for faculty that featured the "gender unicorn" character.
The training presentation suggests that the degree of parental involvement in the plan will be determined in part by the student.
"Involvement of parents in the plan is determined in working with the student, considering the student's age and health, wellbeing and safety concerns," the training states, according to keepmyncsafe.com.
In a Facebook message posted Friday, Rev. Graham denounced the school district character, calling it an effort "to try to brainwash our children into accepting that homosexuality and transgender behavior is okay."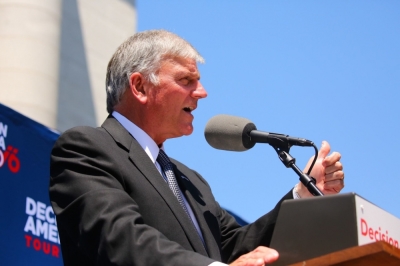 "Parents, watch out. They are using this unicorn to grab the imagination of children and make this seem acceptable," wrote Graham.
"The Communists used brainwashing in Eastern Europe and Russia, and they took the parents out of the decision-making process and the state began to make decisions about morality. This is a dangerous path."
Graham went on to denounce the transgender policy of Charlotte-Mecklenburg and called for action regarding the school board's meeting next week.
"The policy says staff shouldn't use the terms 'girls' and 'boys,' but should use 'scholars' or 'students.' It says that the school will work with students to determine when parents should be involved and that the staff can't tell parents what their gender identity is without the student's permission," continued Graham.
"Be praying for the August 9 Charlotte school board meeting, and if you live in Mecklenburg County make it a priority to attend. Every school board member's email address is in the link — you need to contact them and let them know how outrageous this is."
Earlier this year, Charlotte-Mecklenburg Schools decided to implement a policy allowing students to use the public facilities of their chosen gender identity rather than their biological sex.
The move came in response to North Carolina's controversial HB 2 law, also called the Public Facilities Privacy & Security Act, which states that in government facilities an individual must use the bathroom corresponding with the gender of their birth certificate.
In advance of next week's board meeting, Charlotte-Mecklenburg Superintendent Ann Clark released a statement noting that the transgender policy was going to be put on hold.
Clark explained Thursday that the decision was influenced by U.S. Supreme Court's decision earlier this week to put a stay on a ruling that favored a female transgender student suing a Virginia school district to allow her to use the men's room.
"As a result of yesterday's U.S. Supreme Court ruling, we have placed a temporary hold on the section of the CMS bullying prevention regulation which states that transgender students will be given access to the restroom and locker room facilities corresponding to their gender identity," stated Superintendent Clark.
"CMS remains committed to nurturing a safe and welcoming learning environment for every student … The rest of the regulation, which is intended to promote consistency in anti-bullying support for all students, will remain intact."