Video Calls Out NBA's 'Hypocrisy' for Pulling All-Star Game From Charlotte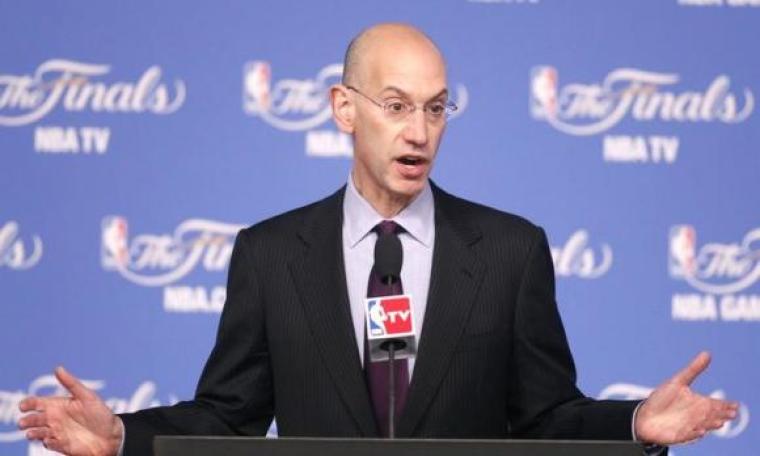 The Family Research Council has published a new video ad that points out the National Basketball Association's "hypocrisy" for moving its 2017 All-Star Game out of Charlotte because of North Carolina's controversial transgender bathroom law.
The NBA announced last month that it will no longer hold next season's All-Star Game festivities in Charlotte because of its objection to a North Carolina law passed earlier this year that requires people to use state-owned bathrooms consistent with their biological sex and gives businesses the ability to create their own bathroom policies.
Citing concerns about legal protections for the LGBT community, The league explained in a statement that it can not "successfully host" its week-long all-star festivities "in the climate created by HB2." The NBA now appears to be close to a deal that would move the 2017 All-Star game to New Orleans.
Published to YouTube and Facebook on Thursday, FRC's ad calls out the sports league for deciding that although it can no longer host the All-Star Game in Charlotte, it can still host pre-season games in China, where the government systematically violates basic human rights and restricts the religious freedoms of its citizens.
As exhibition games in China have become somewhat of a regularity in the NBA, the NBA announced in March that the 10th edition of the NBA Global Games China will feature two matchups between the New Orleans Pelicans and and Houston Rockets in Shanghai and Beijing on Oct. 9 and Oct. 12.
The NBA is "thrilled" to bring teams back to China once again, NBA commissioner Adam Silver declared in a statement in March, with no mention of any hesitation due to China's atrocious human rights record.
"The NBA says the law puts North Carolina out of bounds," the narrator in the FRC ad says, as a penalty whistle sounds for effect. "But meanwhile, the NBA will be holding preseason games in China!"
The video wonders what message the NBA is sending in its removal of the All-Star game.
"Is the NBA saying that China's discrimination towards women, religions, and people groups is acceptable but North Carolina stopping local government from forcing businesses to allow men in women's showers, locker rooms and restrooms is wrong?" the narrator asks. "The hypocrisy of the NBA is eye-popping!"
The ad echoes arguments made by Rep. Robert Pittenger, R- Texas, who sent a letter to Silver on July 21 explaining how he had recently met with constituencies from China who voiced concern about how the Chinese government is "forcefully harvesting vital organs as part of their oppression of religious minorities."
Pittenger asked the commissioner to justify how the NBA can be engaged with a country that has "flagrantly violated human rights with forced abortions and selling vital human organs."
"Is the NBA implying China's abhorrent violations of basic human rights is acceptable, but North Carolina saying men shouldn't use the girl's locker room is a bridge too far?" Pittenger asked. "There seems to be a lack of judgment and moral clarity."
Silver responded to Pittenger on July 26 with a letter explaining that the NBA "cannot choose the law in every country, state and city in which it does business."
Silver's letter, which didn't even mention China, argued that "The NBA All-Star Game is a unique event" and that under the league's "best judgment" it cannot hold the event in North Carolina. It added that it is not abandoning North Carolina, as the Hornets play in Charlotte and there is a NBA Developmental team in Greensboro.
Pittenger and 16 of his House colleagues responded to Silver in a letter dated July 28, which argues that the NBA has gotten too caught up with aligning itself with the political left.
"Liberal activists are more concerned with allowing men into the girl's locker room than standing up for female dissidents in China who face unspeakable sexual abuse and torture, from whom the Chinese government forcibly harvests vital organs," the letter reads. "We would respectfully submit that the exercise of these barbarous acts in China have long been in the public domain prior to the NBA pursuing a lucrative opportunity in China.
"We understand your have chosen to bow to the firestorm in this country," the letter continues. "The lack of free speech in China provides a safe haven for you to advance your business interests."
In an op-ed for The Christian Post, theologian Michael Brown additionally pointed out that when the NBA first chose Charlotte for the All Star Game, the city ordinance regarding bathroom use was exactly the same as it today, and they plan to move to New Orleans, which also has a similar ordinance regarding bathroom use.
FRC's video comes as the United States Supreme Court moved this week to temporarily block a lower court ruling that would have allowed a Virginia transgender high school student to use bathrooms and locker rooms consistent with her gender identity.