George Clooney, Other Celebs to Evoke Prop 8 in 'Gay Marriage' Play (VIDEO)
George Clooney, Jamie Lee Curtis, Martin Sheen and other Hollywood celebs are to perform in a Los Angeles premiere in March of the play "8," which recreates the controversial challenge to Proposition 8 in California posed by a group of activists advocating for same-sex marriage in 2010.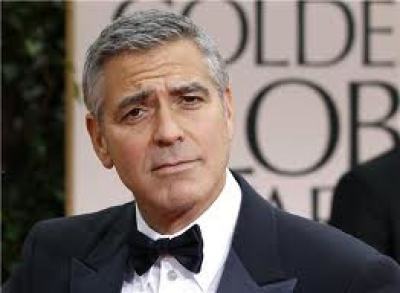 Proposition 8 – or Prop. 8 – was passed in Californian in 2008, ultimately banning same-sex marriage by stating that "only marriage between a man and a woman is valid or recognized in California." But in 2010, the law was challenged following protests from gay activists supporters in an attempt to overturn the California Supreme Court's decision. The judge in the case, a homosexual himself, did overturn Prop 8, but the decision was not yet instigated and is still under review.
Meanwhile, the battle over the defition of marriage has become the subject of a play written by Academy Award winner Dustin Lance Black – who is a member of American Foundation for Equal Rights (AFER), an organization created specifically to lobby for overturning Prop 8. Black also penned "Milk," a feature film about gay activist Harvey Milk. The play, "8," is being directed by actor and director Joe Mantello, according to the production's Facebook page.
The world premiere of the play took place on Broadway in September "in an exclusive, one night only fundraiser to benefit AFER," according to its Facebook page. The September debut starred Morgan Freeman, Anthony Edwards, John Lithgow and Cheyenne Jackson.
The Los Angeles premiere, scheduled for March 3 of this year, is to star George Clooney, Jamie Lee Curtis, Martin Sheen, Yeardley Smith, George Takei, Matt Bomer, Jesse Tyler Ferguson and several other high-profile names, AFER announced Wednesday. The play will be performed as a reading at the Wilshire Ebell Theatre for one night only. However, more than 40 readings are scheduled in more than 17 states.
Prop. 8 was passed by 52 percent of California voters in Nov. 2008, months after the California Supreme Court had legalized same-sex marriage in May of that year. The state's high court upheld the amendment but did not void same-sex marriages that occurred between its 2008 ruling and the passage of Prop. 8.
Proponents of the constitutional amendment argued that exclusively heterosexual marriage was "an essential institution of society," and that leaving the state's constitution unchanged would "result in public schools teaching our kids that gay marriage is okay."
Opponents argued that "the freedom to marry is fundamental to our society," and that the California constitution "should guarantee the same freedom and rights to everyone" and that the proposition "mandates one set of rules for gay and lesbian couples and another set for everyone else." They also argued that "equality under the law is a fundamental constitutional guarantee."
In 2010, the law was challenged in a Perry v. Schwarzenegger case, which was dubbed the 'Roe v. Wade of marriage' by some media outlets at the time. As a result, U.S. district court Judge Vaughn R. Walker overturned Proposition 8 on Aug. 4, 2010, ruling that it violated both the Due Process and Equal Protection clauses of the United States Constitution. Judge Walker issued an injunction against enforcing Proposition 8 and a stay to determine suspension of his ruling pending appeal. The Ninth Circuit Court of Appeals continued the stay, keeping Judge Walker's ruling on hold pending appeal.
However, after a recent hearing about Prop 8 in December, proponents of the ban expressed optimism about the case. Austin R. Nimocks, senior legal counsel of the Alliance Defense Fund, told The Christian Post after the hearings that he thought the court proceedings favored the ProtectMarriage.com team of attorneys. 
"Because four activist judges in San Francisco had wrongly overturned the people's vote, we needed to pass Proposition 8 as a constitutional amendment to restore the definition of marriage as between a man and a woman," reads a statement on ProtectMarriage.com, which summarizes the point of view of those fighting to protect traditional marriage in the state. 
Lawyers for Prop 8. previously filed a motion saying that Walker, who presided over the 2010 case, should have recused himself because he did not reveal he was in a long-term same-sex relationship.
"Walker should have removed himself of the case so that he was not essentially sitting as a judge in his own case since he was situated with his same-sex partner in the exact same position as the plaintiffs were in this particular case," Nimocks told CP in December. "No judge should be the judge of their own case."
The three-judge panel reviewing the Proposition 8 challenge is expected to make its ruling early this year. 
A trailer for "8" is seen below: