Michael Jackson Episode, Gay 'Glee' Dads Spark Controversy (VIDEO)
Fox's hit musical ""Glee"" has planned a future episode to pay tribute to Michael Jackson. The show also recently announced that it would be adding new members to its cast, for the role of Rachel's two fathers. Now, some wonder if "Glee" is trying to use a star studded cast and controversial issues to garner more ratings, while others feel that the show is simply out of control.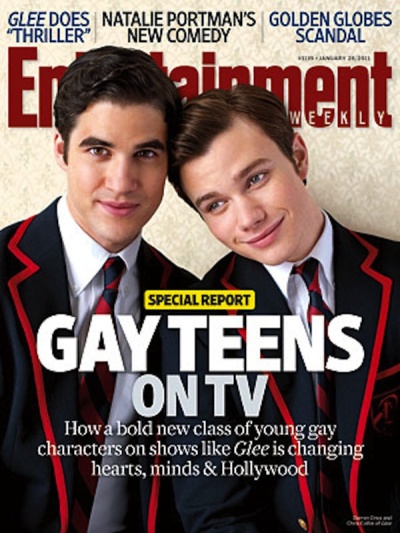 The show will run the new Michael Jackson episode Jan. 31, followed by a Feb. 14 special that will cast actor Jeff Goldblum and Broadway veteran Brian Stokes Mitchell, as Rachel's two fathers. "Glee" co-creator Ryan Murphy told The Hollywood Reporter that his opinion about adding Rachel's fathers to the cast has changed. "I've said that I don't want to do that. But maybe now is the time to do it," he stated.
"Glee" has already received criticism for promoting a homosexual agenda, and the addition of two more gay characters is not likely to help. Bryan Fischer, director of Issue Analysis for Government and Public Policy at the American Family Association, has expressed concerns that the show is "glamorizing homosexual behavior."
""Glee" deceptively uses the medium of music to attract millions of viewers each week while simultaneously pumping pro-abortion, pre-marital sex and homosexuality into a diverse and often very young audience." Nathan Cherry wrote, in an article on the Family Policy Council.
Last year "Glee" also came under fire, after an episode, which featured Lady Gaga's "Born this Way." Part of the song's lyrics include "I'm beautiful in my way 'cause God makes no mistakes…A different lover is not a sin ... No matter gay, straight, or bi, lesbian, trans-gendered life, I'm on the right track baby."
Dan Gainor, vice president for Business and Culture at Media Research Center, was not supportive of the episode. "This is Ryan Murphy's latest depraved initiative to promote his gay agenda," he told ABC News.
King of Pop Tribute on Glee
In a different episode, titled "The First Time," Finn and Rachel, and the homosexual Kurt and Blaine, were staged to lose their virginity. Many were outraged at the suggested sexual promiscuity.
New York-based public relations and media expert Adam Weiss, of Weiss PR, suggested that the episode had gone too far. "Whether straight or gay, such sexually charged scenes have no place in prime time, especially in shows watched by teens and children," he said. "I think the show would have the same success without resorting to such raw sexuality."
However, with the new additions even some fans are starting to question the show's success and sustainability. "You can tell when a show is going downhill by the overbooking of "celebrity guest stars" to distract us from lack of story. Kudos." Sissy Kurt wrote on The Hollywood Reporter blog in regards to the new cast members.