Giant Panda Cub Dies at National Zoo; Mom Made 'Distress' Call
A one-week old giant panda cub died, the National Zoo announced.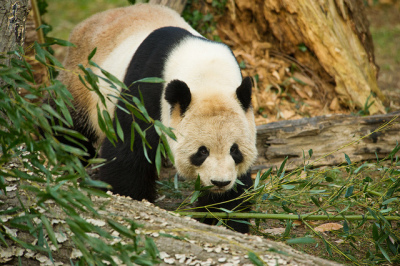 "We are brokenhearted to share that we have lost our little giant panda cub," the zoo, located in Washington, D.C., stated Sunday.
According to the zoo, giant panda Mei Xiang (female) made a "distress vocalization at 9:17 a.m." The veterinarian staff evaluated the cub an hour later after retrieving it. They were unsuccessful in reviving the cub through CPR and other life-saving measures.
The cub, which was the first giant panda cub born at the zoo since 2005, weighed just under 100 grams and there was no outward sign of trauma or infection.
Under the Giant Panda Cooperative Research and Breeding Agreement between the National Zoo and the China Wildlife Conservation Association, Mei Xiang and Tian Tian are currently in Washington, D.C.
"Mei and Tian are the focus of an ambitious research, conservation, and breeding program designed to preserve this endangered species," the National Zoo said.
Though giant panda breeding season began this year, Mei Xiang and Tian Tian were not able to breed. The National Zoo thus performed an artificial insemination on the female panda. Mei gave birth last Sunday, causing much excitement.
Giant pandas are among the rarest animals in the world. Only some 1,600 giant pandas are living in forests in central China. More than 300 pandas live in zoos and breeding centers around the world.