Gingrich Camp Cries Foul Over Evangelical Leaders' Endorsement of Santorum
MYRTLE BEACH, S.C. – Newt Gingrich's two daughters challenged the recent group of evangelical leaders' endorsement of former Pennsylvania Senator Rick Santorum on Monday, calling into question how the vote was handled.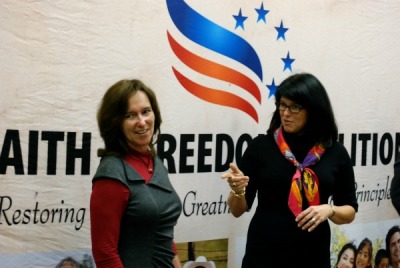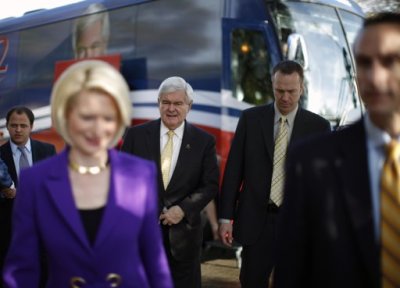 "If you look at the amount of support my Dad had going into that meeting, I think you'll see our support was quite strong," pointed out Jackie Gingrich Cushman to a room full of conservatives. "Besides, it doesn't matter much now because they were in Texas and we're in South Carolina now and this is where presidents are chosen."
Last Saturday, a group of the nation's leading Christian public policy leaders gathered at the Texas ranch of former Judge Paul Pressler. Of the some 150 invitations emailed, a handful chose not to attend, thinking little would come from a group with such strong and varied opinions.
To the surprise of even the designated spokesperson, Tony Perkins of the Family Research Council, the group reached a decision after three ballots to endorse Santorum, who at final count received 85 out of 114 votes cast.
But some people, including Gingrich's daughters, are crying foul over the way the endorsement was handled. Apparently the group assigned Perkins the responsibility of media relations for the first 24 hours after the final ballot, since many would be traveling and unavailable to comment.
"Being under a 24-hour promise of silence, I guess the only voice was the voice that was heard," Richard Lee, a Gingrich supporter, told The Washington Post.
In addition, some attendees maintained the meeting was designed to favor Santorum from the outset. "I'm trying to correct the record," former congressman J.C. Watts told The Christian Post in a telephone interview.
"There were three ballots during the meeting. On the first one, Santorum received 57 votes while Gingrich got 48, Rick Perry got 13, Mitt Romney got 3 and Ron Paul got 1," explained Watts. "After the first ballot, only the top two moved into the second round, which resulted in 49 votes for Gingrich and 70 for Santorum.
"All I can say is Newt's support was just as strong coming out of the meeting as it was going in."
The Gingrich campaign, which includes Watts, said that several Gingrich supporters had to leave to catch flights home and could not stay for the third and final ballot. It is estimated that six to eight Gingrich supporters did not vote.
Gingrich Daughters Critical of Santorum Endorsement
Watts reiterated "that every Newt supporter who went into that meeting supporting him, came away from the same meeting supporting him."
But there's not too much to fret about, says Kathy Gingrich Lubbers, who believes the Texas meeting will not have much of an impact on her father's campaign in South Carolina.
"It didn't move the needle one bit. Interesting, isn't it?" Gingrich Lubbers said.
For Santorum's part, he told The Christian Post late Monday that he hopes the endorsement will mean "they'll step up and come help us out."
So far, nothing formal has been organized by the evangelical leaders after they announced their support of Santorum.
Although it is still unclear what kind of effect the endorsement will have on the Santorum campaign – including if it is enough to stop second-time GOP presidential candidate Mitt Romney from winning the party's nomination – what is clear is that the candidates are hustling about South Carolina to make last minute pitches to voters.
Gingrich and Santorum are heading inland on Tuesday, converging in the state's capital city, Columbia, while Texas Gov. Rick Perry will try and reinvigorate his campaign by attending The Response rally in Greenville, S.C. Ron Paul, meanwhile, will hold a town hall meeting in Rock Hill, S.C., late Tuesday evening.
The South Carolina primary is on Saturday, Jan. 21.