Gingrich Pledges to Remain Faithful to Wife in Written Statement
Newt Gingrich's prior marital indiscretions may have drawn unwanted scrutiny to the former House speaker's presidential ambitions, but in a written statement to a pro-family group, Gingrich has vowed to remain faithful to his wife Callista.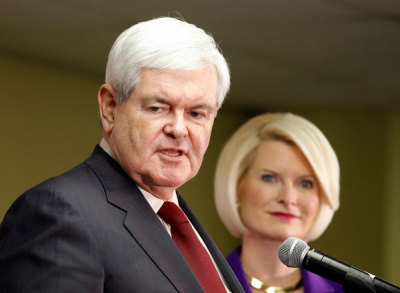 "I … pledge to uphold the institution of marriage through personal fidelity to my spouse and respect for the marital bonds of others," Gingrich wrote to The Family Leader, according to an announcement Monday.
The Family Leader, based in Iowa, had drafted a marriage pledge for presidential candidates to sign. Though Gingrich did not add his signature to the organization's "Marriage Vow," his own statement to defend traditional marriage and family was welcomed.
"We are pleased that Speaker Gingrich has affirmed our pledge and are thankful we have on record his statements regarding DOMA, support of a federal marriage amendment, defending the unborn, pledging fidelity to his spouse, defending religious liberty and freedom, supporting sound pro-family economic issues, and defending the right of the people to rule themselves," Bob Vander Plaats, president and CEO of The Family Leader, said in a released statement.
Gingrich vowed that as president of the United States, he would enforce and defend the Defense of Marriage Act and oppose efforts to redefine marriage as anything other than between a man and a woman. He also pledged to defend the unborn, defend religious liberty, reduce the national debt, and appoint justices who are "committed to an originalist understanding of the Constitution."
"I appreciate the opportunity to affirm my strong support of the mission of the FAMiLY LEADER by solemnly vowing to defend and strengthen the family," he wrote.
Gingrich Pledges Marital Fidelity
The Family Leader put forth the marriage pledge in August. But the document drew unwanted attention because of a statement that referenced the impact of slavery on African-Americans.
Gingrich, along with other candidates, had said he wouldn't sign the pledge unless the group removed the reference to slavery, which they later did.
Under the heading of "The Candidate Vow," the first bullet point of the 14 listed in the group's marriage pledge reads, "Personal fidelity to my spouse," and has a footnote that reads:
"As applicable if married now, wed in the future, or whenever interacting with another's spouse, a person of the opposite sex or of personal attraction. No signer herein claims to be without past wrongdoing, including that of adultery. Yet going forward, each hereby vows fidelity to his or her marital vows, to his or her spouse, to all scriptures and commandments against adultery, and to resist of lure of pornography destructive to marital intimacy."
Gingrich has been married three times. He divorced his first wife, Jackie Battley, after 18 years of marriage. During his marriage to his second wife, Marianne Ginther, and while he was Speaker of the House, Gingrich began an affair with a young committee staffer by the name of Callista Bisek, who is 23 years his junior and his current wife. His second marriage ended after 18 years and he married Bisek in 2000.
Gingrich's new pledge to stay faithful may allay the fears of some evangelical women. Dr. Richard Land, president of the Ethics & Religious Liberty Commission of the Southern Baptist Convention, had advised Gingrich in an open letter last month to address his past transparently and ask Americans to forgive him in order to gain the trust of evangelicals, particularly the female cohort.
"Express your love for, and loyalty to, your wife and your commitment to your marriage. Promise your fellow Americans that if they are generous enough to trust you with the presidency, you will not let them down and that there will be no moral scandals in a Gingrich White House," Land wrote.
The timing of Gingrich's pledge also comes just before The Family Leader is set to make an endorsement prior to the Iowa caucuses, and their recommendation could carry substantial weight. It is estimated that approximately 37 percent of probable caucus goers consider themselves "evangelical" Christians.
Republican candidates who have signed the group's pledge include Texas Gov. Rick Perry, Minnesota Congressman Michele Bachmann and former Pennsylvania Senator Rick Santorum.
Former Massachusetts Gov. Mitt Romney, Texas Congressman Ron Paul and former Utah Gov. Jon Huntsman have said they have no intentions of signing the pledge.