Girl Scouts of America Allows Boys Who Identify as Girls to Join Troops; Opponent Says Policy Is 'Slap in the Face to Christian Parents'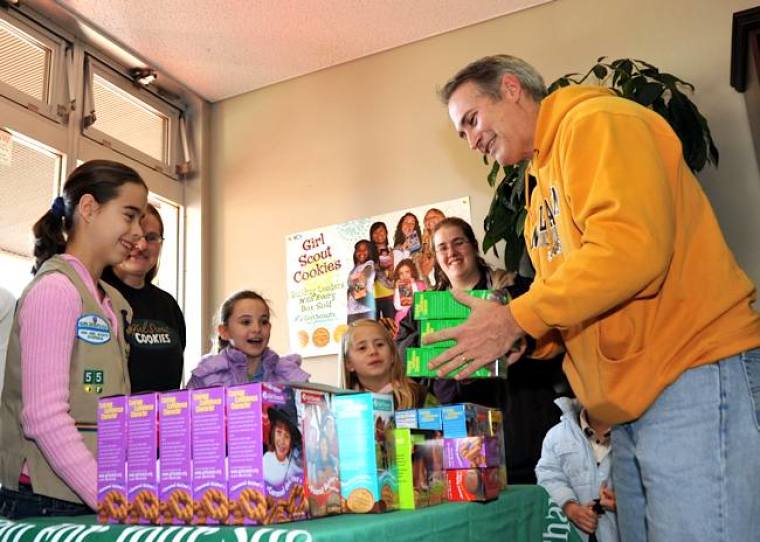 Social conservative organizations are now raising red flags after it was recently revealed that the Girl Scouts of America are allowing boys who identify as girls to join its troops.
In a blogpost published last Thursday on the Girl Scouts of America webpage, the organization's "Chief Girl Expert," Andrea Bastiani Archibald, wrote of how the Girl Scouts exists to serve "all girls," no matter what they look like or their biological gender.
"The foundation of diversity that Juliette Gordon Low established runs throughout Girl Scouting to this day," Archibald wrote. "Our mission to build 'girls of courage, confidence and character, who make the world a better place' extends to to all members, and through our program, girls develop the necessary leadership skills to advance diversity and promote tolerance."
Archibald's post further explains that GSUSA even goes as far as to allow transgender girls to become troop members on a "case-by-case" basis, which is a fact also highlighted in the GSUSA FAQ page.
"Girl Scouts is proud to be the premier leadership organization for girls in the country. Placement of transgender youth is handled on a case-by-case basis, with the welfare and best interests of the child and the members of the troop/group in question a top priority," the FAQ page reads. "That said, if the child is recognized by the family and school/community as a girl and lives culturally as a girl, then Girl Scouts is an organization that can serve her in a setting that is both emotionally and physically safe."
A number of conservative groups have spoken out against the GSUSA policy. The American Family Association has started an online petition to help encourage the GSUSA to change its policy.
The petition states that GSUSA has lost its "moral compass" and added, "this policy undermines the trust that parents place in the GSA's leadership to make wise decisions and the obligation the GSA has to protect their daughters."
The AFA petition has already garnered over 35,000 signatures.
"This means girls in the organization will be forced to recognize and accept transgenderism as a normal lifestyle," the petition states. "Boys in skirts, boys in makeup and boys in tents will become a part of the program. This change will put young innocent girls at risk."
"Adults are willing to experiment on our kids—both the boys who are confused and the girls who will wonder why a boy in a dress is in the bathroom with them," the petition adds.
The Girl Scouts' FAQ page states that in circumstances where a troop with a transgender girl troop is on a camping trip, special accommodations could be made if that is what is best for all parties involved.
"These situations are rare and are considered individually with the best interests of all families in mind. Should any girl requiring special accommodations wish to camp, GSUSA recommends that the local council makes similar accommodation that schools across the country follow in regard to changing, sleeping arrangements, and other travel-related activities," the website states.
In an interview with Fox News last week, Penny Nance, the president of Concerned Women For America, said GSUSA's policy only creates more confusion for parents.
"They are no longer Girl Scouts, they are just scouts. That's fine if they want to rebrand. But it raises all kinds of complications and questions for parents, volunteer parents who are involved," Nance asserted. "How are they supposed to manage this? How are they supposed to protect their own children's privacy? It's very complicated and very difficult."
Nance also stated that the policy does not even take into account the transgender children's well-being.
"If it were really for kids, anyone that's sane would not think that throwing a little boy who's confused, who's dealing with some hard issues into a tent with middle school girls—which by the way, there's whole books written about how brutal they can be–is a good idea," Nance added.
Nance also spoke on the AFA radio program entitled "Today's Issues" last Wednesday and claimed that GSUSA's policy serves a "slap in the face to Christian parents."
"And now this latest thing is just one more slap in the face to Christian parents," Nance asserted. "Now you don't have to be a girl to a member of Girl Scouts. You can just be questioning your gender or a boy who would like to be a girl."
"I think this is a place, frankly, for the church to be the church and for the people that are marginalized in society, for us to love them," Nance continued. "But, we also can't lose our minds."
Breitbart points out that is not the first time that GSUSA has had to address the transgender issue. In 2012, 7-year-old Bobby Montoya, who identified as a girl, was allowed to join a Colorado Girl Scout troop.
Since 2003, GSUSA's membership has decreased by about 27 percent, equaling about one million girls.