Transgender Week at the White House: Gender Neutral Bathrooms and Conversion Therapy Bans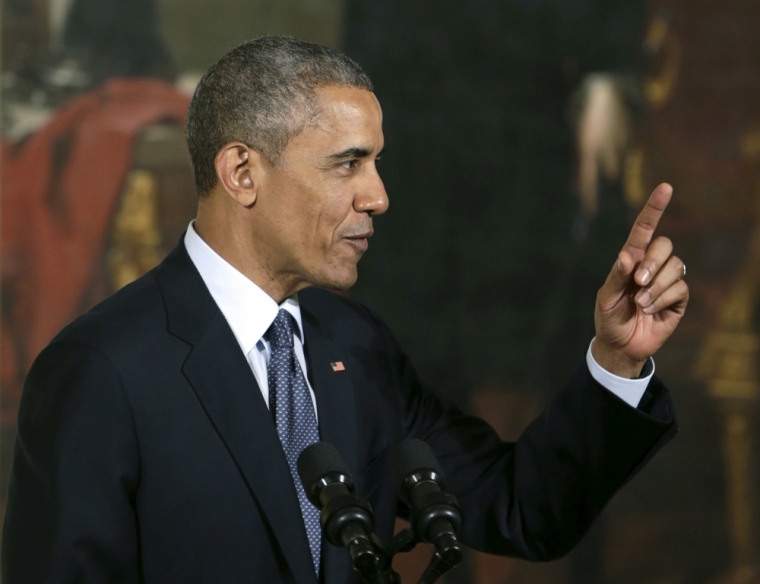 President Barack Obama symbolically demonstrated support for certain transgender political goals this week by announcing his support for bans on conversion therapy for youth and the addition of a gender neutral bathroom in the White House.
In response to a petition posted on a White House website, the Obama administration expressed its support for Sexual Orientation Change Efforts Therapy.
Valerie Jarrett, a senior presidential adviser, wrote in the official response to the petition that President Obama supported such a ban.
"The overwhelming scientific evidence demonstrates that conversion therapy, especially when it is practiced on young people, is neither medically nor ethically appropriate and can cause substantial harm," wrote Jarrett.
"As part of our dedication to protecting America's youth, this Administration supports efforts to ban the use of conversion therapy for minors."
Jarrett cited California, New Jersey, and the District of Columbia, which have all passed bans on the practice. Jarrett implied that a federal ban would be a challenge to enact.
"While a national ban would require congressional action, we are hopeful that the clarity of the evidence combined with the actions taken by these states will lead to broader action that this Administration would support," continued Jarrett.
"This Administration believes that young people should be valued for who they are, no matter what they look like, where they're from, the gender with which they identify, or who they love."
Sometimes called "conversion therapy" or "reparative therapy," SOCE therapy seeks to change the sexual preferences of a patient from homosexual to heterosexual.
While rejected by mainstream American psychiatry, several organizations and professionals offer SOCE therapy for minors and adults.
Over the past couple years, several state legislatures have debated banning the practice, with California being the first to do so. Most bills, including those introduced in Illinois, Maryland, Massachusetts, New York, and Virginia, have either been voted down or withdrawn.
In January, a petition was posted on the White House website "We the People" calling for the enacting of "Leelah's Law." Named for a transgender youth who committed suicide after her parents had her undergo conversion therapy, the petition garnered over 120,000 signatories.
"Therapists that engage in the attempt to brainwash or reverse any child's gender identity or sexual orientation are seriously unethical and legislation is needed to end such practices that are resulting in LGBTQ+ deaths," read the petition.
"We respectfully seek your help to ban the practice known as 'conversion therapy' and name the bill in honor of Leelah Alcorn."
This is far from the first time that Obama has expressed support for the gay and transgender rights movements.
In 2012, Obama became the first sitting president to express support for gay marriage legalization and in January gave the first State of the Union that included the word "transgender."
Earlier this week Politico reported that the White House recently included a gender neutral bathroom for guests.
The move complimented Obama's executive order barring federal contractors from engaging in employment discrimination on the basis of gender identity or sexual orientation.
"An all-gender restroom is also available in the Eisenhower Executive Office Building, which provides guests and staff an additional option," said White House spokesman Jeff Tiller, noted Politico.
"The White House allows staff and guests to use restrooms consistent with their gender identity, which is in keeping with the administration's existing legal guidance on this issue and consistent with what is required by the executive order that took effect today for federal contractors."
Ex-gay organizations and their allies have denounced the White House's recent support for SOCE therapy bans, saying that such a move interferes with a youth's freedom of choice.
In a blog entry, Andrew Comiskey of Desert Stream Ministries stated that the White House response to the therapy ban petition was "ill-informed" and based on "propaganda."
"Perhaps Obama thinks he is opening up the future for a gender-confused generation. He is actually closing it," wrote Comiskey.
"In refusing to consider valid options for persons who seek clinical assistance to change their sexual identity, he reduces human freedom, the very freedom he seeks to defend by condemning reparative therapy."