Glen Campbell Wins Grammy Award With 'Not Gonna Miss You'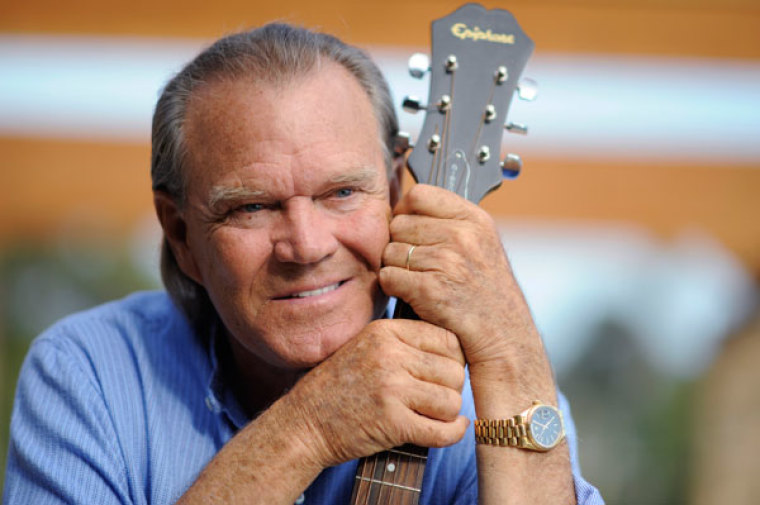 Glen Campbell earned his sixth Grammy Award for the song "Not Gonna Miss You" despite having to miss the awards ceremony on Sunday night.
The iconic country music singer was diagnosed with Alzheimer's disease in 2011 and his condition continues to deteriorate today, making it impossible to attend Sunday's awards. Nevertheless, Campbell's "Not Gonna Miss You" won the Grammy Award for Best Country Song, beating out Kenny Chesney, Eric Church, Miranda Lambert and Tim McGraw in the category.
"Not Gonna Miss You" was written for Campbell's documentary, "I'll Be Me," which chronicles his battle against Alzheimer's and its crippling memory loss. The bittersweet love song was written by Campbell and Julian Raymond and is considered the last song for 78-year-old Campbell whose health is rapidly deteriorating. Nevertheless, upon news of Campbell's Grammy win, the singer's wife Kim Wooden reported that her husband is feeling "healthy, content and jovial."
"Cognitively, he's declined quite a bit," she said, according to People. "More and more every day. We just take each day at a time and make the most of it. It's a sad illness."
Fortunately, Wooden said her husband's sense of humor and talent for music helps their family cope with his illness.
"Glen had such a great comedic sense and attitude," the 55-year-old said. "Humor got us through. And music helped him experience joy as long as he could."
Meanwhile, "Not Gonna Miss You" was also nominated for an Oscar Award this year for Best Original Song. The awards ceremony will see Tim McGraw performing Campbell's song on his behalf as a tribute to the Oscar nominee's six decade-long career. The 87th annual Academy Awards, including McGraw's performance, will take place on Sunday, Feb. 22 at 7 p.m. ET.
Watch the video of "Not Gonna Miss You" here.