'God Forgave Me, How Can I Not Forgive You?' Christian Father Tells Driver Who Killed His Family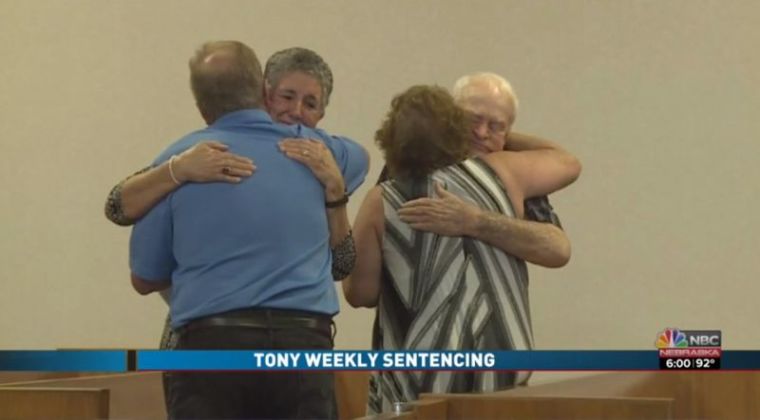 A Minnesota Christian couple, who lost their son and grandchildren in a car crash caused by a truck driver, forgave the driver and managed to persuade a Nebraska judge to give him only two years probation and 180 days in jail. 
"I know how much God has forgiven me. How can I not forgive you?" Rick Pals, the father, told Tony Weekly, the driver, in court earlier in July during the latter's sentencing.
"I am not in the position of authority to extend you mercy, Tony, however I can request mercy for you," Pals added, as reported by KARE-TV.
In July 2016, Pals lost his son, Jamison, 29, daughter-in-law Kathryne, 29, and grandchildren Ezra, 3, Violet, 23 months, and Calvin, 2 months, when Weekly slammed into their car in a car accident, igniting a fire.
The family had been traveling from Minnesota to Colorado to train for a missionary trip to Japan.
Besides the family of five, a driver in another vehicle, 56-year-old Terry Sullivan, also died.
Pals said of the incident: "Everybody makes mistakes, and he didn't start out that day planning on killing our children."
Still, he added, "I struggle to find the words to describe the grief that gripped me."
Gordy Engel, the father of Kathryne Pals, also asked the judge for mercy.
"We ask the court to give the maximum allowable grace," the man said in court.
"We've had people say, 'Well you have to be super Christians.' No, we're just plain people but we have a super God that just lifted us up," he continued.
"That is how we can walk this path," added his wife, Nancy. "It's because we have hope."
Kathy Pals, Rick's wife, admitted that she was worried how she would handle seeing Weekly in court.
"I thought, maybe when I see him I won't be so forgiving, but it was just the opposite. It instilled in me more of a desire to be at peace with him."
The Pals hugged Weekly at the sentencing, and even took a photo with him and his wife. On his part, Weekly said that he prays every day for the families he devastated.
"If there was anything I could do to stop that accident two years ago from happening, I would do it," Weekly said, according to KNOP.
"I wake up every day and I think about Jamison, Kathryne, Ezra, Violet, Calvin and Mr. Sullivan."
The truck driver will have to report to Keith County Jail on Aug. 3 for his incarceration, but will receive credit for time already served.
Some notable Christian leaders, such as the Rev. Franklin Graham, picked up on the story, and reflected that forgiveness is a powerful, "life-changing" gesture.
"I'm sure this had an enormous impact on the truck driver's life. These parents demonstrated the love of God when they gave the gift of forgiveness. God offers everyone the eternal gift of His forgiveness — no matter what we have done — if we confess our sins and put our faith and trust in His Son Jesus Christ," Graham said on Facebook on Sunday.