'God Is Alive and He's on the Throne,' Says Clerk Sued for Refusing to Issue Marriage Licenses to Gay Couples (Video)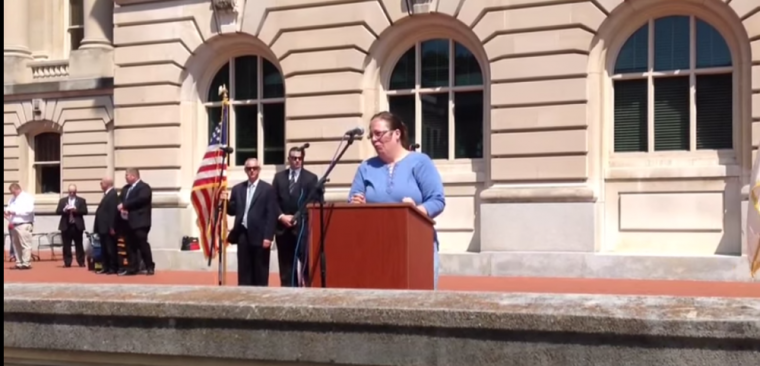 Kim Davis, a Kentucky state employee who refused to issue marriage licenses to gay couples after the U.S. Supreme Court ruling that legalized the practice in all 50 states, joined thousands in a Saturday rally aimed at preserving the First Amendment rights of Christians.
Davis, who works as a court clerk in Rowan County, is currently being sued by the American Civil Liberties Union on behalf of two gay couples and two heterosexual couples for denying them access to a marriage license.
The Frankfort, Kentucky rally, organized by The Family Foundation of Kentucky, featured hymns, prayers and speakers. When Davis took the microphone, she attempted to lift up the spirits of those attending, according to Christian News Network. 
"I am totally overwhelmed by this show of support," said Davis to the crowd. "Let's give praise to God almighty. He is my strength. He is my comfort. He gives me a peace in my soul that no one can take from me. He gives me a joy in my heart that can't nobody have."
"I love each and every one of you," added Davis. "I need your prayers. We all need your prayers. Just continue to stand firm in what we believe. God is alive and He's on the throne!."
Davis' case worsened after she declined to follow a court order issued earlier this month by the U.S. District Court for the Eastern District of Kentucky that mandated her to issue a marriage license to a gay couple.
"The Court must … point out that the act of issuing a marriage license to a same-sex couple merely signifies that the couple has met the legal requirements to marry. It is not a sign of moral or religious approval," read the Court order.
"Davis, in her official capacity as Rowan County Clerk, is hereby preliminarily enjoined from applying her 'no marriage licenses' policy to future marriage license requests submitted by Plaintiffs."
Other Kentucky clerks who are coming under fire for refusing to issue marriage licenses to gay couples include Casey Davis of Casey County and Kay Schwartz of Whitley County.
Casey Davis told the Associated Press in July that she would rather go to jail than issue a marriage license to a gay couple.
Schwartz also stopped issuing licenses, but she has not spoken about her ordeal publicly.
Mat Staver, the founder of Liberty Council, a Christian law firm that has been handling Kim Davis' case believes there is a better way for Kentucky to handle the beliefs of these employees.
"There are alternative ways to accommodate the religious conviction of Kim Davis and that is what we are asking the Court of Appeals to consider," said Staver in a statement to Christian News Network on Monday. "Davis did not abandon her constitutional rights of conscience and free exercise of religion when she took office."
"The laws of the United States and Kentucky she swore to uphold include the laws that protect those very rights of conscience for all individuals, including clerks," added Staver. "The U.S. and Kentucky Constitutions, and particularly Kentucky's Religious Freedom Restoration Act, require the accommodation of public officials sincerely held religious beliefs."
Staver also discussed what he believes to be the nature of the actions taken against Davis with The Christian Post on Wednesday.
"In this case, their interest is not in obtaining a license, their interest is forcing someone against their religious beliefs to give them a license. [Gay couples] can get other options. Instead they want people with religious convictions to participate in their relationship which is deeply at the core contrary to scripture," said Staver to CP.
He believes issues of religious accomodation are going to occur more frequently and that U.S. citizens are starting to get sick of the treatment of religious people.
"I think the more people realize how intolerant this agenda is, the more they are going to push back as I think the polls have already shown," he said.