Google Plus 'Most Followed Users' a Social Competition?
Correct me if I am wrong, but the Google+ statistics page displaying the most followed users with Mark Zuckerberg currently at number one, is prone to become the next social competition on the Internet for who gets to attract the most followers.
So far, among the top 15 most-followed users, we have people working in the tech industry (12 to be exact) a popular Youtuber, an actress, and a newspaper (seems like Google made an exception to its no business policy in this case).
It is only the third week since Google+ debuted and it should not be surprising that in this initial period the list is largely homogeneous, mainly consisting of people related to the tech business.
Expect music artists, actors, politicians, sports athletes and others to be thrown in the mix as time passes, however.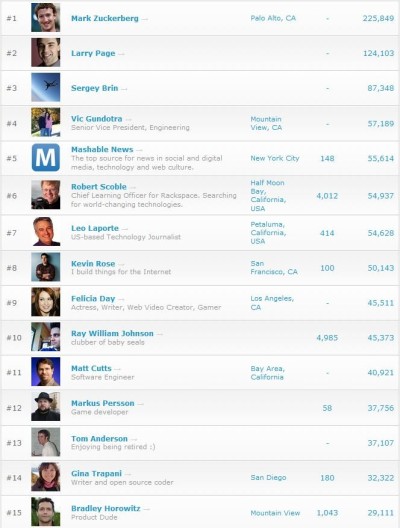 The current list:
1. Mark Zuckerberg
Occupation: Facebook CEO/President
Google+ Self Introduction: "I make things."
2. Larry Page
Occupation: Chief Executive Officer and Co-Founder of Google Inc.,
Self Introduction: None
Education: Stanford University
3. Sergey Brin
Occupation: Computer Scientists, Co-Founder of Google Inc.,
Self Introduction: None
Nationality: Russian American
Education: Stanford University
4. Vic Gundotra
Occupation: SVP of Social at Google
Previous Occupation: General Manager at Microsoft
Self Introduction: "Fell in love with the power of software at age 11, and am still in love."
Education: Indian Institute of Technology
5. Mashable News
Business: News
Location: New York City
Self Introduction: "The top source for news in social and digital media, technology and web culture."
6. Robert Scoble
Occupation: Rackspace-Chief Learning Officer
Bragging Rights: I shook Steve Jobs' hand
Self Introduction: "I'm a geek who grew up in Silicon Valley (my dad was an engineer at Lockheed) and since 1985 I've been building online communities."
7. Leo Laporte
Occupation: TWiT® & Premiere Radio, US-based Technology Journalist,
Self Introduction: "You may remember me from such TV shows as CNBC's The Personal Computer Show, MSNBC's The Site, ZDTV's The Screen Savers and Call for Help, and The Lab with Leo on Canada's G4techTV."
Education: Yale University
8. Kevin Rose
Occupation: CEO, Milk Inc.
Self Introduction: "I'm a technology angel investor, serial entrepreneur, rock climber, video blogger, and drinker of tea. Thanks for visiting."
Other: Co-Founder of Digg
9. Felicia Day
Occupation: Actress, Writer, Web Video Creator, Gamer
Self Introduction: Felicia Day is a professional actress who has appeared in many TV shows and movies. Felicia is most well-known for her "Dr. Horrible's Sing-Along Blog"and her own show, "The Guild".
Other: Known for her work as "Vi" on the TV series Buffy the Vampire Slayer and for parts in movies such as Bring It On Again
10. Ray William Johnson
Occupation: YouTube comedian, Video Vlogger
Self Introduction: "I produce a few shows. I also work part time as a garden gnome."
Education: Columbia University
Other: Most subscribed YouTube channel as of July 2011
11. Matt Cutts
Occupation: Google Software Engineer
Introduction: "I'm the head of the web spam team at Google. That means that if you type your name into Google and get porn back, it's my fault. Unless you're a porn star, in which case porn is a completely reasonable response."
12. Markus Persson
Occupation: Game Developer and founder at Mojang
Bragging Rights: Created Minecraft
Nationality: Swedish
13. Tom Anderson
Occupation: Retired
Education: UC Berkeley, UCLA
Other: Co-Founder of Myspace
Self Introduction: "I might be your friend."
14. Gina Trapani
Occupation: Writer and open source coder, Expert Labs
Self Introduction: "I'm a coder and blogger based in San Diego, California by way of Brooklyn, New York. Currently I lead development on ThinkUp, an open source social media insights engine the White House uses. I blog at Smarterware, co-host This Week in Google, and made a line and Android."
15. Bradley Horowitz
Occupation: Google+ Product Management, Vice President
Education: MIT
Self Introduction: "Bradley oversees Google's communications products and social applications including Google Talk, GrandCentral, Blogger and Picasa. Before joining Google, Bradley led Yahoo's advanced development division, which developed new products such as Yahoo! Pipes, and drove the acquisition of products such as Flickr and MyBlogLog."