GOP Presidential Candidates Seek Evangelical Votes at Southern Baptist Megachurch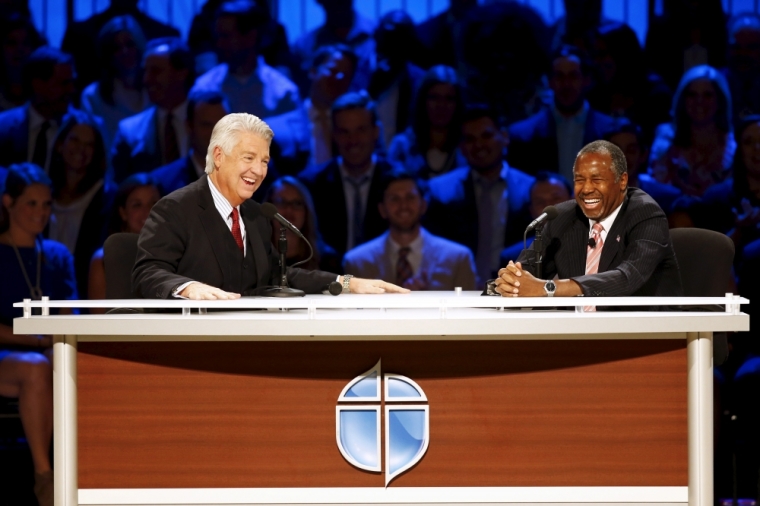 Getting two standing ovations from the audience during his talk and Q&A, Carson, the former director of pediatric neurosurgery at Johns Hopkins, shared his personal story (which is familiar to those who've listened to him speak in the past), of growing up in a single-parent household and how his illiterate mother transformed his education.
Carson also shared his personal testimony, and said he committed his life to Christ after he nearly stabbed a teenager he was fighting, which horrified him. The boy ran off and he ran home and cried out to God to temper his anger. He then locked himself in the bathroom and read the Bible for three hours, including Proverbs 19:19 and 16:32, and then and there his life was forever changed.
Delving into issues surrounding education, economic instability and race relations, Carson was asked by Graham to talk about violence in America, specifically the need for reconciliation and healing between police and the communities they serve, and how he, as a leader, would unite people.
The "Gifted Hands" author said he visited Ferguson, Missouri, a couple months ago and met with community leaders and police officers who were already working to form better relationships with one another. That experience reinforced his already held belief that communities need to form bonds and strong relationships with each other and their residents.
He added that he would start by not talking about "Democrat things" or "Republican things" but "American things."
On a much larger scale, Carson noted that with China's and India's populations dwarfing the U.S., not one American's talents can be wasted.
"We, as a nation, have to be willing to invest in each other. We only have 330 million people in this country. We're competing against China and India, places that have over a billion people. We have to develop all of our people, we can't afford to lose any of them [to incarceration, gang violence]."
Two threats to the nation's stability, Carson continued, are the national debt and the "failure to take our leadership role in the world."
"Thomas Jefferson said it was immoral to pass debt to the next generation. If we could bring him back right now, he would just stroke out right now, to see what we're doing," Carson quipped.
"I'm going to make sure the American people understand what the fiscal gap is … because you'll understand the economic instability that underlies our financial structure right now, and it is frightening."
"And when somebody comes along and says 'free college for everyone,' your reaction would be to laugh if you understood where we are right now."
Regarding leadership, Carson used NASA and the space program as one example of where the U.S. is no longer leading and falling behind.
"We have to get back into space. We now have to pay Russia $77 million to send one astronaut up to the space station. Also, look at the inventions that came out of the space program. Your cell phone came out of the space program. In the future, he who controls space will control the Earth."
Lastly, speaking about jihadists, Carson alluded to Obama's failure to name IS as a radical Islamic jihadist terror group and carry out a strategy to destroy them.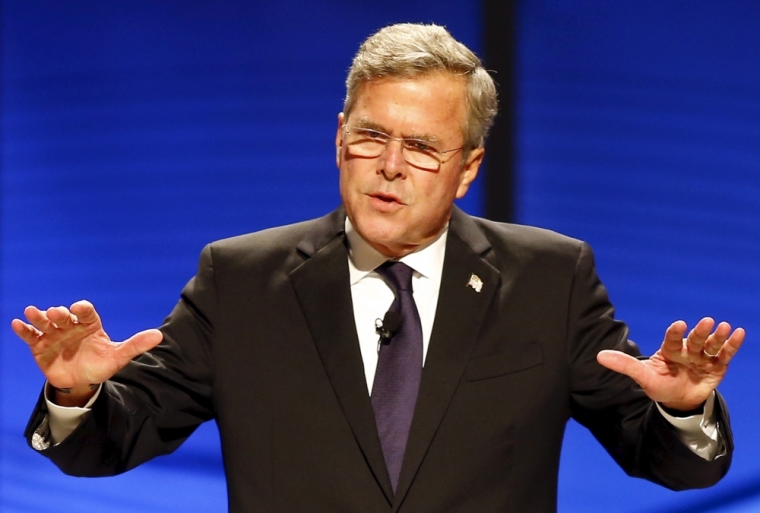 Jeb Bush, former governor of Florida, and son and brother to two former U.S. presidents, talked about his conversion from being an Episcopalian to a member of the Catholic Church, the faith of his wife, Columba, and how it has shaped her perception of life.
"The thing I admire most about the Catholic faith is the basic foundation element is that life is precious, it is a gift from God. It is not ours to take. Everybody has value; everybody has an asset. Whether you're a developmentally disabled child, a frail elder, or an unborn baby, life has value and should be respected from beginning to end," Bush said.
As governor, Bush said he acted on those core beliefs when his legislature defunded Planned Parenthood, banned partial-birth abortion, and was the first state to offer "choose life" license plates "to make sure money was going to adoptions."
Bush added that under his leadership, Florida was the first, if not the only state, to allocate $4 million a year to crisis pregnancy centers.
The second value of Bush's faith, he said, was the Catholic concept subsidiarity.
"Basically, it means that decisions need to be made from the bottom up. That we solve problems in our families, in communities, and then maybe through the government at the local, then state and ultimately, the federal government level," he said.
"In the last six years we've done the exact opposite. We've made it harder for families to make decisions for themselves. … My goal, as a candidate is to have strong, loving families as the most powerful political institution in our society, and that we solve problems locally. …"
Bush said that when he looks at legislation and laws, he asks one question: Will this strengthen families?
"We have a marriage penalty, where being married means you have a higher tax rate. We have welfare reform that makes non-work more relevant than work; then when you start to work you lose the benefits. To restore this we need a culture of work and we need to strengthen family life — that's how you get back to the basics of this great country," he continued.
"The final thing I say is: The next president of the United States is going to have to fight for religious freedom — fight for it with his heart and soul. … Why would we want to restrict people who are acting on their conscience to feed the homeless and care for the needy? But that's exactly what's going on in our country today. …"
"We need to make sure religious freedom is front and center [not just in the American church] but also around the world. Who's going to take care of persecuted Christians in the Middle East and Africa? No one but the U.S. stands for the values to protest the oppressed. I believe it's important as a country to restore those values once again.