GOP Presidential Candidates Seek Evangelical Votes at Southern Baptist Megachurch
(Photo: Reuters/Mike Stone)
4 photo slide
(Photo: Reuters/Mike Stone)
(Photo: Reuters/Mike Stone)
(Photo: Reuters/Mike Stone)
PLANO, Texas — Six Republican presidential candidates vying for the Evangelical vote to become the party's nominee for the 2016 general election spoke about the challenges facing the nation and why they're the most qualified person to lead the country during the four-hour North Texas Presidential Forum on Sunday.
While candidates from both the Democratic and Republican parties were invited to speak at the forum, which was hosted by the Faith & Freedom Coalition and Prestonwood Baptist Church, it was Carly Fiorina, Sen. Ted Cruz, former Sen. Rick Santorum, former Govs. Mick Huckabee and Jeb Bush, and Dr. Ben Carson who accepted the challenge.
Religious freedom, Islamic State terrorism, abortion, education and the economy were among the top issues discussed by the candidates, who were given around 10 minutes for opening remarks followed by 15 minutes of Q&A with Prestonwood Baptist Church Pastor Jack Graham before an audience of 7,000 people.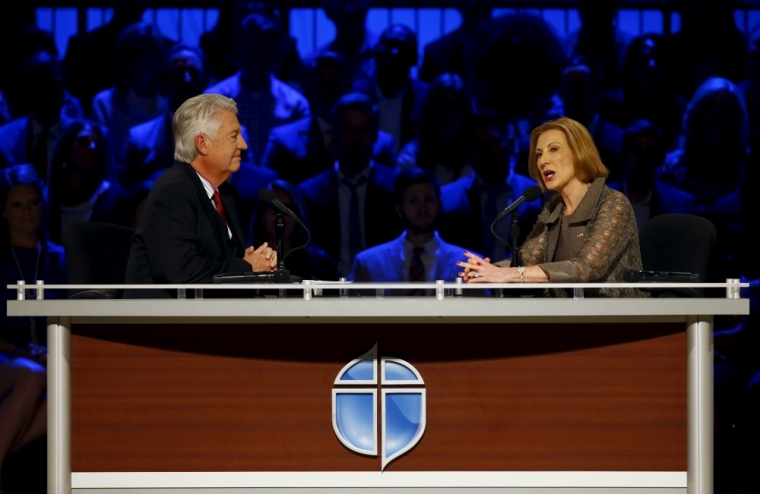 Distinguishing herself from Hillary Clinton, the presumptive nominee for the Democratic Party, Fiorina said she's not only met with nearly as many world leaders as the former secretary of State, but she also did more than get photo ops with them.
"I know more world leaders on the stage today than anyone running, with the possible exception of Hillary Clinton, only I didn't do photo ops, I had private meetings about business and charity and policy," she said.
"I've held the highest clearances available to a civilian; I've chaired the advisory board at the CIA; I've advised the NSA, two secretaries of Defense, a secretary of Homeland Security and a secretary of State," she added.
When asked by Graham to expound on her Christian faith and opposition to the legalization of abortion, which has led to the deaths of 60 million Americans, Fiorina said she came to believe in the sanctity of life after she witnessed the impact abortion had on the life of a close friend.
"When I was in my early 20s, a very good friend of mine asked me to accompany her when she had an abortion. We went to a Planned Parenthood clinic and I watched as she was given no choices. I watched what that procedure did to her physically, emotionally, spiritually."
She continued: "A little later, I met my husband — we've been married over 30 years — and when we married I learned that his mother had been told to abort him. ... Her son was the joy of her life and he is the rock of mine, and I've thought often how different my life would be had she made a different choice."
Fiorina shared that later in her marriage she learned "in a profoundly personal way how precious a gift life is" after she found out that she wouldn't be able to have children of her own.
Homing in on prayer and faith in leadership, Fiorina said she believes "people of faith make better leaders" because "faith gives us humility, empathy and optimism."
"Humility because we know each of us is made in the image of God and gifted by God," she said. "Faith gives us empathy. We know that every one of us can fall, and each one of us can be redeemed. And humility and empathy are vital in a leader if a leader is to serve and unlock potential in others. And finally, faith gives us optimism — the belief that things can be better and people will rise to the occasion. …"