GOP Presidential Candidates Seek Evangelical Votes at Southern Baptist Megachurch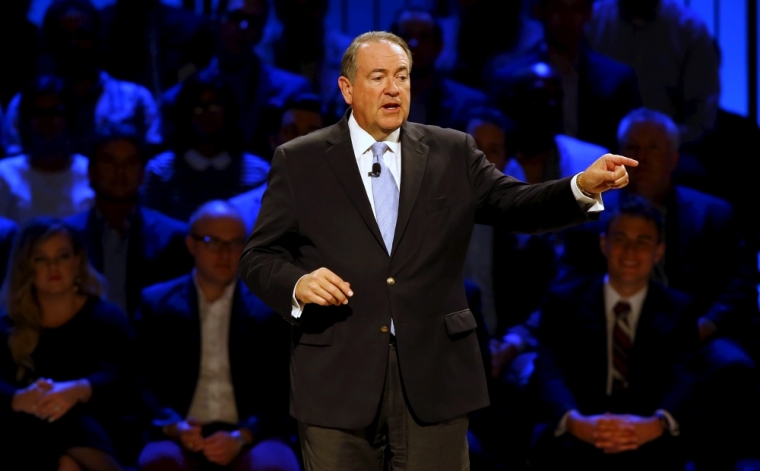 While CNN didn't given Huckabee much airtime during its three-hour Republican presidential candidate debate last month, he got the opportunity to speak for 32 minutes at the candidate forum yesterday.
During his opening remarks, Huckabee quipped: "I've already been given more time than I got in the last debate. There was a point at the debate I was going to give the moderator my phone number [and say] text me if you should decide to ask me something, I'm going out for a sandwich."
A former governor of Arkansas, Huckabee said not only did he spend his time in public office fighting against the political machine in a state where, when he was first elected lieutenant governor he was the fourth Republican elected in the state in 150 years, but specifically, he had to fight against the Clinton political machine.
"You have no idea what a fight is until you spend your entire political life fighting the Clinton political machine, which I had to do in Arkansas, every single election, because they campaigned on behalf of my opponents each election cycle."
Huckabee said he's back in the presidential campaign for a second time (first time was in 2008) to help save the futures of his five grandchildren.
"I refuse to walk through the charred remains of what was once a great county called America and say to them, here it is, this is what we've left you: $20 trillion of debt; Islamic jihadism that is determined to kill you all; a world whose economy is collapsing and no more where people can go to work and expect that if they work hard they'll be rewarded for it, because they'll probably be punished for working hard; and a government that has been completely separated from the constitutional authority it's supposed to live under."
Huckabee then quoted 2 Chronicles 7:14 on "God's formula" to heal a nation.
"How can we ask God to bless a nation that for 42 years had ended the lives of 60 million unborn children?" He asked. "This is uncivilized savagery for which we must repent. But we must do more than be sorry about it, we must change it."
He then argued that passing legislation to defund Planned Parenthood would merely cut funding from one abortion business, not all of them.
"I would invoke the fifth and 14th amendments which already say you cannot deprive a person of their life and liberty without due process and equal protection. So there's only one question to be raised: Is that unborn child a person? And if it is a person, it already has its constitutional rights to life and liberty," he continued.
Speaking about Christian persecution throughout the world, Graham asked Huckabee if he believes Christians in America are also facing persecution, even though they're not facing physical persecution for their faith in Jesus Christ.
"We're already facing it," Huckabee asserted. "One of the reasons I went to Kentucky to stand with Kim Davis, the elected Democrat county clerk of that county, is because if you can put an elected public official in jail for believing the biblical view of marriage, you can criminalize Christianity."