GOP congressman enters NY gubernatorial race amid 'long line' of Cuomo scandals, 'lies'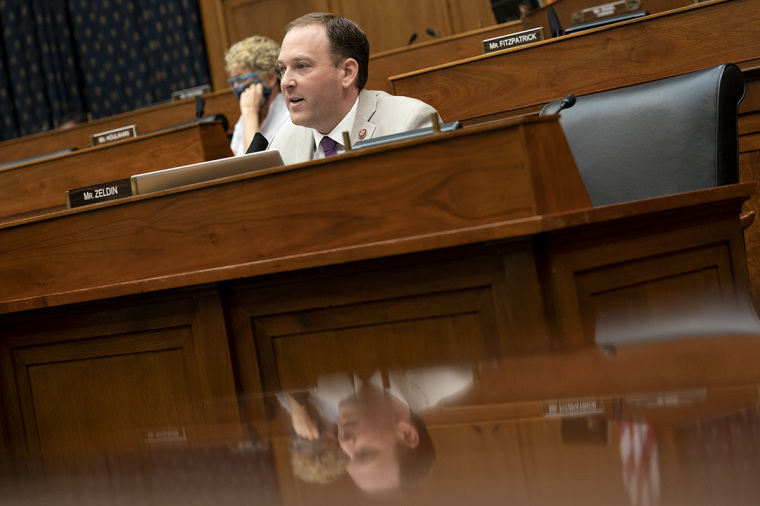 Republican Congressman Lee Zeldin has announced that he'll be entering the 2022 New York gubernatorial race following what he decried as Gov. Andrew Cuomo's "cover-ups, abuse and self-dealing." 
Zeldin made the announcement Thursday morning on Twitter, where he accused Cuomo of being "at the helm" of New York's downfall due to the "deadly nursing home order and cover-up," as well as a "long line of scandal, lies and harassment." 
"To save NY, #CuomosGottaGo!," Zeldin tweeted. "I'll bring the kind of relentless, fighting spirit towards helping to save our state that Cuomo reserves for multi-million dollar self-congratulatory book deals, cover-ups, abuse & self-dealing." 
Zeldin, who was first elected to Congress in 2015, lamented the one-party rule in New York, which he said has contributed to many of its residents' problems. 
New York, he said, has long been a "beacon of hope, progress and patriotism" throughout United States history: "From Washington leading the Continental Army from Manhattan, to Lincoln's Cooper Union speech, & the rebuilding of NYC after 9/11."
But now, he added, residents are fleeing the state due to lost jobs, high taxes and rising crime. 
"Cuomo has abused the power & trust granted to him & it's time for him to immediately exit stage left," Zeldin continued. "I'm ready to go all in on this mission and bring New York back from the brink and return it to glory." 
In March, New York Republican lawmakers said they'd be filing an impeachment resolution against Cuomo due to his mishandling and cover-up of COVID-19 nursing home deaths and sexual misconduct allegations.
Top Democrats in the legislature also called on the three-term governor to resign and questioned his "ability to continue to lead." And in February, over a dozen Democratic state senators urged the Senate to remove Cuomo's emergency powers.
A report released in January by New York Attorney General Letitia James revealed that Cuomo underreported nursing home deaths by as much as 50%.
After the report was published, officials disclosed nearly 4,000 additional deaths among nursing home residents.
During a press briefing, Cuomo derided the report on nursing home deaths as nothing more than a "political attack."
"Where this starts is frankly a political attack from the prior federal administration," Cuomo said at the time.
New York has one the highest COVID-19-linked death rates per 100,000 residents in the country. 
Along with suffering the high death toll, the state's widespread lockdown regulations in response to COVID-19 also led to nearly 1.9 million New Yorkers losing their jobs from March to April 2020. 
New York City was among the hardest-hit areas due to ongoing government-mandated business closures that have led to high unemployment rates, the shuttering of small businesses that won't be reopening and the depleted tourism industry.  
Zeldin added that many New Yorkers feel this is the "last stand" to save the state and "losing is not an option."
"We have two choices," Zeldin said in a campaign video on his website. "We can raise the white flag and surrender to mediocrity, corruption, coverups, more job losses and even higher taxes. We might as well just turn the lights off. Or we can roll up our sleeves and get to work to save our state. That's what I'm going to do as New York's next governor. Let's do it together and show the world the real New York." 
Zeldin, an attorney and lieutenant colonel in the U.S. Army Reserves, is a native of Long Island. He is the only Jewish Republican in the 117th Congress. He lives in Shirley, New York, with his wife and their twin daughters. 
The fourth-term congressman is an ally of former President Donald Trump and was appointed to serve on Trump's impeachment defense team during his first impeachment trial.
Zeldin isn't the only prominent Republican entering the 2022 gubernatorial race, however.
Andrew Giuliani, who served as a special assistant in the Trump administration and is the son of former New York City mayor and Trump's former lawyer Rudy Giuliani, told the Washington Examiner that he also plans to run for governor in 2022. 
"Outside of anybody named Trump, I think I have the best chance to win and take the state back, and I think there's an opportunity in 2022 with a wounded Democratic candidate. Whether it's going to be Gov. [Andrew] Cuomo, whether it's going to be a radical [Attorney General] Letitia James, whether it's going to be a no-name lieutenant governor, I think there's a very, very real chance to win," Giuliani said. 
Multiple former female staffers have accused Cuomo of sexual harassment, bullying and inappropriate behavior, which is another reason why many have called for his resignation. 
Cuomo has denied the allegations and has refused to resign.