NY Republicans to file impeachment resolution against Gov. Cuomo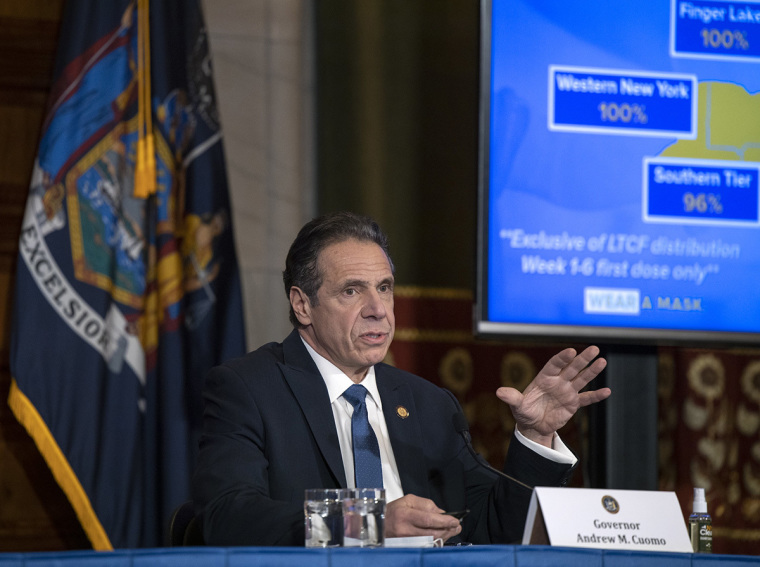 New York Republican lawmakers intend to file an impeachment resolution against Gov. Andrew Cuomo in light of recent controversies, including sexual harassment and bullying allegations from former staffers. 
At a press conference held Monday, New York State Assembly Minority Leader Will Barclay explained that "the time has come" to hold Cuomo accountable.
"In order to lead this great state as governor, you need to have credibility and trust," stated Barclay. "Unfortunately, we feel the governor has lost that and now has an inability to lead."
Barclay argued that there has been "one bombshell after another" regarding Cuomo, namely the allegations of sexual harassment and his handling of the coronavirus pandemic.  
"We had the AG report, came out saying that the governor was underreporting nursing home deaths by as much as 50%," Barclay stated. "We had that secret political meeting where he had his top aides say they weren't reporting the nursing home deaths because they're worried about a Department of Justice investigation."
"We had the bullying and the harassing of sitting members of the state legislature," he continued. "Then we had five courageous women come forward to talk about their abuse, sexual harassment, and other abuse at the hands of the governor."
To get a vote, the impeachment resolution must be supported by Democratic Assembly Speaker Carl Heastie. If passed by the Assembly, it would then go to the state Senate.
Speaker Heastie and Senate Majority Leader Andrea Stewart-Cousins have not announced any support for impeachment, according to CNY Central.
However, they both have called on Cuomo to resign, questioning the three-term governor's  "ability to continue to lead."
"Every day there is another account that is drawing away from the business of government. We have allegations about sexual harassment, a toxic work environment, the loss of credibility surrounding the COVID-19 nursing home data and questions about the construction of a major infrastructure project," Stewart-Cousins said in a statement.
"New York is still in the midst of this pandemic and is still facing the societal, health and economic impacts of it. We need to govern without daily distraction. For the good of the state Gov. Cuomo must resign."
Cuomo has refused to resign. New York Attorney General Leticia James is continuing to investigate the allegations of wrongdoing leveled against the governor.
"I was elected by the people of the state ... I'm not going to resign because of allegations," stated Cuomo during a recent conference call,as reported by Fox News.
Cuomo labeled calls for his resignation "anti-democratic" and told critics to "let the attorney general do her job." The governor assured that he is "not going to get distracted by this."
Late last month, Cuomo issued a public apology about his "past interactions with people in the office." 
"I never intended to offend anyone or cause any harm. I spend most of my life at work and colleagues are often also personal friends," Cuomo said.
"At work, sometimes I think I am being playful and make jokes that I think are funny. I do, on occasion, tease people in what I think is a good-natured way. I do it in public and in private. You have seen me do it at briefings hundreds of times. I have teased people about their personal lives, their relationships, about getting married or not getting married. I mean no offense and only attempt to add some levity and banter to what is a very serious business."
Cuomo said that he understands that his interactions "may have been insensitive or too personal," adding that some of his comments "made others feel in ways I never intended."
"I acknowledge some of the things I have said have been misinterpreted as an unwanted flirtation," he added. "To the extent anyone felt that way, I am truly sorry about that."
Cuomo stressed that he never "inappropriately touched anybody" and never "propositioned anybody."'
Cuomo's office has disputed claims made by former staffer Lindsay Boylan, who posted an essay on Medium outlining allegations of sexual harassment she said was committed by Cuomo. Those allegations include a time she says the governor sat next to her and made crude remarks toward her during an October 2017 plane ride. Boylan also claimed there was another instance in which he kissed her on the lips.
Cuomo was accused of creating "a culture within his administration where sexual harassment and bullying is so pervasive that it is not only condoned but expected."