Gosnell's Defense Attorney Says US Needs 17-Week Abortion Ban, Yearly Clinic Inspections
Jack McMahon, defense attorney for abortionist and convicted murderer Kermit Gosnell, shocked America Wednesday during his first live cable news interview since the jury's verdict in his client's case. McMahon twice spoke the words, "thank God," and revealed to Fox News host Megyn Kelly that he believes banning abortion after 17 weeks should become law, and all abortion clinics must be inspected annually.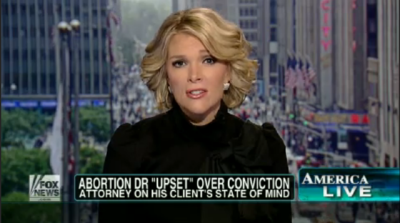 "I've come out of this case realizing that 24 weeks is a bad determiner," McMahon told Kelly. "It should be like 16, 17 weeks. That would be a far better thing, and I think the law should be changed to that. I think there will still be the right to choose, but they've got to choose quicker. I think that's something that should come out of this. I think more regulations should come out of these locations."
McMahon isn't the only person whose opinions about abortion have been altered after hearing the graphic details of the procedures. JD Mullane, a columnist for The Intelligencer, who was lauded by former Arkansas Gov. Mike Huckabee for his coverage of the Gosnell trial, told CP that a fellow journalist is rethinking his stance on abortion. He might remain pro-choice, but "he's soul-searching, and is more pro-life than he was at the beginning of the trial." The anonymous reporter is expected to break his silence and share his journey about the abortion issue in an upcoming column.
Mullane also mentioned a recent column by Kirsten Powers, in which she reveals a factoid that's unbeknownst to most Americans, which is that France, Germany, Italy and Norway have stricter abortion laws than the United States, with a ban on abortion after 12 weeks.
Regarding Gosnell's late-term abortion practices, Mullane said his "reputation was up-and-down the Eastern seaboard. There was testimony that women came as far away as Puerto Rico to get these abortions from him."
The gruesome details of abortion that were described throughout the Gosnell trial dispelled the myths of simple, tidy and pain-free procedures. "The interesting thing for me is to see how people's eyes are opened when the Gosnell story is placed in front of them," Mullane said.
Describing the large images of aborted babies that protesters held up across the street from the Philadelphia courthouse, Mullane said it was interesting to see how people would walk past the pictures, averting their eyes.
"I saw some people putting their hand up to their face, like a blinder. I think that's a great metaphor for the whole issue of abortion, in that the country has blinders on. And those blinders should come off. If you're pro-choice and you believe that a pregnancy should be terminated at 12, 18, 24 weeks, fine. But understand what you're advocating and what's going on in those clinics," he said.
During his interview with Kelly, the host of "America Live," McMahon partially blamed lax regulations of abortion clinics for the conditions found in Gosnell's Women's Medical Society in West Philadelphia.
"I'm not going to tell you that things didn't get out of hand at that location," McMahon said. "There was no oversight for over 18 years, and no one came and looked at that location."