Gospel Singer Tim Bowman Jr.'s Wife Stands by Her 'Purity Certificate'
Too Much Information? Pastor's Daughter Tells Instagram Followers of Intact Hymen and Purity Pledge Before Marriage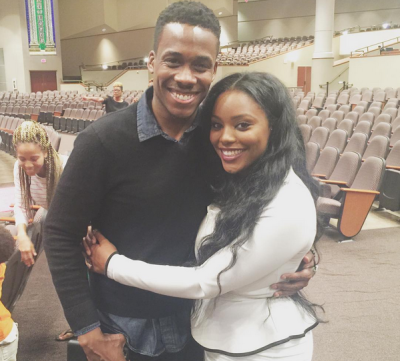 After Brelyn Bowman announced that a doctor had signed off on a purity certificate that proved she was a virgin before her recent wedding to gospel singer Tim Bowman Jr., the act has been met with mixed reviews.
Both Brelyn and her husband, Tim, decided to wait until they were married to have sex, and the bride took things one step further when she announced on Instagram that she presented a purity certificate to her father before moving forward with the next chapter of her life.
"I was able to present a certificate of purity to [my father] signed by my doctor that my hymen was still intact. Also the covenant he gave me when I was 13," she wrote on Instagram. "When you honor God, your life will automatically honor others! I love you daddy."
A plethora of Instagram comments proved that some supported Bowman's decision while others felt negatively about the matter. Brelyn's father, Pastor Mike Freeman of Spirit of Faith Christian Center, which has three Maryland locations, took to Instagram to speak out against those who chose not to support the concept of a purity certificate.
"Who knew that a pic like this would get so much negativity but a natural man will not understand things of the Spirit for they are foolishness to them!!! #meetthebowmans #readyourbible #prayingforyou," the senior pastor wrote.
Brelyn took time out of her honeymoon in the Maldives to share a brief message with those who did not approve of her purity certificate.
"Apparently some people on social media are trying to decide if they like or don't like my commitment of waiting/presenting a certificate to my dad. I started to want to explain/go in depth then I looked to my right my husband is swimming in the pool," she wrote. "I looked ahead and saw the Indian Ocean. So while they're deciding I'll enjoy the promises of God for my life!"
The pastor's daughter decided against addressing her naysayers in depth, and instead spent more energy thanking those who stood by her decision to publicly share her purity certificate.
"Thanks for all your support on social media over the last couple of days! We will continue to push and celebrate our decision. Thank you for helping us push a positive message! If one person has made a decision to wait until marriage or decide to stop and wait we have done our job," she wrote. "Let's make Jesus famous! -Mrs. B"
Brelyn's husband seems to be following her sentiments to make Jesus famous with his gospel song "I'm Good," which sits at No. 6 on Billboard's Gospel Airplay charts. He previously spoke to Parle magazine about representing the type of Christian artist who also knows how to have fun.
" ... If you see me and follow me on Instagram, we have fun. I don't look like the typical church kind, typical inspirational artist, but I really want people to know that you don't have to be wack or corny and can still live for Christ having fun," Tim, the nephew of gospel singer Vickie Winans, told Parle. "You can still have a good time. It's not something like shackles and weight and you're in jail. Life is about what you make it."