Gov. Scott Walker Says He Doesn't Know Whether Obama Is a Christian in Response to WaPo's 'Gotcha' Question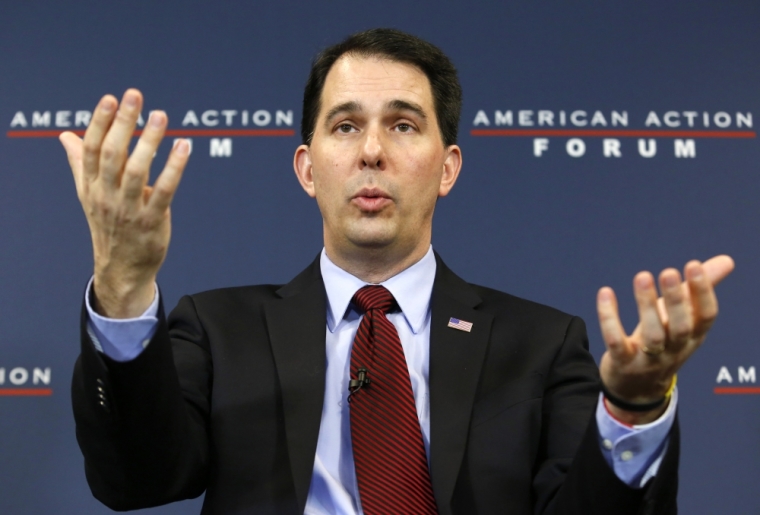 A week after former New York Mayor Rudolph W. Giuliani said he wasn't sure whether President Obama loves his country, Wisconsin Gov. Scott Walker, a Republican, said he doesn't know whether Obama is a Christian after The Washington Post asked him the "gotcha" question about which religion President Obama adheres to.
"I don't know. I've actually never talked about it or I haven't read about that. I've never asked him that," Walker, a potential 2016 presidential candidate, told The Washington Post, when asked what he thinks of Obama's faith.
"You've asked me to make statements about people that I haven't had a conversation with about that. How [could] I say if I know either of you are a Christian?" he added.
Walker was then asked to respond to Giuliani's comments at a private dinner last Wednesday about Obama's love for his country. The governor gave a similar reply.
"I don't know, I honestly don't know, one way or the other," he said. "I've said that 100 times too."
President Barack Obama, when he was a U.S. Senator campaigning to become president, questioned the patriotism of then President George W. Bush, saying that Bush's policies made him "unpatriotic." Last week, White House Press Secretary Josh Earnest said the president has refused to apologize for those comments.
Incidentally, Walker met Obama at a dinner Sunday night at the White House which was held on behalf of the National Governors Association.
The Post says Walker spokeswoman Jocelyn Webster called after the interview to clarify that the governor was only trying to make a point of principle and not cast doubt on the president's faith.
"Of course the governor thinks the president is a Christian," she was quoted as saying. "He thinks these kinds of gotcha questions distract from what he's doing as governor of Wisconsin to make the state better and make life better for people in his state."
Even during the interview, Walker complained that the media doesn't ask similar questions to Democrats about what other Democrats have said. "They don't ask the president about people like [Teamsters President] Jimmy Hoffa, they don't ask Hillary Clinton about others out there."
Hoffa blasted the tea party movement before Obama at a rally in 2011.
"My focus isn't on what the mayor said. My focus is on why I believe, should I choose to get in this election, why I believe we need a fighter," Walker said.
Despite Walker's clarification, some Democrats reacted to his comments.
"This is truly pathetic. Governor Scott Walker says he is unaware whether Obama is a Christian," Donna Brazile, vice chairwoman of the Democratic National Committee, tweeted.
Recently, Erick Erickson, editor-in-chief of the RedState conservative blog, also remarked about Obama's faith.
"Barack Obama is not, in any meaningful way, a Christian and I am not sure he needs to continue the charade. With no more elections for him, he might as well come out as the atheist/agnostic that he is," Erickson wrote.
He also quoted from the transcript of Obama's speech at the annual National Prayer Breakfast: "I believe that the starting point of faith is some doubt — not being so full of yourself and so confident that you are right and that God speaks only to us, and doesn't speak to others, that God only cares about us and doesn't care about others, that somehow we alone are in possession of the truth."