Grand Canyon Helicopter Crash (VIDEO): Tearful Pastor Thanks God for His Sons Who Died Together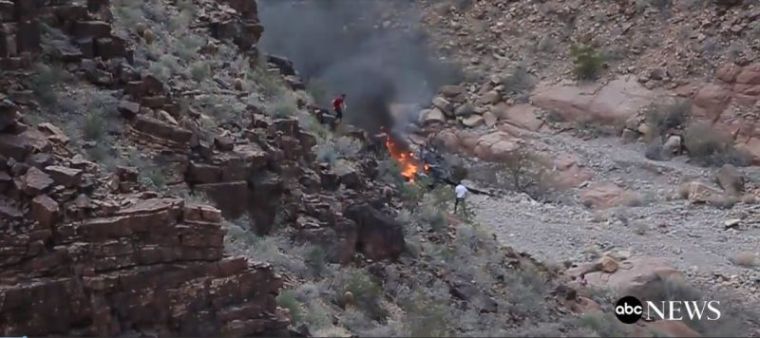 A British pastor and father of the two brothers who died in a helicopter crash in the Grand Canyon on Saturday has said in interviews that the siblings were "incredibly close," as footage of the wreckage has been released.
"The two brothers loved each other and were very close, and so our misfortune is their support — because they went together, and I will thank God every day for them," the Reverend David Hill told the Evening Standard on Monday.
Three people in total lost their lives in the crash, namely 32-year-old Jason Hill, his brother Stuart, 30, and the latter's girlfriend, 27-year-old Becky Dobson. Four others survived, including the pilot, Scott Booth, though they are in critical condition in hospital with severe burns.
The group was taking part in a Grand Canyon sightseeing tour, Sky News reported, though the cause of the crash has not yet been made clear.
National Transportation Safety Board investigator Stephen Stein has said that detectives are "working very closely to obtain statements, which will happen hopefully within the next few days or whenever they do make a timely recovery."
Stein added: "Their safety is very important to us. We want to make sure we do not rush the recovery."
Hualapai police chief Francis Bradley said that the region has been experiencing extreme weather conditions, which is why the injured who crawled out of the crash had to wait for eight hours before emergency services could reach them.
"Yesterday, we were hampered by severe weather conditions, we had gusts up to 50mph. The terrain where the crash occurred...is extremely rugged," Bradley said.
Reverend Hill said that his sons were "incredibly close" and had good relationships with other people.
"They were truly loved by lots of people. They were incredibly close, and as parents we feel blessed to have had them, but a light has truly gone out," the pastor said in tears.
He noted that the Grand Canyon trip had long been planned.
"Six of them went out for my son's 30th birthday. They had saved for a year to go, and it was a helicopter accident. We are absolutely devastated," he added.
Witnesses to the crash, such as Lionel Douglass, who was attending a nearby wedding at the Grand Canyon, said that he watched with disbelief as victims crawled out of the wreckage.
"I had taken my phone and I was zooming in to see if I could see anybody and a lady walked out of the flames and I just lost it," Douglas shared.
He added that it appeared that the helicopter was making two complete circles in the sky, searching for a spot to land before the aircraft went down.
"It happened so fast," the witness told ABC News. "When I saw them turning, I wasn't sure what he was doing and by the time I yelled to everybody to turn around and look, it was all out of control.
"It fell down between the mountains, the tail broke in half, it hit the bottom and it was the biggest explosion you ever heard and then flames like you never seen before."
Teddy Fujimoto, another witness, saw two women survivors badly injured in the aftermath of the crash.
"It's just horrible. And those victims — she was so badly burned. It's unimaginable, the pain," he said.
Watch a video containing footage of the burning wreckage and photos of rescue efforts below: