Greeter Shot in Head After Gunman Opens Fire in Church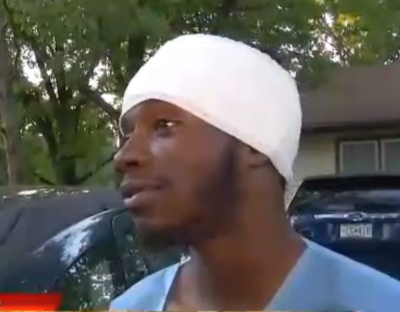 A greeter at the House of Refuge Family Worship church in Kansas City, Missouri, who had just recently started in the position is thanking God for his life after he was shot in the head while trying to stop a gunman who opened fire in church on Sunday.
The greeter, Montell Bruce who has been attending the church for about a year and had just started as a greeter a few weeks ago, told KCTV5 that he was greeting churchgoers when the gunman entered the church.
Police told The Associated Press that the gunman entered the church, located in the 10800 block of Hillcrest Road, through a back door and fired multiple shots.
Bruce explained that when he saw the man pull the gun he sprang into action.
"My family was there. My son was there," he told KCTV5. "I tried to grab him and throw him to the ground. I was trying to get the gun."
During the struggle, however, the gunman fired at Bruce hitting him in the head.
"The first shot hit me. It hit me in my head," said Bruce.
He explained that he was forced to run away and broke a window in the church to escape. His effort to stop the gunman, however, may have saved lives as no one else in the church was injured.
"I don't know why I did it," he said. "But I did."
As for the man who shot him, the plucky church greeter said he had seen the man before at the church but he wasn't a regular member.
He said he doesn't understand why someone would want to shoot inside a church but that he will not be scared away from the house of the Lord. He expects to be back in church next Sunday even though he doesn't expect to be shaking hands for a while due to injuries.
In a statement posted to the church's Facebook page on Sunday, the church thanked the staff for acting quickly to minimize the damage that could have been caused.
"We gladly acknowledge our pastoral staff and our church's first responders for acting quickly and responsibly. We are extremely grateful that neither our Pastor D'Eric Fields, nor our church members sustained any life-threatening injuries. We will continue to work diligently together and with authorities to further ensure the safety of our church family and friends," the statement said.
Pastor Fields also addressed the incident in a Facebook Live session, praising God for being his "battle axe" and "strong tower."
"I know you all have heard about the recent news that took place today at the House of Refuge," he said. "It's been a very long day for me. I love each and every one of you."
He went on to state that his church is a place of refuge for all people and will not complain about the background of anyone in his church. He also noted that the church did everything they could to ensure that members were protected at the time of the incident.
"Do not believe the rumors that people were shot at or our members were in any kind of danger. Our leaders and the people that stand by my side, we took every precaution this morning to make sure our members ... were protected even though it was a scary and traumatizing event for many people."