Finding True Joy in a Selfie Culture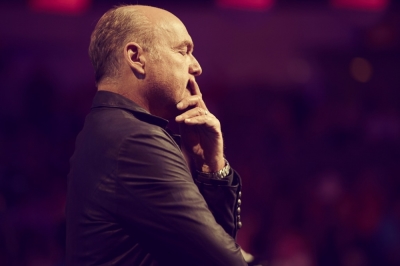 We are living in a selfie culture.
Nearly two-thirds of Americans have smartphones today. In fact, the whole planet is getting in on it. Two billion consumers worldwide will have smartphones by 2016. And all of those phones have cameras. Hence, the selfie culture.
(In case you have been hiding in a cave for the last few years, a selfie is a photo of yourself taken with your smartphone.)
There are 80 million photos posted on Instagram per day. Facebook has 1.49 billion active users per month. Twitter has 316 million active accounts. Tumblr has 230 million. Pinterest has 47.66 million unique visitors from the US alone and is the fastest-growing independent site in history.
I read an article about people who have literally died taking selfies:
One woman fell 15 feet from a bridge while taking a selfie. She was visiting Spain and stopped to take a photo. She was balancing on the ledge when she fell to her death
A couple visiting Portugal fell off the edge of a cliff while trying to take a photograph. The couple's children, ages 5 and 6, watched as their parents fell. The parents had crossed a safety barrier to get the perfect selfie.
A 21-year-old man from Spain was electrocuted to death after being struck by a high-voltage wire. He had climbed on top of a train in order to take a selfie and he touched a live wire and was hit with 3500 volts; he was instantly killed.
These tragedies illustrate how far people will go for the "perfect selfie."
It seems people often want to project a far happier online life than they may really be experiencing. Many seem to be living two lives: one online and one off. And according to one article, "studies show that this makes us more vulnerable to depression, loneliness, and low self-worth."
An article in the New York Post, "Our Double Lives: Dark Realities Behind 'Perfect' Online Profiles," gives this example:
Take Madison Holleran, a beautiful Ivy League student, star athlete and all-around popular girl. Her Instagram account only underscored this image: parties, friends, track meets, her dad cheering her on. But Madison was keenly aware of the difference between her online life and her real one. She once corrected her mother, who told ESPN The Magazine that after looking at Madison's photos, she turned to her daughter and said, "Madison, you look like you're so happy at this party."
"Mom," Madison said. "It's just a picture."
On Jan. 14, 2014, Madison posted a photo of trees strung with lights, bulbs glowing against the twilight. An hour later, she leapt to her death from the ninth floor of a parking garage.
She was 19 years old.
Deep down inside we all want to be happy, and there is nothing wrong with that in and of itself.
We want our lives to match our "selfies," but they usually don't.
Perhaps that very word sums it up: "selfie," or simply, "self."
As one article says, we suffer from "low self-worth" and our real problem is low "self-esteem" and "self-love."
The Bible, which by the way is the very user's manual of life, offers a different view. According to Scripture, we already love ourselves. For instance, when you look at a group photo you happen to be in, who do you look for first? Yourself of course.
Acknowledging this truth, Jesus said, "Love your neighbor as yourself" (Mark 12:31 NKJV).
Jesus is saying, "You already love yourself. So, love your neighbor just as much!"
The real way to find happiness in our selfie culture is not by loving ourselves more, but by denying ourselves.
Jesus said, "If anyone desires to come after Me, let him deny himself, and take up his cross daily, and follow Me. For whoever desires to save his life will lose it, but whoever loses his life for My sake will save it." (Luke 9:23–24 NKJV).
There are people today who say they are trying to "find themselves." Jesus in essence says, "You want to find yourself? Then lose yourself."
You want to find life, purpose, and personal happiness? Then say, "Lord, here is my life. Here are my plans, my aspirations, my dreams — as well as my weaknesses, shortcomings, and sins. I believe that Your plans are better than mine, in the long run."
God says, "I know the thoughts that I think toward you ... thoughts of peace and not of evil, to give you a future and a hope" (Jeremiah 29:11 NKJV).
So I must "lose myself" to truly "find myself"!
This flies in the face of the selfie culture commonly accepted today. We hear so much about self-worth, self-image, and self-esteem. Jesus does not say, "Esteem yourself," but rather "Lose yourself." And if you die to yourself, you will find yourself.
Let's not die for selfies; rather let's die to ourselves. Then we will find what we have been looking for: God's plan and purpose for our lives.
Instead of a 'selfie' or selfish culture, we need a selfless culture.
The real cure for selfishness is selflessness!
Greg Laurie is the senior pastor of Harvest Christian Fellowship, with campuses in Riverside and Irvine, California.