Greg Laurie Talks Solar Eclipse, North Korea and Robert Jeffress (Interview)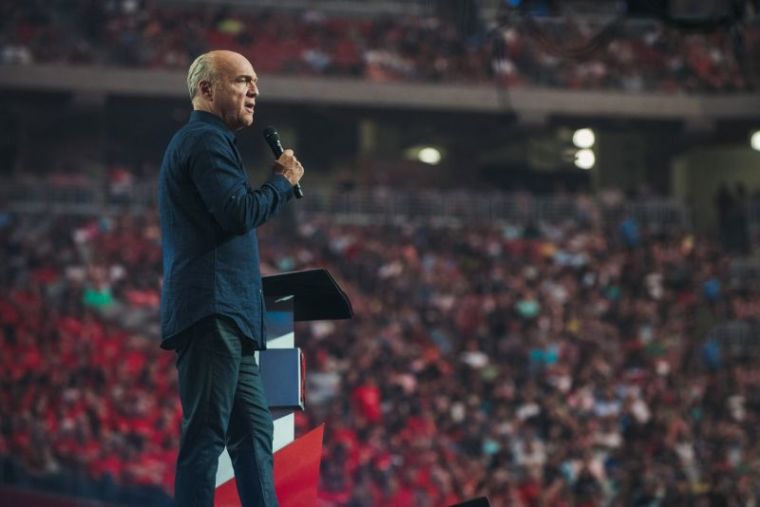 As California evangelist Greg Laurie prepares to host his 28th annual SoCal Harvest evangelism crusade in Anaheim next weekend, he says he doesn't believe there is special prophetic significance to the total solar eclipse that will occur the day after the three-day revival event.
Laurie, the senior pastor of Harvest Christian Fellowship megachurch in Riverside who regularly hosts evangelism crusades attended by thousands, will host SoCal Harvest 2017 at Angel Stadium on Aug. 18–20, a free three-night event featuring performances from some of the biggest names in Christian music and a Gospel message delivered each night by Laurie.
As the event wraps up Sunday night, a total solar eclipse is scheduled to occur the following day, which would be the first time in nearly a century that a total solar eclipse will be visible across the contiguous United States.
Some Christian leaders, such as evangelist Anne Graham Lotz, have warned that the "Great American Eclipse" could be a divine signal warning of God's possible judgement.
In discussing the upcoming SoCal Harvest crusade in an interview with The Christian Post, Laurie was asked whether or not he believes there is any significance to the upcoming eclipse.
"For me personally, I am not attaching any great significance to a solar eclipse," he said. "There are many signs that Jesus told us to look for that would alert us to the fact that His coming is near. The fact is, those signs are all around us. Only a fool would ignore the writing on the wall. As far as the solar eclipse goes, I personally don't attach any great significance to that in particular."
As this year's SoCal Harvest will feature performances from Christian artists Lecrae, Jeremy Camp, Jordin Sparks, and Crowder, among others, Laurie told CP that he plans to address in his messages "things that people are concerned about right now," such as rising alcohol and drug use and anxiety.
"You know, we are living in age of anxiety and it's no wonder," Laurie said. "We have North Korea, who now has the ability to launch nuclear weapons, threatening to attack us and we can't dismiss things like this. There are things happening in our world today that cause alarm, that cause concern, they cause fear."
"People go chasing after all that culture offers and they don't find answers they are looking for, as noted in the suicide of two prominent lead singers of rock bands — Chester Bennington of Linkin Park and Chris Cornell from Soundgarden," Laurie continued. "Here are guys that are living the dream, playing in rock bands. But there is an emptiness to these things and I think people need to realize that the answer to everything they are looking for is right in front of them. It's not in a drug, it's not in possession, and it's not even in religion. It's in a relationship with Jesus Christ."
At the end of each night's message, Laurie will ask those in attendance to come on the field and commit their lives to Christ. At least year's SoCal Harvest, as many as 11,994 people made decisions for Christ.
Having touched on the anxiety surrounding the tensions with North Korea, Laurie was asked to comment on a statement made by Dallas megachurch Pastor Robert Jeffress, a spiritual adviser to President Donald Trump who declared earlier this week that "God has given Trump authority to take out Kim Jong-Un." Jeffress cited Paul's writing to the Romans.
While some have been critical of Jeffress' remarks, Laurie explained that he agrees with the First Baptist Dallas pastor.
"This effectively would be an act of self defense. We are not threatening to destroy a nation for the sake of being aggressive or wanting to conquer them or take their territory from them. We are seeking to protect the citizens of the United States of America and the president has, in fact, sworn to do that when he took his oath to protect and defend the Constitution of the United States and defend the citizens of the United States of America," Laurie said. "So, when a person like Kim Jong-Un, who has nuclear weapons and continues to do test firings and so forth and then specifically threatens to attack Guam or American soil, we can't take this lightly."
"The president, the military and of course, the police and those who are in positions of authority, according to Scripture, have been placed there by God. The Bible says, 'They do not bear the sword in vain,'" Laurie continued. "So, I do think that they have the responsibility of doing their job. It's interesting because when Paul made that statement, Rome was in power — hardly a virtuous nation. So, I do agree with that statement [made by] Dr. Robert Jeffress, who is a friend of mine. I agree with that statement. But, I am sure our president and those in authority will do everything they can to de-escalate this through sanction or negotiation if we can get them to talk and whatever else we can do."
Laurie called for people to pray for a de-escalation of the tension between North Korea and the United States.
"I would say that this threat is real and even though we could overwhelm them militarily, there is still great danger that they could use nuclear weapons against us," Laurie said. "I think Christians need to pray for God's protection on our nation and I think they need to pray that the Lord would give wisdom to our president that he would know what to say and what to do and when to do it, that God would protect our military."
CP will provide more details about the upcoming SoCal Harvest in another article this week.
Laurie is also set to release a new film about the faith of Hollywood icon Steve McQueen, which will be shown in over 800 theaters nationwide on Sep. 28. The film is a followup to the book Laurie released earlier this year on the "king of cool."