Greg Laurie Urges Christians to Preach the Gospel at Rally for Harvest America
More Than 1,400 Churches, Venues to Host First-of-Its-Kind Outreach
Evangelist Greg Laurie and his ministry partners called on Christians to become bold in telling others about Jesus during a pre-event rally for Harvest America Sunday evening. Also, it was announced that more than 1,400 churches and venues hosted by Christian leaders plan to carry the first-of-its-kind outreach event on August 26.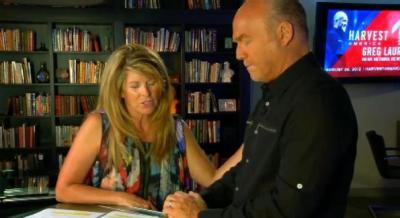 "God can use you to bring other people to Jesus Christ," said Laurie during the "Start! Rally" webcast. "Otherwise, Jesus would not have given us marching orders to all of us. The Great Commission, as we call it, is to go out into all the world and make disciples of all nations and preach the Gospel, in the original language it is given to everyone – go.
"Harvest America is all about that. We are going wherever we can. There's going to be people hearing the gospel that have never been exposed to it before," he said.
Event organizers plan to use satellite and online streaming to broadcast the live event from Angels Stadium in Anaheim, Calif., to each host site location, including churches, offices, theaters and coffee shops. The broadcast with also be carried by Christian TV and radio stations. Laurie and his ministry leaders hope to take the success of the annual Harvest Crusade stadium events that have been attended by 4.4 million people over the last 22 years to the next level.
The Riverside and Orange counties-based organization pointed out recently that with a U.S. presidential election looming, many Americans are wrestling with concerns and fears over the direction of the country and how they will be personally impacted.
"Every four years our nation's attention and concerns are disproportionally turned to politics. While electing our country's leader is important, I have a message for America that could bring more lasting hope and change than any policy, politician or president," Laurie stated.
"Our hope is that Harvest America is not only a night of fun and excitement but a night of encouragement for Americans who are struggling financially, relationally, physically and spiritually," Laurie explained. "We understand that life is hard and sometimes turns out differently than we had planned. However, politics is not the ultimate solution for our citizens' needs or country's problems. We believe that people can find hope and joy, despite their struggles, when they know Jesus Christ."
During Sunday's rally Laurie emphasized the importance of Christians going out into their "sphere of influence to preach the Gospel."
"Jesus didn't say 'Go into all the world and be a good example.' Now, I'm not implying that you should not be a good example, but sometimes people say that they believe in sort of a 'lifestyle evangelism' … that they lead by example. Well, that may be true, but Jesus actually told us to specifically go into all the world and preach the Gospel. I'm all for a good example, but you have to verbalize it," Laurie said.
Earlier in the day, Laurie preached a message during his two church services (one each from Harvest locations in Riverside and Orange counties), in which he pointed out that it is estimated that 95% of all Christians have never led another person to Christ.
"Some might say, 'Well,I'm not called to do that. That's for the Evangelists out there to do!' True, that is the job of the evangelist. However, even though every Christian is not called to be an evangelist, every Christian is called to evangelize," he said.
During the webcast Sunday evening, Laurie presented "mini-messages" from pastors James MacDonald, Bob Coy and Jack Graham on the topic of Christians sharing their faith. Also, Laurie's wife, Cathe, who is the executive leader of the prayer ministry for the Harvest America event, shared her thoughts on the importance of prayer.
"In times past as we've headed into [Harvest] crusades season, even the night of the event, we have faced bizarre and strange opposition. Ephesians 6 tells us that we wrestle not against flesh and blood. There's probably nothing that the enemy hates more than the mystery of the Gospel being boldly proclaimed in public venues and on the airwaves," Cathe Laurie said.
"One huge prayer request that we have is that all this technology, not just in Anaheim, but all across the nation, that everything would go smoothly."
Witnessing (Greg Laurie)