Greg Laurie: Watered-Down Mainline Christianity Is a Sign of the End Times (Interview)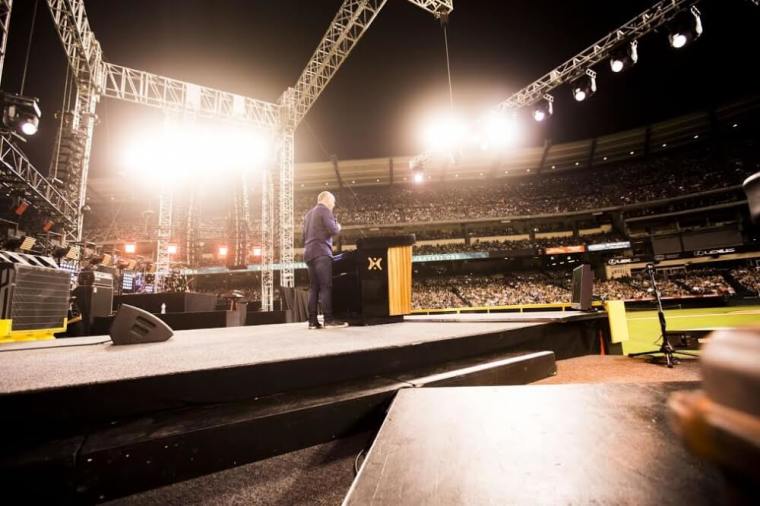 CP: Along with the feeling that the world could be coming to an end one of these days, you've said that the worst is yet to come. What does the worst entail? Is that something we don't know?
Laurie: We do know because it's in the book of Revelation. You know, it is not God's desire to conceal but to reveal. The word revelation means "unveiling." So, there God tells us exactly what is going to happen and scripture tells us that there is going to come a world leader who will initially bring overtures of peace. He will help the Jewish people rebuild their temple in Jerusalem. He will have a new economic system where you don't buy or sell without his mark. Initially, for some, it will look like a good deal because there will be peace, as I said.
But at the three-and-a-half mark of the tribulation period that really begins with the emergence of Antichrist, he shows his true colors. He performs what is called the "abomination of desolation," where he erects an image of himself and commands people to worship it. Then, God's judgement begins to fall on the Earth.
It's going to be a horrible time and millions of people are going to die in the tribulation period. But having said that, it is also true that millions of people are going to come to Jesus. Sometimes, it is falsely said that the Holy Spirit will be taken off the Earth during the tribulation period. But the Bible does not teach that. The scripture teaches that he who now restrains will continue to do so until he is taken out of the way. That is from Thessalonians.
I believe that the work of the Holy Spirit, through the church, will continue on. Then, the Lord will remove the church but the Holy Spirit will still be working on planet Earth, bringing people into the kingdom. So, it is going to get worse before it gets better. But I have read the last page of the Bible and I know for sure that we win in the end.
CP: Many Evangelical Christians feel that they are stuck between a rock and a hard place with the 2016 election. Since you say that America needs a spiritual revival, what kind of advice would you give to Christians as they go to the polls this November?
Laurie: I think every Christian should register and vote. I think it is very important to do so. I know this is a tough election for many. It is a very unusual election. I have never seen anything like it in my lifetime.
I think what we have to do is sit down and look at the positions of the candidates. One thing that is of the greatest importance is that next president of the United States will appoint, we don't know how many but it could be quite a few new members to the Supreme Court.
Well, that's of the greatest importance because that could tilt it in the wrong direction. We need people who will strictly interpret the law and not be promoting an agenda, as is the danger right now with some members of the Supreme Court. That alone, to me, is a major issue and I think we need to look at what candidate best represents our positions when it comes to appointing new members of the Supreme Court.
There is other issues that I could delve into but I would just say this: every Christian needs to be informed, every Christian needs to register and every Christian should absolutely vote.
CP: That's all the questions. Is there anything else you would like to add?
Laurie: I would just like to say that I appreciate The Christian Post. I really do read it everyday because I love the way that it is constantly refreshing its page with new articles. It's very current. It's very on top of what's happening in the world.
I am a bit of a news junkie and I look at a lot of news sites and I stay up and a lot of times I find out things first on The Christian Post. This is a Christian website that is first, a really good website. Secondly and importantly, it looks at these things from a biblical worldview. I appreciate the balanced approach of those who have responsibilities of making editorial decisions at CP. I am often reading and using things I find in the Post in my messages and retweeting articles I read.