Suspected Fulani gunmen raid Baptist church service in Nigeria, abduct 4 worshipers; 1 killed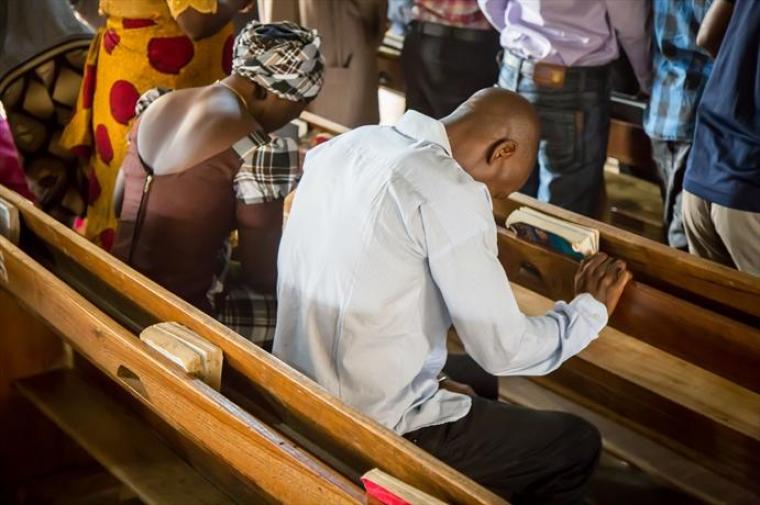 Armed Fulani radicals raided a Baptist church's Sunday service in Nigeria, killing one person, injuring another and abducting four women as violence accelerates in the Kaduna state. 
Charity Musa, Rose Zacharia, Alheri Bala and Liatu Zakka, a widow whose husband was murdered in an earlier attack, were the four women kidnapped from the church service at Haske Baptist Church in Manini village of the Chikun Local Government Area, according to the United Kingdom-based human rights organization Chrisitan Solidarity Worldwide.
Sources claim heavily armed men killed health worker Zacharia Dogon Yaro and injured Shehu Haruna. 
Government officials confirmed the attacks. 
"Preliminary investigation conducted so far revealed that, four persons are missing which arouse a suspicion that they might have been kidnapped by the hoodlums," police command spokesperson Mohammed Jalige told Nigerian media.
"Two others sustained gunshot wounds, namely; Dr. Zakariya Doga Yaro, a staff of Kaduna State Ministry of Health attached to the Primary Healthcare Center in Rimi village, Udawa, Chikun LGA and Shehu Haruna."
Khataza Gondwe, CSW's head of advocacy in the organization's office in Nigeria, told The Christian Post in a Tuesday interview that the danger of attacks and kidnappings has become widespread in Nigeria. 
"Kidnappers have expanded their operations to the extent that everybody, every civilian right now feels like prisoners because they're afraid when driving outside of towns and cities," Gondwe said. "Once on an open road, they are subject to being abducted. … Armed men can emerge [from] the bush and take people away, leave cars behind. At the moment, that kind of kidnapping is coming closer and closer to the cities."
The militant groups threaten everyone, Gondwe said, but Christians face "particularly bad treatment" depending on who the abductors are.  
"If Christians fall into the hands of armed groups that have an extremist religious ideology, then the danger is definitely heightened," Gondwe explained. 
A source told CSW the kidnappers are expanding their activities, especially in rural areas. 
"We are like prisoners. We can hardly step out of the city. Once you're on the road, your heart is in your mouth until you reach your destination," the source told CSW.
The abductors often kidnap to demand ransom money, which has become a lucrative industry in Nigeria. 
After years of not being addressed effectively by authorities, the danger is now widespread. Gondwe said the attacks began around 2011 and became worse in 2015 when the current administration took control. 
"Nothing was done to address this, and now these armed assailants are attacking everybody," Gondwe explained. "They have developed a taste for money and for violence and power, and everybody is now endangered by these people. Yes, the Christians are the primary targets, and they continue to be primary targets, but now this violence impacting every community, and the security situation is really quite awful."
Gondwe said mitigating the attacks of assailants has been neglected by the federal government, which could have prevented the prevalence of the violence. The government is suspected of being complicit or sympathetic toward the attackers, she said. 
"[If the government was genuinely concerned about stopping it], it ought to have been stopped long ago," Gondwe said. "If it had been stopped at the stage when it was getting out of hand, in terms of sustained attacks in predominantly Christian southern Kaduna, we may not be having these problems now."
Kaduna state, where Sunday's abduction and raid occurred, has become an "epicenter" for abductions and mass kidnappings despite having 11 military installations in the state. This trend has led to the displacement of tens of thousands of individuals in southern Kaduna, she said. 
"The alarm has been raised repeatedly with regard to the highly concerning situation in Kaduna state for several years. Yet the state government, federal authorities and members of the international community still appear reluctant to make any meaningful interventions," CSW Founder President Mervyn Thomas said in a statement. "We call once again on Nigeria to address the kidnapping crisis as a matter of urgency, ensuring that those responsible are brought to justice."
In the past week alone, the Kaduna state has experienced multiple attacks and abductions. 
On April 20, attackers raided a private university in the Kaduna state and abducted about 20 students and three staff members, which has resulted in some deaths, CSW reported. 
Also, on April 20, Fulani militiamen reportedly raided a village and kidnapped nearly 70 individuals.
On April 21, gunmen attacked a hospital and abducted nurses despite its proximity to a military checkpoint. 
On April 23, gunmen reportedly attacked the Unguwan Mission, kidnapping eight people, including a Seventh-day Adventist church leader. 
On April 26, CSW reported that armed men raided a housing estate in Kaduna state and kidnapped two women for ransom. 
The Kaduna state branch of the Nigeria Baptist Conference has recorded around 35 members that have been killed and 145 others kidnapped in this year alone, The News Nigeria reported. 
Nigeria, Africa's most populous country, ranks No. 9 on Open Door's World Watch List for Christian persecution worldwide due to an "extreme" level of Islamic oppression. 
Global Terrorism Index ranks Nigeria as the third most affected country by terrorism. It reports that from 2001 to 2019, there were over 22,000 killed by acts of terror. 
Boko Haram, Hausa-Fulani Muslim militant herdsmen, ISWAP (an affiliate of the Islamic State group) and other Islamic extremist groups are often responsible for the violent attacks against Christians. 
Last December, Nigeria became the first democratic nation to be added to the U.S. State Department's list of "countries of particular concern" under the International Religious Freedom Act for engaging in "tolerated systematic, ongoing and egregious violations of religious freedom."
In its 2021 report, the U.S. Commission on International and Religious Freedom warned Nigeria "will move relentlessly toward a Chrisitan genocide" if action is not taken. 
Gondwe said the situation in Nigeria requires urgent attention before it becomes more difficult to contain, yet the "security vacuum" in Nigeria is currently not being addressed.
"The whole country is really quite unstable at the moment and worryingly so," Gondwe added.  "Given the strategic importance of Nigeria, for the sake of Nigerian civilians, the region and the continent, this situation should really be at the top of the international agenda, I feel, before it evolves into something that cannot be easily handled."
A lack of coverage and awareness across the world is part of what allows the problem in Nigeria to run seemingly unchecked. 
"Because these events are happening almost under the cover of darkness in terms of international media, as no western media is there to cover this violence consistently or even as it happens, it can continue without receiving much needed international attention," Gondwe said. 
"And it will continue until something major happens that the international community can no longer ignore, which will be very unfortunate," she continued. "I think this lack of coverage is one of the issues."