Abducted Nigerian Christian girl Leah Sharibu gives birth to second baby in Boko Haram captivity
Leah Foundation urges Nigerian President Buhari to secure her release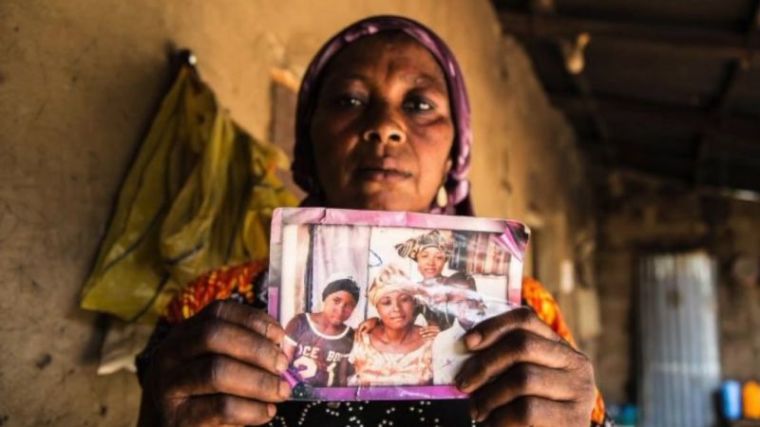 Leah Sharibu, who was among 100 Nigerian schoolgirls kidnapped by Boko Haram militants in 2018, gave birth to her second child in captivity, according to reports. 
The report was initially circulated by the Washington, D.C.-based U.S.-Nigeria Law Group, which told The Christian Post on Saturday that a trusted source had confirmed that Sharibu gave birth to two children last year. 
However, Emmanuel Ogebe, convener of the U.S.-Nigeria Law Group, said in a statement reported by the Daily Post on Tuesday that while the update about Sharibu came from a "usually knowledgeable source," they "have not corroborated this by multiple sources."
Sharibu was kidnapped on Feb. 19, 2018, by Boko Haram militants who raided the Government Girls' Science and Technical College Dapchi, Yobe state. While 104 of the girls were released within a month, Sharibu is the only one of the Dapchi girls who has continued to be held against her will because she refused to renounce Jesus Christ and adhere to the militants' version of Islam. Boko Haram has pledged to enslave her for life. 
According to a statement released by Sharibu's parents, Nathan and Rebecca, and signed by their spokesperson, Gloria Puldu, president of the Leah Foundation, the family feels abandoned by President Muhammadu Buhari, who many have accused of doing little to protect Christians from kidnappings by terrorist groups operating in Nigeria. 
The statement, released to the Daily Post and other news outlets, reads in part: "Morning of March 23 was another very difficult day as we woke up to the very sad and heartbreaking rumors that Leah Sharibu, who is still in captivity for three years, has given birth to a second baby in captivity.
"It is a very big shame on General Buhari and his entire government. He has abandoned this young child in captivity. ..."
Executive director of Save the Persecuted Christians Dede Laugesen said the latest update about Sharibu, who's 17 years old, is both "sad and difficult."
"If true, someone knows where Leah is and how she's faring — she should be free! If untrue, it is devilish deceit," Laugesen said in a statement shared with CP. 
"Little information flows out of the terrorist dens of Sambisa Forest, long the domain of Boko Haram and their ISIS-affiliated splinter group, the Islamic State West Africa, who reportedly holds Leah captive," she added.
In February, American missionary Abu Zacharia traveled to Nigeria in an attempt to negotiate with Boko Haram for Sharibu's release in exchange for himself, according to Nigerian Canadian News.
Ogebe referenced Zacharia's efforts in a statement shared by the Daily Post, noting that despite the offer, "there has been no tangible response from her captors."
"That notwithstanding, intelligence received on the status of Leah indicates that she has delivered a second child in captivity," Ogebe added. "This means both children were born in 2020 as the terrorists announced her childbirth earlier in 2020. We are still investigating this."
Puldu added in the statement that the government's failure to rescue Sharibu from her captors is "shameful." 
"[The Nigerian president] has abandoned this young child in captivity. Leah Sharibu represents the face of women and girls in all forms of slavery and captivity in Nigeria," Puldu said.
"That is why a #FreeNigerianSlaves campaign was started in the United States of America due to Sharibu's plight, to advocate for the freedom of every Nigerian — especially women and girls in any form of slavery," she continued. "We call on all well-meaning Nigerians not to remain silent but speak up against the injustice against our children."
Puldu noted that Nigerians saw the United States government rescue one American citizen abducted in Niger because it "values the life of every of its citizen."
"Yet Leah, a minor, has been abandoned and forgotten by her government. We know that the American government has recently offed to assist Nigeria in its fight against insecurity if the Nigerian government request for its assistance," Puldu said. "Leah's parents are calling on General Buhari to please accept the American offer of assistance to secure the release of their daughter, especially if his current successful negotiators are not able to secure her release as they did with the recent school abductions."
In January 2020 it was reported that Sharibu delivered a baby boy who is the son of a top Boko Haram commander. In response to the news of Sharibu's first child, Puldu said at the time that the reports were "just a rumor as far as we are concerned."
"What we even desire is to see a proof of life so that we see Leah by ourselves. If they are able to have Leah safe, we will understand," Puldu said.
"The most important thing is that we want her to be alive. And if she is alive, we will praise God for that. They should release her, despite whatever condition she is in. That is all; it doesn't matter whether she is pregnant or with a baby," Puldu continued. 
On International Women's Day, Sharibu's parents renewed pressure on Buhari to rescue Sharibu by releasing an open letter to the president who promised them their daughter would be released.
Sharibu's parents noted the Nigerian government recently secured the safe return of nearly 300 abducted schoolgirls on March 2 and secured the release of other mass kidnappings but has failed to release their daughter after over three years of bondage.
Over 100 of the Chibok schoolgirls also remain missing after more than seven years.
Puldu and Rebecca Sharibu visited Washington, D.C., in June 2019 to urge then-President Donald Trump and Congress to help rescue Sharibu.
Shortly after meeting Sharibu, then-Vice President Mike Pence called Nigerian Vice President Yemi Osinbajo to the White House to raise questions about the rise in terrorism and abductions, especially those involving Christians.
Osinbajo assured at the time that the Nigerian government was doing all it could to secure Sharibu's release.
Due to widespread mass kidnappings, attending school is often dangerous for children in Nigeria. Due to the risks associated with going to school, around 10.5 million children between the ages of 5 and 14 do not attend school, according to the United Nations International Children's Emergency Fund.
In northern Nigeria, where Sharibu's kidnapping occurred, some 53% of children attend school.