'Guns Have No Place in Our Cathedral,' Bishop Declares After Man Accidentally Fires Handgun During Easter Mass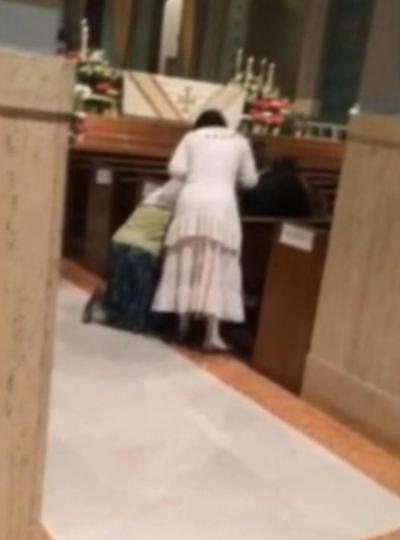 A Bishop in Pennsylvania has condemned a man who accidentally fired his handgun in church on Saturday during Easter mass, saying such weapons have no place in his church.
The man, whose name has not been made public, is understood to have accidentally fired the gun when he stood up in the pews at the Cathedral of the Blessed Sacrament in Altoona, Pa., on Saturday.
As the Easter Vigil mass was drawing to a close, the trigger caught on the man's pants and fired a bullet that grazed his hand before hitting the floor.
Bishop Mark Bartchak, rector of the Cathedral, said in a statement released on Monday that guns have no place inside his church because congregants have the right to feel safe while they worship.
"Many people understandably have questions about what would prompt an individual to carry a gun into the Cathedral," Bishop Bartchak said via the Diocese of Altoona-Johnstown. "I would like to take this opportunity to state my firm belief that guns have no place in our Cathedral or any of the other parishes in our Diocese. Our churches must be an environment in which all feel safe to worship the Lord and celebrate our Catholic faith."
The man was treated for minor injuries at a nearby hospital and he is expected to make a full recovery. Police have not filed any charges and an investigation is said to be ongoing.
Congregants were reportedly left scratching their heads after the troubling scene. It is still unclear why exactly the man was carrying the weapon.
"I immediately took a step back and was about to take cover," Jason Wagler, who went to the mass with his fiancée, told WTAE-TV. "You never know if you're safe anymore in this world. It's a shame to know you can't go into church without having something like this happen."
Churchgoers at Cathedral of the Blessed Sacrament were not the only believers left shaken over Easter weekend as congregants at one New Jersey church were injured during a roof collapse.
According to reports, one person was seriously injured and roughly a dozen others suffered minor injuries when the ceiling caved-in at the Korean Union United Methodist Church in Rahway on Sunday afternoon.
The Christian Post contacted The Cathedral of the Blessed Sacrament but they did not respond by press time.