Harding University Students Pay Tribute to Botham Shem Jean at Candlelight Vigil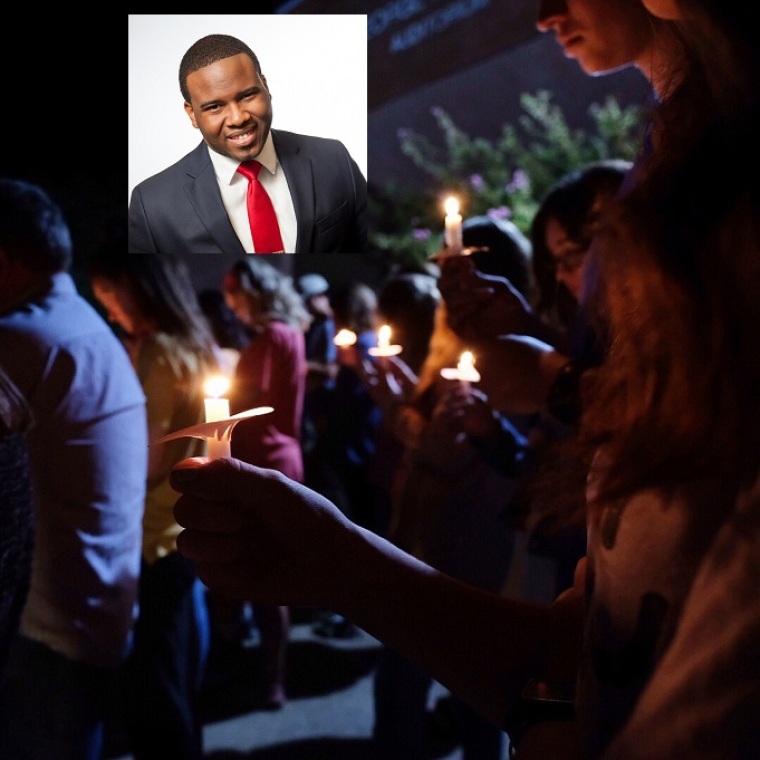 Students at Harding University in Searcy, Arkansas, remembered recent graduate Botham Shem Jean at a candlelight vigil where they sang songs such as "Love One Another" on campus Monday night.
The tribute comes days after the 26-year-old was fatally shot inside his apartment by Dallas police officer Amber Guyger, 30, in a case that has attracted national attention.
"'As the mountains surround Jerusalem, so the Lord surrounds His people.' During his time at Harding, Botham Shem Jean encouraged us with his leadership through worship. Tonight, we honored his life by encouraging one another with worship," Harding University stated on Twitter with photos from the vigil.
Jean graduated from Harding, a private Christian university, in 2016 with a degree in accounting and management information systems. At the time of his death he was working at PricewaterhouseCoopers in Dallas where he was only recently hired after an internship with the company.
During his time at Harding, he had become known through his frequent leadership in worship at chapel and campus events, university officials said. The university's student publication said he was a member of the acapella group Good News Singers, the Harding University Rugby Athletic Club and men's social club Sub T-16.
His love for singing continued at Dallas West Church of Christ where he was serving as the worship leader at the time of his death. A video of Jean singing Holland Davis' "Let It Rise" during his final church service on Sept. 2 has now gone viral.
Video of the vigil, which was hosted by the Student Association and the Black Student Association at Harding, was shared on the school's Facebook page. Students at Harding can be seen lighting candles, singing, praying and providing comfort to each other as they remembered Jean.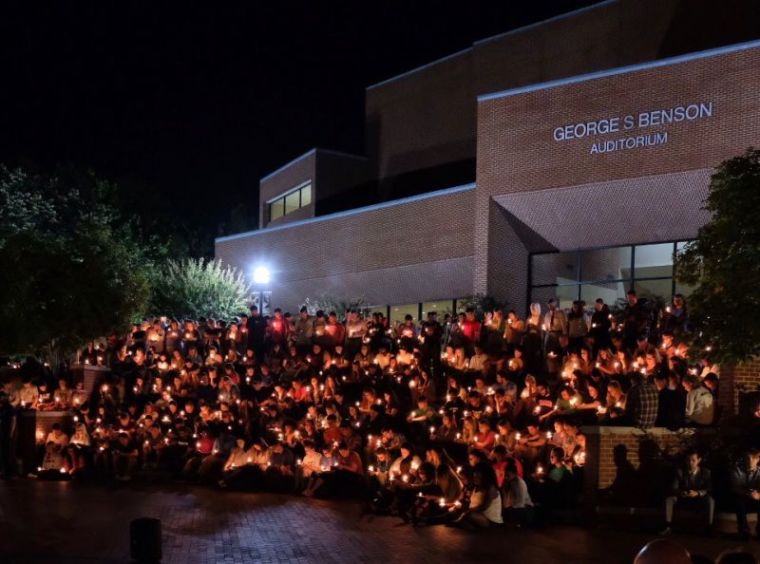 "We gathered tonight on the Benson steps to grieve the death of Botham Jean, to remember the way he touched our lives and to worship God the way Botham so often led us in doing. 'There's a sweet, sweet Spirit in this place,'" Harding University President Bruce McLarty shared in a post on Twitter late Monday night about the tribute.
An arrest warrant affidavit made public Monday said Guyger parked on the wrong level of the South Side Flats garage where she lived on the third floor directly below Botham's apartment. On Thursday night, she got off on the fourth floor where Botham lived.
She went to Botham's door, which she thought was hers. The four floors of the South Side Flats look the same with concrete floors and tan doors but a light at each door displays the apartment number. The affidavit, cited by The Dallas Morning News, said Guyger inserted her unique door key embedded with an electronic chip into the keyhole to Jean's apartment door. The door was reportedly slightly ajar, so the force of inserting the key pushed it open. The lights were off in the apartment so when Guyger saw "a large silhouette" she thought she was being burglarized.
The officer then drew her gun, "gave verbal commands that were ignored" and she responded by firing twice, striking Jean once in the torso, investigators said.
She then called 911 from her cellphone and started giving first aid to the worship leader. When she turned the lights on in the apartment she realized she was in the wrong apartment. She explained this to the 911 operator and responding officers, the affidavit said. Jean was pronounced dead at Baylor University Medical Center.
In addition to the affidavit, a video taken from outside the building shows Guyger on her phone, pacing back and forth outside the apartment, and crying after the shooting. Paramedics are also seen moving a man on a gurney and performing CPR on him.
Jean's family has disputed Guyger's version of events through their lawyer, who said that two independent witnesses had come forward to say they heard knocking on the door in the hallway before the shooting. One witness reported hearing a woman's voice saying, "Let me in, let me in." Then they heard gunshots.
One witness reportedly heard a man's voice say after the gunshots: "Oh my God, why did you do that?"