Harold Camping Dead: Read Full Statement on Family Radio Founder and Failed Judgment Day 'Prophet's' Death
Harold Camping, the Christian minister known for his failed judgment day prophecies, has passed away at the age of 92, according to an emailed statement from his Family Radio Network to supporters of the ministry.
The statement from Family Radio Network reads:
Harold Camping - Home with the Lord!

"Precious in the sight of the LORD is the death of His saints."
Psalm 116:15

Yesterday, Sunday, December 15th, at around 5:30 p.m., Harold Camping passed on to glory and is now rejoicing with his beloved Savior!

On Saturday, November 30th, Mr. Camping sustained a fall in his home, and he was not able to recover from his injuries. He passed away peacefully in his home, with his family at his side. We know that each of us remain in God's hand, and God is the One who knows our appointed time to leave our earthly body behind.

We are so grateful to God for Brother Camping's dedication to Family Radio and for his lifetime of service to God. We are thankful to know that Family Radio is God's ministry, and will continue to be in God's care and keeping.

Please remember the Camping family in your prayers, in particular, Mrs. Camping, Mr. Camping's wife of over seventy-one years. May God sustain her in her loss.

"And God shall wipe away all tears from their eyes; and there shall be no more death, neither sorrow, nor crying, neither shall there be any more pain: for the former things are passed away."
Revelation 21:4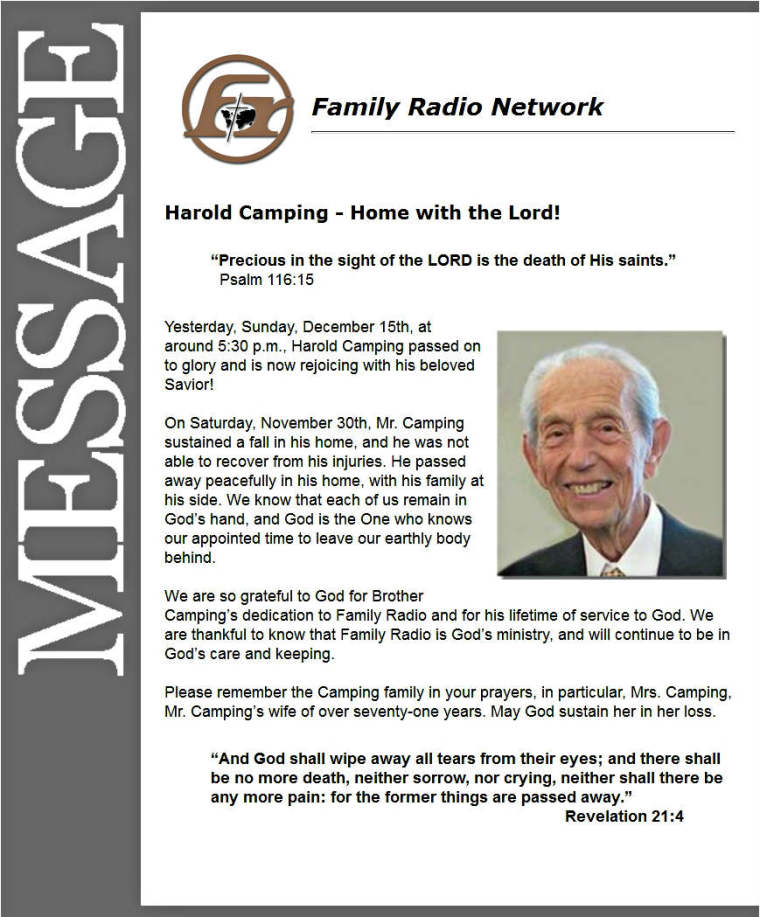 Despite his controversial ministry, Camping will be missed by his supporters, many of whom have turned to Family Radio Network's Facebook page to express their condolences:
"Dear Family Radio staff and family of Mr. Camping, may the Lord's love touch your hearts in a special way at this difficult time. May the many memories of Mr. Camping bring sweet peace to your hearts. Mr. Camping is with the Lord, praise God!" wrote Maria Reddell.
"Praying for God's comfort for the friends and family of Harold Camping. I am truly sorry for your loss," shared Henry Thompson II.
Glenda Pittman wrote, "Thank you for the email notification of Mr Camping`s passing. I will miss him but so grateful to God to have had him as a Bible teacher for so many years. His common sense responses to questions on Open Forum were so appreciated, there won`t be another quite like him."
Watch video news coverage of Camping's failed predictions:
Read more about Camping's death: Harold Camping, Controversial End Times Predictor, Dies at Age 92.