Harry Connick Jr. gets alone with his faith, creates emotional album to God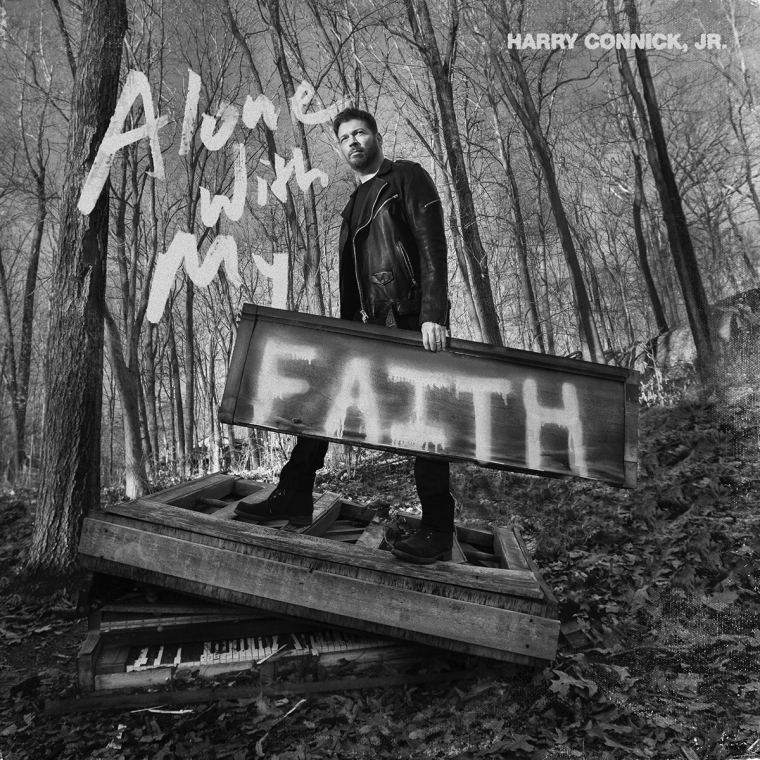 Grammy and Emmy Award-winning singer and TV personality, Harry Connick Jr., detailed the emotional experience he encountered in the studio, alone with God, while creating songs for his new faith-inspired album, Alone With My Faith.
Connick has been in the entertainment business for over 30 years and the talented singer, songwriter, pianist, actor and TV host is now sharing his faith through his music.
"It is a crazy time and I was at home, kind of like everybody else, wondering what was going on, and I started thinking about my faith and how it's helping me get through. I just wanted to record my feelings. So I picked some songs that were familiar to people and I also wanted to write some new songs to describe what I was feeling and what I continue to feel during this unprecedented time," said Connick in an interview with The Christian Post.
Alone With My Faith, available Friday (Universal Music's Verve and Capitol CMG), was recorded during the lockdowns.
The entertainer said he's so grateful for the healthcare workers, teachers, scientists, public officials, garbage collectors, and grocery store workers, whom he described as "real heroes" during the COVID-19 pandemic and wanted to honor them. 
"All of those folks, I think, have become so heroic to all of us. I think that's the first thing that comes to mind," he said, explaining that 14 people he knew have died since last year, most due to complications from COVID-19. 
"It's been really hard; then, at the same time, it's been full of the unexpected blessings. Like spending time with my family in this way is probably something that never would have happened if it weren't for the pandemic," he continued. "Or being able to be an artist in this way. Recording an entire album by myself is something that maybe I would have done, but this certainly provided me the chance to do it."
The New Orleans native said the album title came from his actual recording experience.
"The title was about being alone, not only my family sort of being separated from everybody, but the actual recording process was literally alone for about eight months," he explained. "I was in the studio every day for eight or 10 hours, with no one else. No recording engineer, no trumpet players, no guitar players."
"If I wanted to sing backgrounds or hear backgrounds, I did it myself. If I wanted to have a guitar solo, I did it myself. So I played all the instruments and did all the vocals," Connick said.
This was the first time in his career that he was "literally alone" in a recording studio with no one but God and himself. 
"I was physically alone, but as the song says, 'I'm eternally thankful so I'm never alone.' So I really never felt alone, Connick testified. 
The professing Christian said the experience was extremely intimate and personal for him. 
"It was heavy; it was very emotional. I mean, there were many, many times when I would sing or play and just become overcome with emotion," the musician detailed. 
"I would cry and be unable to sing or I would just sit for a few moments in silence and then listen back to what I recorded because it was so intimate and so personal and ended up sounding like my personality in music, which is ultimately what you want as an artist is to have individuality," he said. 
The spiritual exchange while recording his album was something he's experienced before, but this album now serves as a snapshot of that beautiful exchange he has with God.
"It's not like it was something that didn't exist before now. It exists, and it's like a musical snapshot of my feelings and there were many times when it was real heavy, and I loved every minute of it," Connick added. 
The renowned artist told CP that throughout his decadeslong career, he has never felt persecuted or isolated by Hollywood because of his faith. 

"People talk about the fact that you can't talk about your faith. I've never felt that. I've never shied away from it," he assured. 
"There are people that believe in very similar things to me, and I have friends who are atheists, I have friends who are Hindu, Buddhists, Jewish and none of them have ever had a problem with me talking about it," he stressed.
"Maybe there's some people who think you shouldn't talk about it, but it hasn't affected me," Connick maintained concerning his faith. "It's something that I'm proud to discuss, and it's helped me as a person and as an artist get through this time."
"I think a lot of people talk about the idea of the fact that you can't talk about it more than they can't talk about it," he added, calling it a supposed "war on faith" that he hasn't encountered. 
Connick's faith in God comes from his upbringing. His mother, who died when he was 13, was Jewish, and his father's side of the family is Catholic. Because his mother wasn't a practicing Jew, he admitted that he was never familiar with the practices of Judaism. Instead, he was immersed in Christianity. 
The father of three girls explained that the only thing different these days is social media, where people can hear or see what everybody thinks at all times. 
"There's been people who were against Christians for thousands of years and there's been people who are against Muslims, there's all kinds of people in this world," Connick pointed out. "So I just live my life, do what I do, and love my family and just keep on going."
Alone With My Faith features several cover renditions of popular hymns such as "How Great Thou Art," "Amazing Grace" and "Because He Lives."
Connick's approach to each track was to emerge himself in the feeling behind each lyric. 
In the song "Old Rugged Cross," the artist said he thought, "How does lonely and forsaken sound?" He then endeavored to express that musically.
"So I would just play things and try to make that come to life. I'd say, 'You know what, I don't want to sing this song right off the bat; I want to wait a little while. I want to play some music first and give myself a chance to kind of get in that headspace.'" He detailed. "Then I don't sing until a couple of minutes later."
"I think about that. What would it be like if you were walking in a kind of rocky, dusty, sandy place, and you see a hill in the distance? And there's a cross on it. What would you think, 'Oh my gosh, not only because of what we know as Christians what the Cross means, but just as a person in those times — that's the execution site, that's where they killed the worst of the worst," Connick described to CP.
"What does that sound like? 'On a hill, far away stood an old rugged cross,' Why is it old, why is it rugged? Well, it's been a long time, a lot of people have died that way. Now they're going to take this man, the greatest man of all time, and kill Him.
"'The emblem of suffering and shame,' it is the emblem of suffering and shame that is horrific," he added. "So when you sing that, I couldn't get past that line. It took me a few minutes, but you know what, 'I love that old cross. Where the dearest and best for a world of lost sinners was slain.' What a brutal thing to say when you start dealing with lyrics like that. It just kind of forms into something and that's what happened."
Although this season has had its share of ups and downs for Connick, he said a promise he holds on to is the great gift of faith. 
"I think faith is a great gift and a great promise. I think God created us in His image and faith is a gift given to us to compel us to communicate with God," he said. "He's like saying, 'Here's this car and I'm going to give you the keys.' You can let it sit in the garage all day or you can actually drive it." 
"I want to drive it, I want to use it and that's the promise that I'm making to God because I think He gave us that gift," Connick committed. 
Connick concluded the interview by highlighting the album's title track, "Alone with My Faith."
He focused on the lyrics: "Everything's different, everything strange. What I know is true, What gives me assurance, when I don't know what to do".
"How can you be assured when you don't know what to do? Well, that's what faith is," Connick declared. 
He concluded, "'I don't have all the answers, but I have always known I'm eternally faithful. So I am never alone'–  For me, those are powerful words that summarize the whole album. Even when we're most alone, we're really never alone if we exercise that gift of faith."
For more information on Connick's latest release, visit his website.