Harvard course teaches med students how to treat 'sexual minority' infants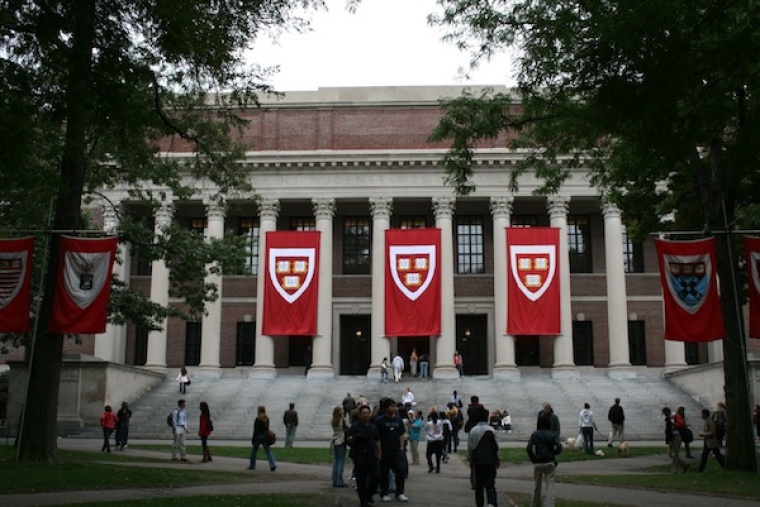 UPDATE: 3:30 p.m. ET Jan 17: This article was updated to include a statement from Harvard Medical School. 
One of the nation's most historically prestigious universities is offering a course that instructs students how to provide healthcare services to LGBT individuals, including "infants" categorized as sexual minorities. 
The Harvard Medical School course, dubbed "Caring for Patients with Diverse Sexual Orientations, Gender Identities, and Sex Development," includes a course description that outlines how students will learn to provide "high-quality, culturally responsive care" for "patients [who] identify as lesbian, gay, bisexual, transgender, queer, intersex or asexual."
"Clinical exposure and education will focus on serving gender and sexual minority people across the lifespan, from infants to older adults," according to the description on the Harvard.edu site.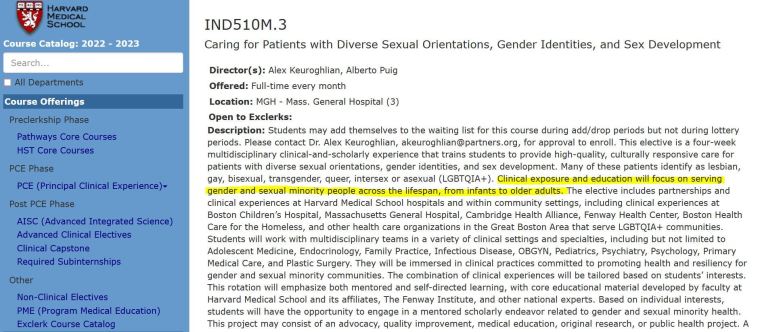 The four-week elective course is designed to reflect Harvard Medical School's Sexual and Gender Minority Health Equity Initiative, which aims to "foster excellence caring for patients with diverse sexual orientations, gender identities, and sex development." The initiative's stated goal is to provide "high-quality, holistic health care for sexual and gender minority patients of all ages."
In response to a request for clarification from The Christian Post, a university spokesperson pointed to an online statement stating that "[r]ecent reports referencing one of our medical education courses have neglected to mention that some infants are born with variations in sex development."
The Harvard Medical School statement reads: 
"As part of our MD curriculum, HMS offers a four-week elective course that educates and trains medical students to provide high-quality, culturally responsive care for patients with diverse sexual orientations, gender identities, and sex development across the age spectrum.

In this context, care for infants refers specifically to physical variations in sex development that arise in utero and are present at birth. These include chromosomal, gonadal, and anatomical variations, all of which are relevant to medical care and treatment to ensure healthy development.

This course aligns with Harvard Medical School's Sexual and Gender Minority Health Initiative, and its educational framework is based on recommendations of the Association of American Medical Colleges, which together aim to address the health needs of patients who are LGBTQIA+, gender-nonconforming, or born with differences in sex development."
As part of its Physician Competency Reference Set (PCRS), the Harvard course also offers learning goals for students to "acquire the knowledge, attitudes and skills needed to provide sensitive and affirming care" to patients from all backgrounds.
The course description lists Massachusetts General Hospital in Boston as the main meeting location for the 2022-23 academic year. Both course directors, Alex Keuroghlian and Alberto Puig, also work for the hospital. 
Massachusetts General is among several in the nation to offer transgender surgical services. In 2020, doctors at the hospital sought approval to perform a first-of-its-kind surgery to attach the penis of a dead man onto a woman who identifies as transgender. 
The operation, which has yet to be approved, would involve attaching an organ donor's penis to the groin of a biological female. 
Another partner in the course, Boston Children's Hospital, came under fire last year after an activist shared videos of the hospital purportedly offering "gender-affirming hysterectomies" and other services to minors. A March 2022 paper revealed 65 double mastectomies were performed on minor girls at the Center for Gender Surgery at Boston Children's Hospital between 2017 and 2020.
Despite nearly two centuries of a strong Christian heritage, Harvard has, in recent years, strayed further away from its theological roots and even hired an atheist as its chief chaplain in August 2021. 
Harvard Medical School made waves in a 2020 tweet promoting one of its panel discussions when the school referred to women as "birthing people."
As part of a discussion on "maternal justice," Harvard Medical School's Postgraduate and Continuing Education proclaimed, "Globally, ethnic minority pregnant and birthing people suffer worse outcomes and experiences during and after pregnancy and childbirth."