Hayat Boumeddiene, Suspect in Paris Murders, Found in Syria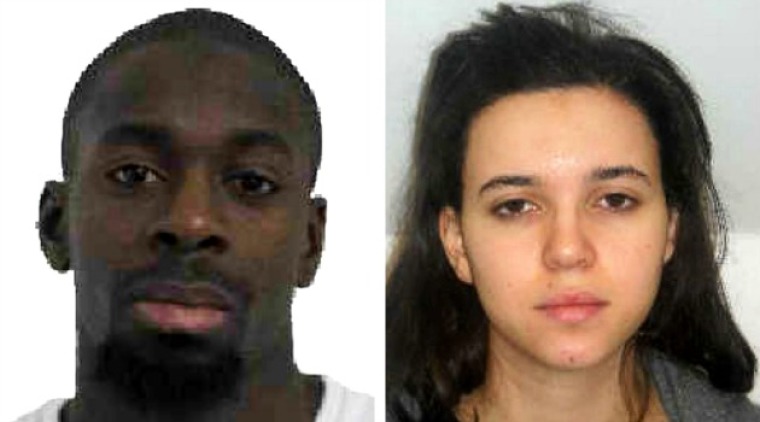 The fourth suspect in the deadly French standoffs has been located in Syria, after crossing over through the Turkish border.
Hayat Boumeddiene, 26, was suspected of taking hostages in Paris on Friday, after having been involved in the murder of a female police officer earlier last week. Boumeddiene was married to fellow suspect Amedy Coulibaly, who was killed by police in a raid on the grocery store where he had allegedly taken several hostages at a kosher market. Police initially believed that Boumeddiene was part of the standoff but now believe she was already in Turkey, five days before the killings.
"There is footage (of her) at the airport," Foreign Minister Mevlut Cavusoglu said on Monday, according to Anatolian News Agency. "Later on, she stayed at a hotel with another person and crossed into Syria on Jan. 8. We can tell that based on telephone records."
That information would clear her of any physical involvement with the murders in Paris, but police note that she was in direct contact with her husband and the wife of Cherif Kouachi, one of the suspects in the Charlie Hebdo attack, which saw 12 persons killed. Kouachi and his brother, Said, were killed by officials on Friday after an intense standoff; they reportedly walked out of the building where they had taken a hostage and fired at police, who then retaliated with fire, killing the brothers who said they wanted to "die as martyrs."
Officials are investigating whether Coulibaly, Boumeddiene, and the Kouachi brothers were part of a larger network of persons affiliated with the Islamic State in Paris. Coulibaly said he was carrying out the attack in the name of the Islamic State and purposely began his killing spree not long after the Kouachi brothers murdered 12.
This weekend, world leaders gathered to show support for Paris and families of the victims. They linked arms and showed they would not be terrorized by the Islamic State.