'Healing Evangelist' Todd Bentley's Visit to UK Protested by Politician
A British lawmaker has failed in his efforts to block U.S.-based evangelist Todd Bentley from returning to the U.K. in a healing ministry tour, which according to several reports and the minister's own words, sometimes involves violence.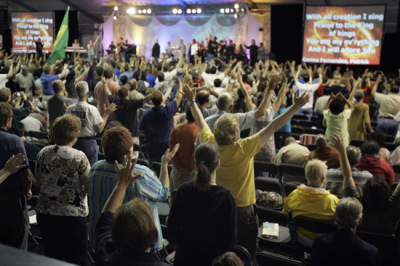 The Daily Mail reports that Member of Parliament Malcolm Wicks said that Bentley's second visit "can do nothing but harm" when requesting to have the Canadian-born minister barred from entering the country.
Bentely, who describes himself as a "healing evangelist, revivalist, and author," will be in the Croydon in Surrey Aug. 30-Sept. 1 at the local conference center for three nights of "supernatural healing and impartation," according to notice of the event organized by The Glory Company and the evangelist's own Fresh Fire USA ministry.
At issue are Bentley's documented ways of carrying out his purported healings. A quick search of YouTube shows a 2008 video in which the controversial evangelist claims he was he was told by the Holy Spirit to kick a cancer-stricken woman in the face for her healing, and one from Dec. 2011 in which he claims he was instructed to punch an injured and cancer-stricken man in his sternum "as hard as you can" to bring about his healing. He also has revealed that he felt the voice of "the Lord" telling him to pull a tumor from a woman's face at another meeting.
When asked by a Twitter user about the Daily Mail's report this week, Bentely responded: "This story is truly a huge media sensation. It is so wrong and the furthest thing from who we are and how we minister. Sad!"
Further questioned by others concern about the claims of violence, the minister, while calling the recent reports "misleading," he acknowledged that he did kick a cancer-stricken woman in the face. He added however, that his Fresh Fire USA ministry no longer operates that way.
"UK friends and partners. Please do not believe everything you read in the Media. It is a true misleading report. Hope to see you soon," Bentley wrote at one point.
Confronted with a video clip of him claiming that the "power of God" wasn't moving because he had not kicked the woman in the face, Bentley replied, "It happened 12 years ago. She was healed if (you) saw the unedited clip. This was one incident and not how we operate at all!"
Bentley rose to prominence during the Lakeland Healing Revivals that started in 2008, and his claims of miraculous healings were unable to be verified by ABC News after his interview with the network.
When he visited South Wales in December of last year, another politician reportedly warned locals to be skeptical of Bentley's "far fetched" claims of miraculous healings and of raising people from the dead. However, when Bentley visited the U.K. last year, there were no reports of any violence at his meetings.
The controversial minister's current visit to the U.K. was reportedly at the invistation of George Elliot, pastor at the Christian Center (in?). The Medical Daily reports that Elliot has compared Bentley "to Jesus who, Elliott says simply, was controversial as well."
The 36-year-old minister, whose tattoos and lip piercing may make him stand out, has reportedly testified that he was saved and delievered from a life of "youth prisons, drugs, sex, satanic music and bondage" after a "dramatic encounter" with God as a teenager. His past also includes a conviction at the age of 13 for sexually abusing a younger boy. He also temporarily stepped down from ministry last year when it was revealed that he was inappropriately "emotionally involved" with his children's babysitter, for whom he left his wife and eventually married.
These incidents, along with his claims of speaking with female angels and visiting heaving, moved some Chrsitians in the U.S. to question his ministry and even call him a false teacher.
Bentley eventually returned to ministry and has been carrying out his faith-healing tours since. Future plans include visits to Pakistan and Africa, according to is Fresh Fire USA website.
Fresh Fire USA's website does not share what kind of training for ministry Bentley has received, nor if he has been ordained in any particular denomination.
An email sent to Bentley assistant for clarification on the allegations and his ministry was not answered by press time.