Heaven Has Extreme Vetting? CPAC Pilloried for Suggesting Trump Has God-Like Border Policy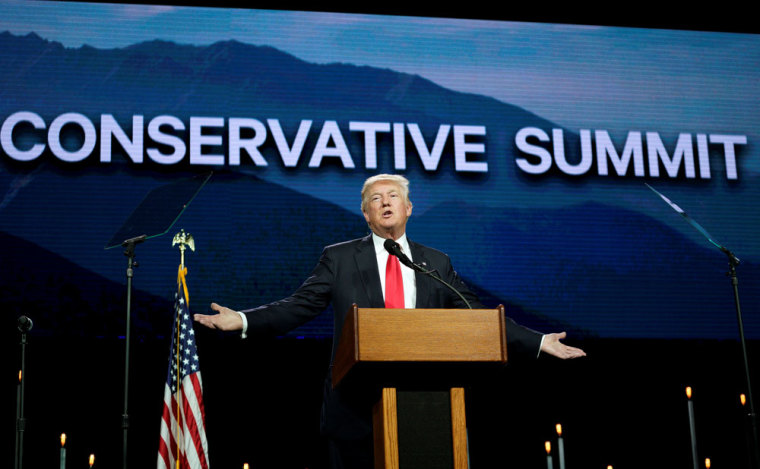 Conservatives and liberals alike are blasting the title of an upcoming panel on immigration at a conservative political conference, a breakout session titled "If Heaven Has a Gate, A Wall, and Extreme Vetting, Why Can't America?"
The immigration panel is slated to take place Saturday at CPAC, the largest gathering for conservatives in the United States, at the Gaylord National Harbor Hotel in Oxon Hill, Maryland just outside Washington, D.C. and is drawing reaction from figures on the left and the right.
In a message he posted on Facebook and shared with The Christian Post, Eric Teetsel, former faith outreach director for Marco Rubio during his presidential bid and now president of the Family Policy Alliance of Kansas, said of the panel: "This is garbage. For starters, Heaven's 'vetting' is simply accepting the most expensive, wonderful gift ever offered. For free. Check it out."
National Review's Heather Wilhelm was similarly irritated.
"Go home, CPAC, you're drunk," she wrote on Twitter Tuesday.
Go home, CPAC, you're drunk https://t.co/kuQEQBI2kG

— Heather Wilhelm (@heatherwilhelm) February 21, 2017
Many others found it a seemingly fitting response to the panel, though it was not directed at CPAC, that Wednesday morning Pope Francis tweeted: "Jesus entrusted to Peter the keys to open the entrance to the kingdom of heaven, and not to close it."
The Pope. Subtweeting CPAC. Nice. https://t.co/JRZBkDQ3GE

— Jason Sass (@jsass1) February 22, 2017
Senior Correspondent for the Daily Beast Tim Mak sarcastically asked: "If Heaven has a God who can find out your true intentions, why can't Customs and Border Patrol seize your phones?
If Heaven has a God who can find out your true intentions, why can't Customs and Border Patrol seize your phones? https://t.co/TygB4JLD6d

— Tim Mak (@timkmak) February 21, 2017
And that is not the only issue with the CPAC schedule.
As noted by the The Guardian's Gwilym Mumford Wednesday, another panel explores the affection young people had for Bernie Sanders, the U.S. senator from Vermont who openly identifies as a socialist, titled, "FREE stuff vs FREE-dom: Millenials' Love Affair with Bernie Sanders.
In other words, Mumford said, "the right tries to understand what millennials want, all while being unable to spell the world millennial."
Taking part in the immigration panel are Rep. Andy Biggs of Arizona, Rep. Ken Buck of Colorado, Mike Gonzales of the Heritage Foundation , and Helen Krieble of the Vernon K. Krieble Foundation. Former Rep. Bob Beauprez of Colorado will moderate the panel.
But CPAC is not the first to employ the phrase "extreme vetting" when it comes to Heaven and immigration.
Writing on his Facebook page earlier this month, when Franklin Graham, the evangelist and President of Samaritan's Purse, was preparing for a trip to Puerto Rico he said he was going "to warn people that God uses extreme vetting."
"What do I mean by that? I want the people of Puerto Rico to know that God loves them and that there is only one way to enter the gates of heaven — and that is through faith in Jesus Christ, and Him alone. Good works can't get you into heaven," he added.
Graham has also supported stricter measures for incoming refugees and immigrants, particularly from the Muslim world.
CP reported Jan. 31 that Graham, in a post defending the President Trump's 90-day travel ban, said that the United States has "to be sure that the philosophies of those entering our country are compatible with our Constitution. If a person does not agree with our principles of freedom, democracy, and liberty, which we cherish, they should not be allowed to come. Without question, Sharia [Islamic] law is not compatible."