Pastor Jack Graham shares how Ivanka Trump's $50K donation will help immigrant children at border
Evangelical Leaders to Visit Detention Centers Near Mexico Border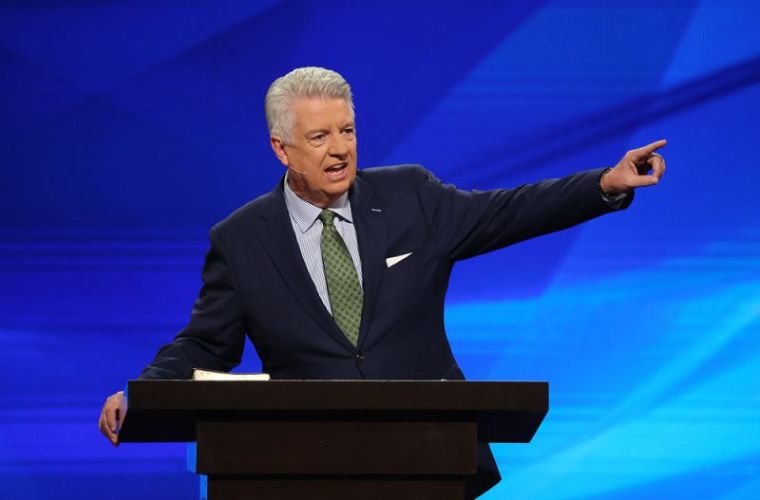 PLANO, Texas — A megachurch that received a $50,000 donation from Ivanka Trump last week has detailed how that money will be used to help migrant children at the southern border.
Jack Graham, pastor of Prestonwood Baptist Church and a former president of the Southern Baptist Convention, shared with his congregation Sunday morning how the church plans to use the money donated by President Donald Trump's daughter.
Graham said that the White House senior adviser reached out to the church after she saw one of Graham's tweets from last week that explained Prestonwood and its Latino ministry were looking for ways to provide solutions for immigrant children.
We @Prestonwood are currently working to provide solutions to care for children during this terrible immigration crisis. Our Espanol ministry let by Gilberto Corredera is stepping up to the challenge to express the love of Jesus. We are broken-hearted and determined to act

— Jack Graham (@jackngraham) June 19, 2018
"I put that [tweet] out there just for no other reason than to pray for our church, if you saw that. But someone in the White House saw that. Her name is Ivanka Trump," Graham told the congregation. "And she saw that, and she was so moved that she contacted us. She wrote us, out of her personal account — days before the president's executive order that stopped the [family] separations [at the border] — she wrote us a major check for immigration ministry so that we could use it to get it started here in our church."
Graham, who has been one of the evangelical leaders most involved in informally advising the Trump administration, told The Christian Post following the service that he has met Ivanka Trump on several occasions.
"I've found her to be generous, kind and compassionate, and a great leader," he said. "We were shocked that a tweet raised this possibility, but not surprised. I'm personally not surprised at her generosity. And we're hopeful that her generosity would encourage others."
Graham said that this week he and evangelical advisers will be doing a video conference call with officials who are on the ground in Brownsville to determine what needs there are for the immigrant children and families, and how churches should respond, before members travel there. 
He said they're hoping to plan some kind of event to be held in the first week of July for the children. In addition to Prestonwood leaders, a group of other evangelical leaders who are part of the Trump faith advisory initiative will join Graham in visiting detention centers near the border with Mexico. 
"HHS officials have told us that the basic needs of the children are being taken care of," Graham said. "What the kids really need most is someone to brighten their day. They need someone to give them hope. Our plan is to create an event for the children that will encourage them and make them smile. Of course, we will also focus on how we can provide financial aid to families to assist them in their situation."
Although the physical needs and education are being provided to the immigrant children, Prestonwood is seeking to provide things such as money, volunteers and Vacation Bible School-type activities.
"Churches everywhere are contacting us, and Christians and people of faith who want to be a part of the solution," Graham told CP. "And that's the beauty of what churches can do in the midst of all this confusion and chaos around this issue. It's going to be a while before immigration is solved. But that doesn't stop us from going and being present and serving and making a difference in people's lives."
Included on the team that is planning to fly into McAllen and then go to Brownsville is Prestonwood Espanol Pastor Gilberto Corredera. Corredera is himself an immigrant from Cuba. Prestonwood Espanol has nearly 2,000 members.
Others who are expected to join the effort are David Shivers, Prestonwood associate pastor of local and global outreach; and Republican state Rep. Jeff Leach.
Graham said Ivanka Trump's $50,000 donation toward the immigration ministry effort is the largest donation the church has received so far for the initiative. 
"I'm certain that it will prompt generosity from a lot of people," Graham said of her donation. "This church has a great heart for people, and if they're here, we're going to serve them."
Trump's donation to Prestonwood comes after her father donated over $1 million to charities helping victims suffering from the damage caused by Hurricane Harvey in Texas last August, $100,000 of which was donated to Franklin Graham's Samaritan's Purse ministry.
As the then-Republican nominee, President Trump also donated $100,000 to a Baptist church near Baton Rouge, Louisiana, that was helping people suffering from massive flooding that occurred in August 2016.
The interim pastor of that church was Tony Perkins, the president of the Washington-based social conservative advocacy group Family Research Council. Perkins is another informal adviser to the Trump administration.
Evangelical leaders were among many critics of a policy that required the separation of immigrant children from their parents being processed for illegal entry into the United States. After much backlash, Trump signed an executive order last Wednesday to alter that policy to help "keep families together."
Some confusion over the administration's former immediate separation of families policy stems from the 1997 Flores Settlement Agreement which states that children who enter the U.S. as unaccompanied minors can only be detained for 20 days before they're released to the Department of Health and Human Services.
In 2016, the Ninth Circuit of Appeals ruled that the Flores Settlement Agreement not only applied to unaccompanied children, but also applied to accompanied minors. This means that after 20 days children can no longer be detained alongside their parents or the adults who accompanied them across the border, but must be released to family members already living in the U.S. or a sponsor while their parents remain in detention.
Of the 12,000 minors who've recently entered the country, 10,000 were unaccompanied. Among the nearly 2,300 who were accompanied by parents and then separated, 522 were reunited with the families on Saturday. More children are expected to be reunited with their parents on Monday. 
Christian Post editor Melissa Barnhart contributed to this report.