Many young adults say marriage is an 'outdated tradition': survey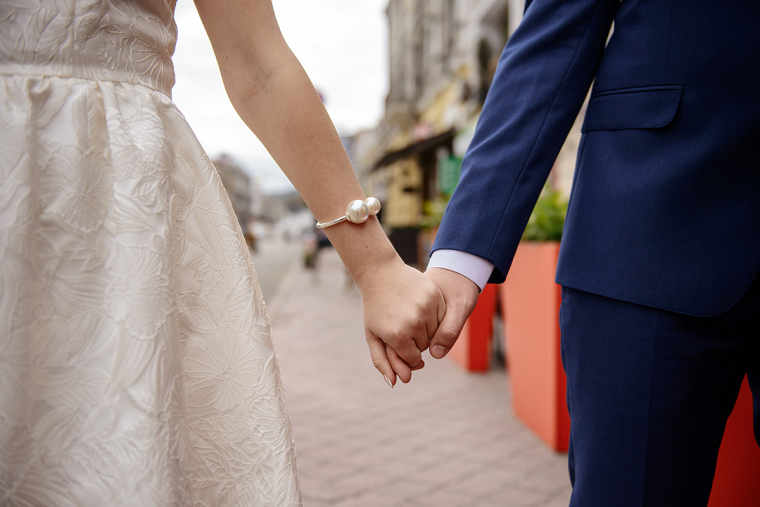 While a significant number of millennials and Gen Zers view marriage as an "outdated tradition" and are opting for cohabitation instead, many still plan to marry someday, according to a recent survey. 
As a survey conducted by the Thriving Center of Psychology found earlier this summer, two in five millennials and Gen Zers view marriage as an "outdated tradition," a mindset held by 41% of men and 52% of women. Eighty-five percent said marriage is not necessary to have a fulfilled and committed relationship, while another 73% believe that getting married in the current economy is too expensive.
Among the list of "most marriage-averse cities," Toledo, Ohio, was No. 1 and Seattle, Washington, came in at No. 2. Next on the list were Spokane, Washington, and Portland, Oregon. 
The study surveyed 906 unmarried Gen Zers and millennials who reported being in a relationship but not married. Respondents' ages ranged from 18 to 42, with an average age of 29.
Researchers also analyzed 100 of the most populous cities in the United States with data available from the U.S. Census Bureau on the number of cohabitating couples.
Lisa Anderson, director of young adults for the Christian organization Focus on the Family and host of The Boundless Show radio program, told The Christian Post in a statement that she believes many young adults are settling for conditional or toxic relationships. 
"With many being part of the largest divorce generation in history, an increasing number of young adults now view marriage as a prize that's unwinnable," Anderson said. 
"But instead of letting them simply stumble into defeat, we at Boundless are offering them a vision for marriage that begins with personal growth, relational commitment and a determination to see marriage as a journey, not a capstone."
"Healthy individuals attract healthy individuals, and healthy men and women make great marriages," she added. 
Anderson manages Boundless, a Focus on the Family program that helps young adults in their 20s or 30s prepare for marriage and connect with their faith, and the ministry aims to help these individuals grow up. 
The Christian radio host cited God as the "biggest fan of marriage," and asserted that great matches are still within the Lord's realm of work, saying that sometimes people "just need a cheering section around us to say it can still be done."
"Boundless has been rooting for and offering practical, biblical insights to young adults for 25 years, and we continue to do so despite what the culture says about them and their marriage potential," Anderson said. 
According to the June survey, three in five unmarried couples live with their partners, and the trend appears to be more popular among millennials (65%) than with Gen Zers (35%). Sixty percent of cohabitating couples move in together after dating for a year or less, and 85% moved in because that's what they wanted.
In a Tuesday statement provided to CP, Anderson noted how many young adults appear to be putting off marriage until later in life.
"The average age of first marriage has increased by almost a decade in the last two generations, to 28 and 30 years old for women and men, respectively," Anderson said.
"Yet many young adults still value marriage, so they're using cohabitation as a hopeful placeholder until they get their proverbial ducks in a row."
Anderson warned that "rather than preparing them for a life-long love," practices like "cohabitation, serial dating and other popular relational patterns are more likely to stall young couples out completely." 
As the survey noted, even if many see marriage as outdated, 83% of Gen Zers and millennials expect to marry at some point, although 17% do not plan to marry, with more millennials (21%) holding this opinion compared to Gen Zers (7%).
Some respondents admitted they weren't fully happy about the decision to live with their partner, with 29% acknowledging that they wished they had communicated their expectations more clearly before moving in together. One in 10 participants admitted they regretted the choice to share a home with their partner, and nearly one in six felt as if they and their partner moved in together too fast. 
Women (69%) were more likely than men (27%) to say they felt judged for their decision to move in with their partner. In terms of their views on being asked about their marriage plans, 68% of respondents feel it's an intrusive question. Another 77% said that it's nosy to ask about other people's plans for children. 
As to why many couples opted to live together instead of marrying, the survey found that finances were the reason for 54% of people, with this being true for 61% of millennials and 39% of Gen Z. Nineteen percent of respondents said they share a bank account with their partner, and 16% said that the couple share a credit card. 
However, 50% revealed that the mortgage or rent is not split equally between them and their partner, and 37% stated that they feel their relationship with their partner is financially unequal. 
In terms of dependents, 15% of respondents have a child with their partner, 89% do not have any plans for a child if they don't remain with their partner.