Rep. Nancy Mace jokes about premarital sex with fiancé at prayer breakfast attended by her pastor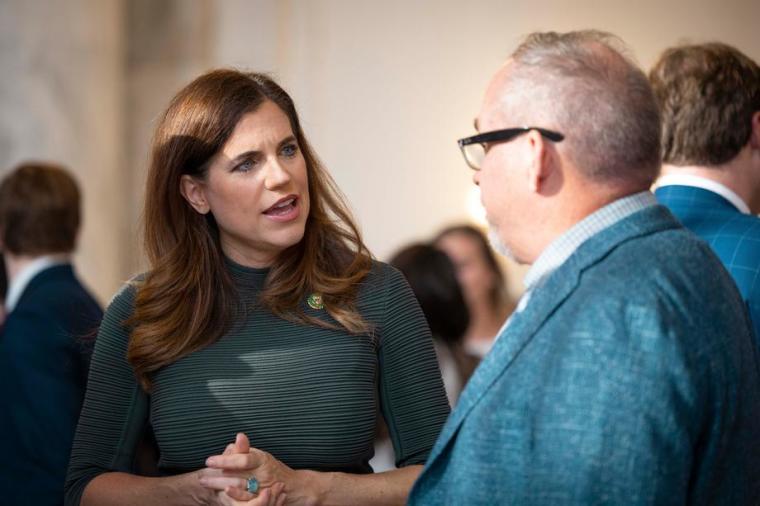 Rep. Nancy Mace, R-S.C., a member of the South Carolina-based Seacoast Church, to which she said GOP presidential candidate Sen. Tim Scott, who is a longtime member, introduced her, is coming under fire from some Christians online after admitting in front of her pastor Wednesday that she engages in premarital sex with her fiancé.
Mace, 45,  made the revelation after she chose to abandon a speech prepared by her staff to speak more candidly about her faith journey at the 13th Annual South Carolina Prayer Breakfast hosted in Washington, D.C., by Scott, who has been a member of the "seeker-sensitive" church for 27 years.
"When I woke up this morning at 7, I was getting picked up at 7:45. Patrick, my fiancé tried to pull me by my waist over this morning, and God knows, I was like, 'No, baby, we don't got time for that this morning. I got to get to the prayer breakfast, and I got to be on time.' And a little TMI, but I know he can wait. … I'll see him later tonight," Mace told the gathering.
"I was here early today for you, Tim. And I think everybody was here early for you today. I think that's a true testament to your leadership, to your faith, and your ability to bring people together and unify our country. Because our country is so divided right now," Mace said.
Mace has since clarified in a number of statements on Twitter that while she is "not a saint," she does take her faith in God seriously, saying her comment was a "joke."
"I go to church because I'm a sinner, not a saint! Glad those in attendance, including @SenatorTimScott and my pastor, took this joke in stride. Pastor Greg and I will have extra to talk about on Sunday," she tweeted Thursday.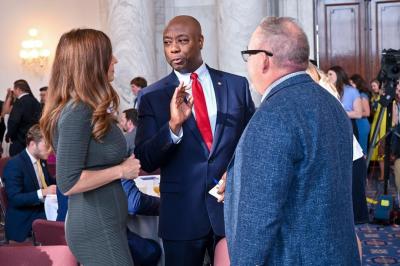 "Getting saved 4 years ago gave me the second chance I needed. Finding my faith was also life changing for my family — and we haven't looked back since," she added on Friday morning. "I am indebted to @SenatorTimScott for guiding me to his church, and I am indebted to our church for helping me get back on track, to find purpose in life and do good; to leave the world better than I found it. We can do all things through him."
Even if Mace's comment was not a "joke," such circumstances are common among unwed Americans, including Christians. 
Earlier this year, a study by Communio indicated that single Christians, the majority of whom are women, struggle to find ideal marriage partners in the pews, and most of them aren't living lives of sexual chastity.
Mace has been engaged to Patrick Bryant, a Charleston software entrepreneur, since May 2022. According to The State, the couple dated for several years before he popped the question.
She has two children with her ex-husband, Curtis Jackson, whom she divorced in 2019 after 15 years of marriage. Before her marriage to Jackson, she was married to lawyer and U.S. Air Force Reserves Officer Chris Niemiec, according to her book, In the Company of Men: A Woman at the Citadel.
Mace's comment on her sex life came several minutes after Seacoast Church Pastor Greg Surratt honored both her and Scott as a part of his congregation.
"I want to honor him today and Nancy Mace, who is also a part of our congregation," said Surratt, the co-founder of the church planting organization the Association of Related Churches.
After her quip about morning sex, Mace shared how Scott introduced her to Surratt's Seacoast Church.
"Pastor Greg, not only is he Tim's pastor, he's now my pastor; he's our pastor. And I have to tell this story. And I'm going to try to tell it without crying," she stated.
"As I said, Tim has given me a lot of advice over the years. And early on, I didn't take it. But one of the first pieces of advice when I met Tim, when he was running for Congress for this seat in 2010, he was like, 'You got to go to Seacoast. You've got to go there. You've got to go to church," she said.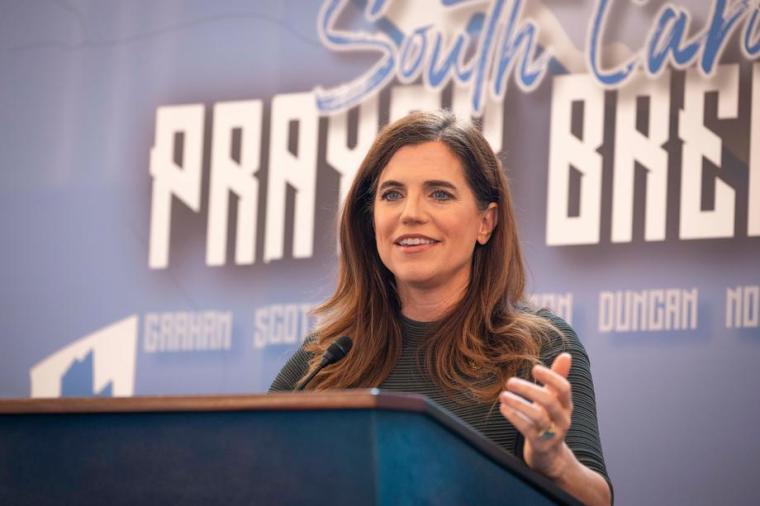 When Scott invited her, Mace said she had "lost a lot of faith in church."
"I was not a church-going woman at the time, and I'd lost a lot of faith in church and what I thought it stood for and how I saw it. And I would often get asked, 'Hey, where are you on your walk?' all the time. And I think that's because I wasn't on a walk. I was like, 'I'm standing upright. My gait looks good. I think I'm, you know, fairly healthy. I'm walking.' But that's not what they're asking about," she said. 
"They're asking where are you on your faith, and I didn't have it at the time," Mace admitted.
"It wasn't until I was going through, not my first, but my second divorce. And I finally took Tim's advice. And I got my butt into church, into Seacoast on a Saturday night. … I didn't want to be seen in church, quite frankly. I was horrified that I was there. I was shocked I didn't spontaneously combust," she continued. 
Mace shared how moved she was by the sermon, which made her cry. After that Saturday night service, she said she just kept going to the church.
"Seacoast changed my life, and Seacoast changed the life of my family. And that's because of you, Tim. 100 percent because of you. I would not be where I am today. Having the purpose that I have in life had I not had that moment for me, and it's changed my family. ... We love you, Greg, and I love you, Tim, for that," she added.
Seacoast Church did not immediately respond to a request for comment from CP on Friday. 
The church states on its website that its approach to ministry is unorthodox.
"Unlike traditional churches, Seacoast wanted to approach the historical Christian faith in a contemporary, unconventional way," the church explains. "It did so by creating a seeker-sensitive atmosphere that aimed to welcome all people, no matter where they were in their spiritual journey."