Tim Scott: America needs 'biblically sound leadership' to combat a 'culture of grievance'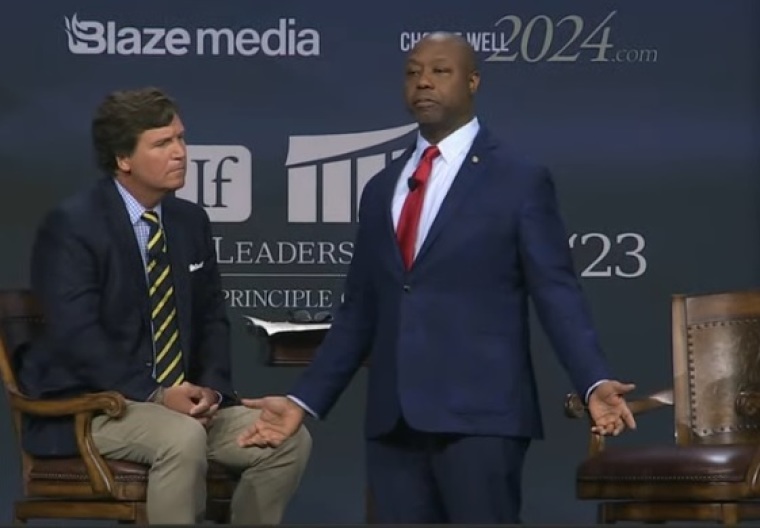 Republican presidential candidate Sen. Tim Scot, R-S.C., said Friday that the United States needs "biblically sound leadership" as he tries to make his case to Christian conservatives in Iowa why they should back him for the GOP nomination. 
Scott joined former Fox News host Tucker Carlson for a discussion at the Family Leadership Summit, a gathering of grassroots Christian conservative activists in Des Moines. The prominent gathering organized by The Family Leader takes place six months before the Iowa caucuses, the first occasion where Republican voters can formally show support for their preferred presidential candidate.
Carlson, an outspoken critic of the Republican establishment, told Scott that he "Googled" him and found about 10 stories on how Scott is "shooting to the top and all super, super complimentary and all these big Republican donors."
Carlson believes Scott had secured "a lot of support from some of the big money centers in the Republican Party."
"What are the big issues on which you disagree with your donors?" Carlson asked.
Scott responded by declaring that "America needs positive, powerful, biblically sound leadership to regain the high ground" from what he described as "a culture of grievance" defined by "this drug of victimhood and the narcotic of despair" where people "make a profit off of conflict."
"When I became a Christian on Sept. 22, 1983, I started reading the Gospel and understood that I'm a part of a bigger family," Scott said.
After reading Galatians 3:28, he discovered that he was "a joint heir in the family of God and as part of that family, all things are possible."
"There are forces in this nation that hate objective truth," he added. "Here's an objective truth: two genders, one truth."
Scott called for the nation to have an understanding for the "strong foundation on which we stand," calling himself a "force for the good of this nation."
"Count me as a guy who believes that God is able to do exceedingly abundantly above all that you ask or imagine," he said. 
He delivered a message to his donors: "If you write a check and you don't like that, you can have your money back."
"I don't stand for donors. I don't stand for folks who contribute," he added. "I stand because there is a man who walked on this earth for 33 years who paid the ultimate price for our freedom. And if I'm going to do my job, my job is, according to Matthew 25:21, 'well done, my good and faithful servant.' That's the job I have. That's the place I look for my support."
Carlson elaborated on his concerns with the idea of Scott securing large donor support, asserting that "a lot of Republican primary voters have gotten kind of cynical because the Republican Party doesn't care what they think."
Insisting that there was "no overlap" between what Republican primary voters care about and what the Republican Congress is focusing on, Carlson maintained that "donors are kind of driving the agenda and not voters."
When Carlson asked Scott if there were any occasions when he had directly disagreed with his donors on an issue of importance to them, the candidate outlined several of his policy positions, including his belief that "men should compete in sports against men." He concluded by saying, "For those who don't like common-sense conservative principles driven by the Judeo-Christian foundation, choose another candidate. It's that simple."
Scott repeatedly brought up his Christian faith during his conversation with Carlson, including by describing it as a "blessing to live in a country where we are free to praise the Lord and that the Judeo-Christian foundation of this nation sets the standard across the world."
As the two debated foreign policy, the senator said that it's America's "Judeo-Christian foundation that says that there are rules of the road, that there is something called absolute truth" which plays in the "rules-based system" established after World War II.
While Scott disputed Carlson's narrative that he had seen a surge in donor support, his level of support among likely Republican primary voters has remained consistently in the single digits since he launched his campaign earlier this year.
According to the RealClearPolitics average of polls taken between June 13 and July 11 asking Republican primary voters which candidate they prefer, Scott has 3.2% support.
Scott comes in far behind the frontrunner for the Republican nomination, former President Donald Trump, who secures 53.0% support and Florida Gov. Ron DeSantis, who has 20.6% support. He remains within striking distance of former Vice President Mike Pence (6.3%) and former U.S. Ambassador to the United Nations Nikki Haley (3.6%).