Tim Scott responds to Biden: 'America is not a racist country'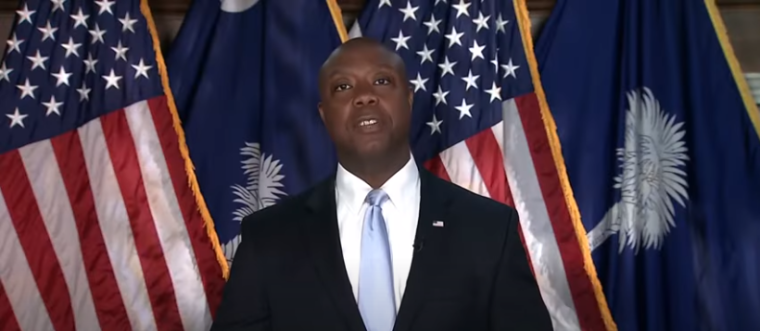 In his response to President Joe Biden's
address
to a joint session of the 117th United States Congress, Sen. Tim Scott, R-S.C., pushed back on the president's contention that systemic racism plagues the country, asserting that "America is not a racist country."
Scott, who has served in the U.S. Senate since 2013, is the only African American Republican serving in the chamber. He began his response to Biden's address by accusing Biden of failing to live up to his promises to "unite a nation, to lower the temperature, [and] to govern for all Americans, no matter how we voted."
"Our nation is starving for more than empty platitudes," Scott said. "We need policies and progress that brings us closer together, but three months in, the actions of the president and his party are pulling us further and further apart."
Stressing the need for common ground, Scott proclaimed, "Nowhere do we need common ground more desperately than in our discussions of race."
While acknowledging that he had "experienced the pain of discrimination" and that "our healing is not finished" on the issue of race, he praised the U.S. for making "tremendous progress" and criticized the people "making money and gaining power by pretending we haven't made any progress at all by doubling down on the divisions we've worked so hard to heal."
"America is not a racist country," he asserted, rebuking the allegation shared by Biden in his address to Congress that "systemic racism" remains a major problem in American society. "It's backwards to fight discrimination with different types of discrimination," he said, referring to the embrace of critical race theory in many corners of American culture, specifically in education and the workforce. "It's wrong to try to use our painful past to dishonestly shut down debates in the present."
The senator discussed his personal background, lamenting that the novel coronavirus pandemic has "attacked every rung of the ladder that helped me up." He specifically expressed concern about the fact that "so many small businesses have gone under" and "for months, too many churches were shut down."
"I'm saddened that millions of kids have lost a year of learning when they could not afford to lose a single day," he added. "Locking vulnerable kids out of the classroom is locking adults out of their future. Our public schools should have reopened months ago. Other countries did. Private and religious schools did. Science has shown for months that schools are safe, but too often, powerful grown-ups set science aside and kids like me were left behind."
Scott also criticized Biden's infrastructure plan, noting that "less than 6 percent of the president's plan goes to roads and bridges." He characterized the proposal as "a liberal wish-list of big government waste plus the biggest job-killing tax hikes in a generation."
"Experts say when all is said and done, it would lower wages of the average American worker and shrink our economy," he warned. Scott held up the American Families Plan, which the president unveiled in his address, as an example of "even more taxing" and "even more spending" to "put Washington even more in the middle of your life from the cradle to college."
"The beauty of the American dream is that families get to define it for themselves. We should be expanding opportunities and options for all families, not throwing money at certain issues because Democrats think they know best."
"Infrastructure spending that shrinks our economy is not common sense," he declared. "Weakening our southern borders and creating a crisis is not compassionate."
Building on his notion that Biden and the Democrats have moved too far to the left, he alleged that the president has been "abandoning principles he's held for decades" to appease the progressive wing of his party.
Referring to his reversal on his support for the longstanding Hyde Amendment that prevents taxpayer dollars from funding abortions, he decried Biden's belief that "your tax dollars should fund abortions" as well as his decision to form a commission "laying the groundwork to pack the Supreme Court."
Scott also addressed the recently passed election bill in Georgia, which he argued was deliberately mischaracterized: "Republicans support making it easier to vote and harder to cheat and so do the voters."
Noting widespread support for voter IDs and early voting, he expressed concern that "this conversation has collapsed." Scott explained that the law "expands early voting, preserves no-excuse mail-in voting and despite what the president claimed, did not reduce Election Day hours. If you actually read this law, it's mainstream. It will be easier to vote early in Georgia than in Democrat-run New York, but the left doesn't want you to know that. They want people virtue-signaling by yelling about a law they haven't even read."
"The president absurdly claims that this is worse than Jim Crow," he continued. "This misplaced outrage is supposed to justify Democrats' new sweeping bill that would take over elections for all 50 states, it would send public funds to political campaigns you disagree with and make the bipartisan Federal Elections Commission partisan. This is not about civil rights or our racial past, it's about rigging elections in the future."
Additionally, Scott rejected the idea pushed by Democrats recently that the filibuster, which has been used to stall both progressive and conservative legislative packages over the years, is a "racist relic just because the shoe is now on the other foot." He maintained that "race is not a political weapon to settle every issue the way one side wants. It's far too important."
As his remarks concluded, Scott reiterated, "A president who promised to bring us together should not be pushing agendas that tear us apart. The American family deserves better and we know what better looks like." Scott praised the legislative accomplishments of the Trump administration and congressional Republicans, specifically highlighting Operation Warp Speed and the implementation of criminal justice reform.
"Our best future will not come from Washington schemes or socialist dreams," he predicted. "It will come from you, the American people."
In spite of his concerns about the Biden administration's agenda, Scott shared his belief that "our finest hour has yet to come." ... "Original sin is never the end of the story, not in our souls and not for our nation. The real story is always redemption."
Scott ended his remarks by quoting from the Christian worship song "The Blessing," which was inspired by several passages in the Bible: "May the Lord bless you and keep you … make his face shine upon you and be gracious to you. May His presence go before you and behind you and beside you, in your weeping and your rejoicing. He is for you. May His favor be upon our nation for a thousand generations and your family and your children and their children."
Scott is widely seen as a possible contender for the Republican presidential nomination in 2024. A straw poll taken at the Conservative Political Action Conference, an annual gathering of grassroots conservative activists, found Scott polling at 1% in a hypothetical Republican primary field that included former President Donald Trump. In a hypothetical scenario where Trump was not seeking the Republican nomination, Scott also polled at 1%.