Hero Cop Rape Charge: Richard DeCoatsworth, Hero Invited to Sit With Michelle Obama, Arrested (VIDEO)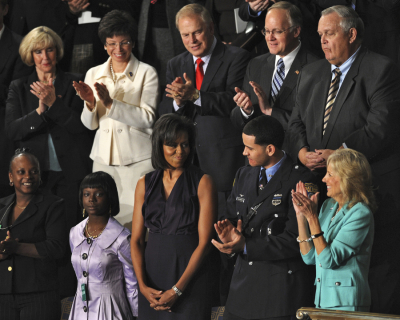 A "hero cop" has been arrested on a rape charge as well as other crimes, according to reports out this weekend.
Former Philadelphia police officer, Richard DeCoatsworth, had previously been hailed as a hero and was given a seat next to First Lady Michelle Obama at a speech by the president. However, he has now taken a dramatic fall from grace, and has been arrested and charged for rape.
DeCoatsworth is alleged to have left a party with two females on Thursday and gone with them to a separate location. However, once there he is accused of producing a handgun and forcing " the two females to engage in the use of narcotics and sexual acts."
After the alleged brutal attack the two women called 911, and DeCoatsworth was later arrested for rape, sexual assault, terroristic threats and other related offenses.
The dramatic arrest is a far cry from previous reports that had hailed the officer as a hero for his bravery.
DeCoatsworth was shot in the face during a routine traffic stop in September 2007, but despite his bloody injury he pursued the shooter. The attacker was eventually caught and sentenced to between 36 to 72 years in prison.
Following that attack, DeCoatsworth was invited by Vice President Joe Biden to attend President Barack Obama's televised address to Congress in 2009. DeCoatsworth was given the privilege of sitting next to the first lady, and at the time he admitted that it was an honor that he would always remember.
DeCoatsworth retired from the police force two years later in December 2011 claiming disability.
Authorities did not release too many details on the alleged attack this weekend, saying that their priority was to protect the victims and the integrity of the investigation, which was still ongoing.
Here is a video news report into the arrest of Richard DeCoatsworth:
Hero Police Officer Kidnaps & Rapes 2 Women, Richard DeCoatsworth