High School Forces Christian Valedictorian to Remove References to Jesus, Faith From Speech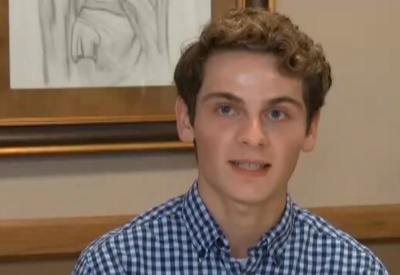 Officials at an Illinois high school who forced their Christian student valedictorian to remove references to Jesus, God and his faith from his speech may soon be facing a lawsuit after First Liberty Institute, one of the nation's top religious liberty law firms, decried the move as a violation of the student's constitutional rights.
"The most important thing in your life is to find ... intimacy with God," Sam Blackledge, the 18-year-old valedictorian of West Prairie High School in Sciota, wrote in his prepared remarks for his graduation on Saturday, according to KVFS12. "As you search for goodness, justice, love and forgiveness, know that only God is big enough to provide that for you."
He said he turned in a copy of the speech to school officials on Saturday afternoon but ten minutes before his graduation ceremony, school administrators reportedly told him to remove all references to God from his speech and warned him not to discuss his faith.
Sam, who has a 4.0 grade point average, told Fox News that he told school officials that he wanted to share with his fellow classmates how his relationship with Christ impacted his life. But "the principal told me it wasn't appropriate for the setting."
School officials were worried, he said, that the audience at the graduation would think he was speaking on behalf of the school district. When he offered to include a disclaimer with his speech, however, the school rejected it and left him devastated.
"I never felt that feeling before," he said. "It was terrible. I felt like I wanted to cry. I had basically — for months — I knew I wanted to talk about Christ in my graduation speech. For that to be taken away ..."
He further told KVFS12: "There's always people out there that will go against what I have to say, and nobody always agrees, but I believe this is the truth. It's impacted my life, and I wanted to share the hope of Christ with others."
Jeremy Dys, a lawyer with the nonprofit religious freedom firm First Liberty Institute who has taken on Blackledge's case, said what the school did was a violation because the valedictorian's speech is protected by federal law.
"They actually violated the Constitution. They'd do well to remember, as 'Tinker v. Des Moines,' the case in 1969, reminds us, that students do not shed their constitutional rights when they walk through the schoolhouse gates," Dys told KVFS12. "The Department of Education, by the way, puts out guidelines on this every single year, and it's very clear in those guidelines that student speeches like Sam's are protected by the First Amendment."
As news about what the school did has spread, many have taken to the school's Facebook page to lambaste administrators.
"It's amazing how people clamor for something to prevent mass shootings, even at a music awards ceremony, but when something happens which is actually right with the world, you would be quick to snuff that light out. The young man earned his right to speak, and be heard. You had no right to break him like that. Our forefathers would be turning in their graves. Don't complain that society is collapsing, when the solutions are right in front of you, yet you ignore them," wrote John Accomando.
Dys said in addition to violating Sam's constitutional right, school officials ruined a day that was supposed to be special for him.
"These school officials ruined the only high school graduation Sam will ever know," Dys told Fox News. "How many more graduations have to be ruined before school officials will learn that the First Amendment protects student remarks at graduation?"
In a copy of Sam's original speech published by The McDonough County Voice, he talked about the cross of Jesus Christ.
"The Cross of Christ shows us our own evil hearts that we would put an innocent man up to die. Christ came to show us God's justice in dealing with the unfairness of the world. The Cross demonstrates to us the very love of God who died in our place and how we find at the end of the day that without his forgiveness we would never make it. Graduates, I hope your life is devoid of evil, full of justice, full of love, and full of forgiveness. I think our parents however, could attest that trying to manage this on our own is more than difficult," he wrote.
"The most important thing in your life is to find that intimacy with God. He will guide you, he will hold you, and he will take you through safely in your journey. As you search for goodness, justice, love, and forgiveness, know that only God is big enough to provide that for you. Thank you, Class of 2018, it's been real, it's been good, it's been real good," he ended.