Philly Student Uncomfortable Sharing Bathrooms With Opposite Sex Told to 'Tolerate It,' 'Make It as Natural as Possible'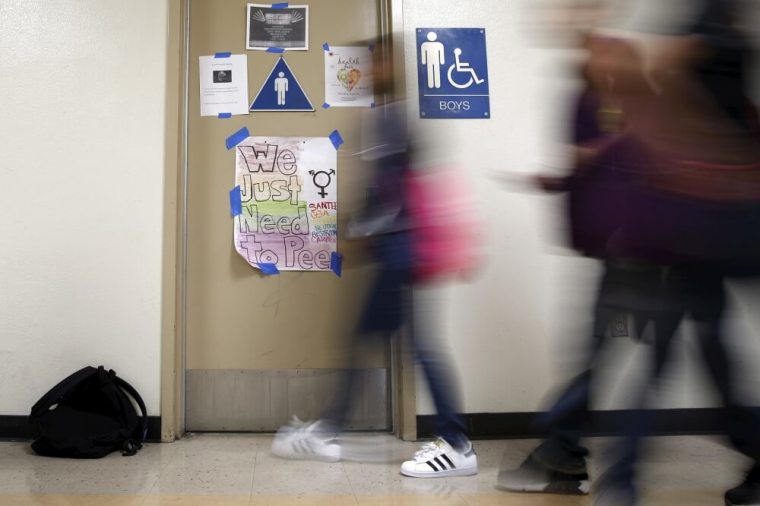 A Philadelphia high school student who was required to share bathrooms with members of the opposite sex was reportedly told by a school administrator to "tolerate it" and "make it as natural as possible."
"It's amazing to think that one quick trip to the bathroom can change your life," the student, Alexis Lightcap, began an op-ed for The Inquirer, published on Thursday.
"I was a junior in high school when I ducked into the girls' room at school one day to find ... a boy. I froze. Three years at this particular school, and that had never happened to me before," she explained.
"The girls' bathroom had always been the girls' getaway place — a place for privacy, mostly, but also a little refuge — a place to get away from boys, maybe talk about boys, but not meet boys."
The scene occurred at Boyertown Area Senior High School, and concerns the Doe v. Boyertown Area School District case of parents and students protesting against the district's decision to allow male-born students who identify as females into girl's bathrooms, and vice versa.
Lightcap writes that she told a teacher, and then the principal about what happened, but staff did nothing to adress her concerns.
"I soon found out I wasn't the only one caught off guard by this new, 'open door' policy. A boy at our school was in the middle of changing clothes in the boys' locker room when he looked up to see a girl changing her clothes nearby," she said, referring to the other plaintiff in the lawsuit in question.
"Movies and TV try to make that sound funny or sexy, but that's not how it feels when it happens to you. It's just embarrassing, awkward, and uncomfortable."
Lightcap said that although she and the boy, referred to by the pseudonym "Joel Doe," both told school officials about their separate experiences, the administrators "really didn't care about our concerns."
"The administrator he talked to just told him to 'tolerate it' — to 'make it as natural as possible.' How do you make something as unnatural as that 'natural?' How natural would you feel, having someone of the opposite sex standing next to you — or your child — while you change clothes or go to the bathroom?" Lightcap asked.
The student insisted that the school should have told parents and students about the change to bathroom policy so that they would be prepared. She explains that she signed on as a co-plaintiff to the lawsuit because the school continued refusing to respond to her concerns.
The lawsuit has so far been unsuccessful, however, and the plaintiffs are considering their next step after a federal appeals court sided with the school district.
The American Civil Liberties Union of Pennsylvania, which has intervened in the case, has argued that the school district is doing its best to respect the rights of transgender students.
"Policies and practices that support transgender students are absolutely crucial to promote the best outcomes for children," said last year Mary Catherine Roper, deputy legal director of the ACLU of Pennsylvania.
"We're hopeful that this sends another signal to schools in Pennsylvania and around the country that they need to implement policies that respect students' gender identity," she added, following another federal court decision in favor of the school at the time.
During the administration of President Barack Obama, schools were warned that they could be charged with sex discrimination under Title IX if they segregated bathrooms based upon biological sex rather than gender identity, a controversial policy that was rescinded under President Donald Trump.  
Still, Lightcap argued that despite what the media portrays, students with objections to new bathroom policies are not "bigots" or "religious extremists."
"I guess it's always easier to label people than to think about where they're coming from," she argued.
"I don't have a problem sharing a bathroom with someone who identifies as transgender — provided they are the same sex I am," she added.
"I do have trouble with a policy that says anyone who's in an opposite-sex mood today can stroll in and observe me in my intimate moments — and with school officials who value the feelings of a few students more than the dignity and privacy of all those in their care."