Republican Gov. Phil Scott Signs Vermont Gender-Neutral Bathroom Bill Into Law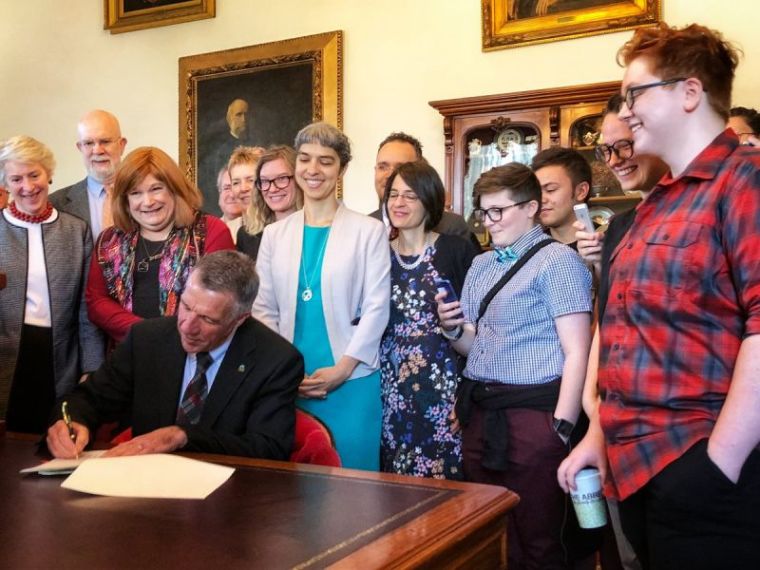 Calling it "important for kids in school," Republican Gov. Phil Scott of Vermont signed a bill, H.333, into law on Friday requiring all public single occupancy restrooms in that state to be gender-neutral.
"Two years ago, when I was running for governor, I was asked in a debate whether I would support gender-neutral bathrooms in public places or not," Scott said during a bill-signing ceremony at the Vermont Statehouse in Montpelier Friday. "I just responded with a one-word answer, a simple yes. Because to me it was just that simple. Why wouldn't we do that? And now two years later I am honored to be able to sign that legislation into law today."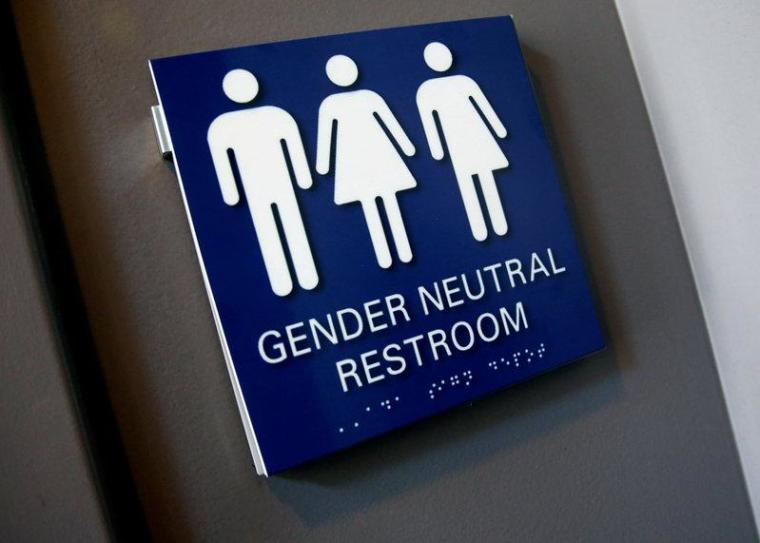 Surrounded by members and advocates of the LGBTQ community, Scott said he knew it was the right thing to do after listening to those affected by the absence of gender-neutral bathroom signage particularly in schools.
"In speaking with Vermonters in the LGBTQ community, I've learnt more and more about what this bill means to you. For many transgender and gender non-conforming Vermonters, having single stalled bathrooms labeled 'male' or 'female' creates social stress and discomfort, or instances where you face hostility and mistreatment including verbal and emotional abuse," he said.
"And I understand this is especially important for kids in school who face anxiety and bullying over something as simple as using the restroom. Treating others this way is not who we are as Vermonters and I hope that signing this bill will send a powerful message that that's not the way we act," he added before going on to tout Vermont's history of progressivism.
Supporters of the bill welcomed Scott's decision as a pushback against the Trump administration's rescinding of Obama-era joint guidance issued by the departments of Education and Justice in May 2016, directing schools to allow transgender students to use bathrooms that corresponded with their gender identity.
The guidance addressed to school districts and colleges that receive federal funding, was based on the Obama administration's interpretation of the federal Title IX law, which bans sex discrimination in schools, to include gender identity.
In rescinding the Obama-era guidance, the Trump administration charged that it did not "contain extensive legal analysis or explain how the position is consistent with the express language of Title IX, nor did they undergo any formal public process."
"This interpretation has given rise to significant litigation regarding school restrooms and locker rooms. The U.S. Court of Appeals for the Fourth Circuit concluded that the term 'sex' in the regulations is ambiguous and deferred to what the court characterized as the 'novel' interpretation advanced in the guidance. By contrast, a federal district court in Texas held that the term 'sex' unambiguously refers to biological sex and that, in any event, the guidance was 'legislative and substantive' and thus formal rulemaking should have occurred prior to the adoption of any such policy," the Trump administration said in their Feb. 2017 rollback.
Officials further noted that states and local school districts should be involved in establishing educational policy, not the federal government. Schools were advised however that the withdrawal of the Obama administration's directive did not leave students without protections.
"Please note that this withdrawal of these guidance documents does not leave students without protections from discrimination, bullying, or harassment. All schools must ensure that all students, including LGBT students, are able to learn and thrive in a safe environment. The Department of Education Office for Civil Rights will continue its duty under law to hear all claims of discrimination and will explore every appropriate opportunity to protect all students and to encourage civility in our classrooms. The Department of Education and the Department of Justice are committed to the application of Title IX and other federal laws to ensure such protection," the departments said.