Hillary Clinton Calls Bible 'The Living Word;' Impresses South Carolina Pastor With Knowledge of Scripture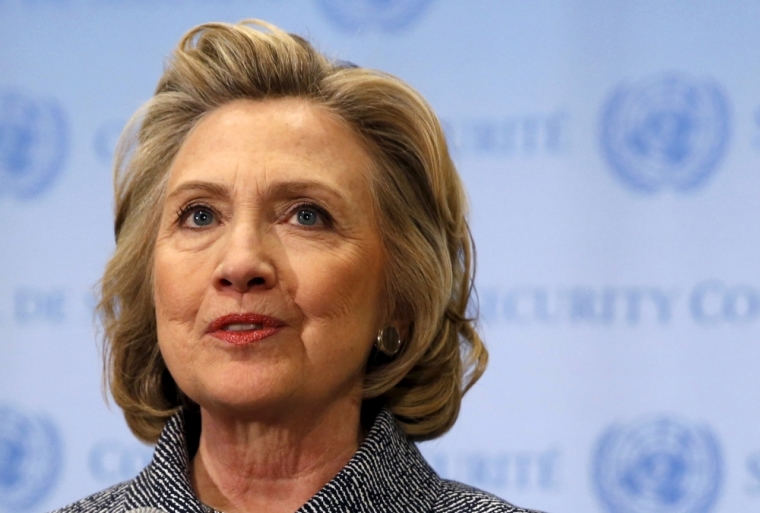 In an impromptu conversation with a local pastor at Main Street Bakery in Columbia S.C. yesterday, Hillary Clinton calls the Bible "the living Word" and impressed a local pastor with her knowledge and command of scripture.
CNN first reported the story of Rev. Frederick Donnie Hunt's encounter with Clinton. He was asked by the presidential candidate what he was studying in his Bible. Hunt replied 1 Corinthians 13, and Clinton responded, "Oh I know it well."
The former First Lady and Secretary of State then recited 1 Corinthians 13:4, the well known verse about love, from memory — "Love is patient, love is kind. It does not envy, it does not boast, it is not proud." Clinton's biblical knowledge made an impression on the local assistant minister of Columbia's First Calvary Baptist Church.
"You're doing what is the most important thing to do, it's continuing to study and learn what the scripture says and what it means," Clinton told Hunt. "I have a preacher friend who sends me scripture and devotionals, sometimes mini-sermons every day."
Hunt responded to Clinton that you "always learn something when you read it again and inspect it." And Clinton replied, "Well, it's alive. It's the living Word."
Hunt, a Democrat and former Barack Obama voter, told CNN's Dan Merica in a phone interview that "I was impressed and glad that she knew the scripture that I was reading and studying at the time.
"It impressed me that someone running for president has that background. It is important to me that we have a president that has some belief," Hunt added.
Hunt is now backing Clinton's bid for the White House.
CNN reported that Clinton told Hunt that she recently finished reading the book Walking the Bible, a popular book about one man's journey retracing the five books of Moses.
Clinton also told the pastor that a trip her and her husband, former President Bill Clinton, took to the Holy Land in the early 80s was a "peaceful" and "meaningful experience."
Last month, The Christian Post published, "6 Interesting Facts About Hillary Clinton's Christian Faith."
Clinton, a lifelong United Methodist, has written and spoken about being heavily influenced by her youth group leader Donald Jones at the First United Methodist Church in Park Ridge, Ill. The liberal United Methodist youth group influenced her "leftward" political trajectory says retired author and UM theologian Thomas C. Oden. 
"Don opened up a new world to me," Clinton declard in 2009 interview "and helped guide me on a spiritual, social and political journey of over 40 years."
Last year, she addressed the United Methodist Women's Assembly in Louisville, Ky, where she stressed the importance of largely social justice themes during her remarks.
During her tenure as First Lady, the Clinton's frequently attended Foundry United Methodist Church in D.C., a Methodist congregation and church known for its social and theological liberalism. Paul Kengor, a professor at Grove City College, published God and Hillary Clinton: A Spiritual Life in 2008. Clinton officially announced her second bid for the White House in April.
Last month, Clinton angered some religious conservatives when she said "deep-seated cultural codes, religious beliefs and structural biases have to be changed" in order to expand greater access to abortion.
The South Carolina race is known as "The First in the South" primary for both the Democrat and Republican parties. Almost 85 percent of South Carolinians identify as Christian.