Hillary Clinton Still Backpedaling on Calling Planned Parenthood Images 'Disturbing;' Says Abortion Provider Offers 'Life Saving Care'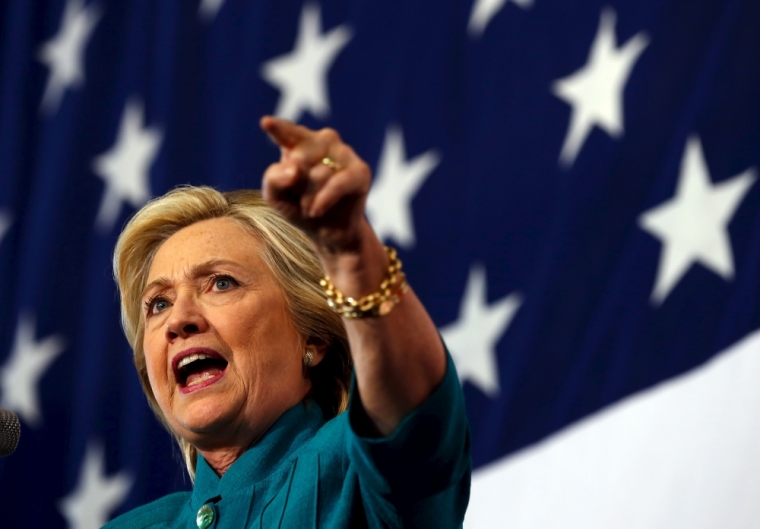 Still backpedaling from calling Planned Parenthood images in undercover videos "disturbing," Democrat presidential frontrunner Hillary Clinton released a new video pledging full support for Planned Parenthood.
The video shared by both the Clinton campaign and Planned Parenthood Monday, argues, accompanied by a soundtrack of somber music, that politicians trying to strip the popular abortion provider of federal funding is an attack on "lifesaving care."
"If this feels like a full-on assault on women's health, that's because it is," declared Clinton. "When politicians talk about 'defunding Planned Parenthood,' they're talking about blocking millions of women, men, and young people, from life-saving preventive care," she added.
Clinton blamed Republican presidential candidates Scott Walker, Rick Perry, and Jeb Bush for attacking Planned Parenthood during their governorship's of their respected states. She called the attacks "not new," but merely "more of the same," urging protections for "safe and legal abortions."
The Christian Post recently covered the story of Clinton previously calling images from undercover Planned Parenthood videos "disturbing," but now she is asking citizens to join her campaign to protect the embattled organization.
A vote to strip Planned Parenthood of federal funding failed to muster the 60 votes needed to pass the bill in the U.S. Senate. Republican leadership in the Senate retains the right to reintroduce the bill or make Planned Parenthood funding a part of this year's budget reconciliation process.
In a statement shared with CP, Live Action President Lila Rose called for an end to the government subsidy of the abortion organization.
"Those Senators who voted against defunding Planned Parenthood of our tax dollars yesterday must face this inconvenient truth head-on," declared Rose, "despite the abortion giant's thousands of dollars in contributions to their individual campaign coffers, slick advertising, and veneer of caring about women's health, Planned Parenthood perpetrates the wholesale killing, dismemberment, and profiteering from the broken bodies of our nation's preborn children, all while receiving over 500 million dollars a year in tax money."
The Center for Medical Progress released a new video Tuesday depicting possible new evidence of abortion procedures being altered to meet demands from tissue and organ harvesting companies. Federal law prohibits altering abortion procedures to harvest aborted baby tissue and organs. Planned Parenthood has consistently denied that they are harvesting baby parts for profit, but have not addressed The Center for Medical Progress's accusation that the organization alters abortion procedures for, as one Planned Parenthood official put it in the video, "more intact specimens."
The White House also defended the organization Monday on CNN. Anchor and analyst Jake Tapper interviewed White House spokesman Josh Earnest, questioning his continued language of calling the videos "highly selectively edited." Tapper reminded Earnest that the whole unedited version is available for viewing, a statement brushed aside by the White House during the interview.
Earnest said he "will continue to rely on news reports" that "raise significant questions" about "the credibility" of the videos. At the end of the segment, Tapper suggested to Earnest that "somebody at the White House should maybe watch the videos in full."
Many conservatives and pro-life activists continue to complain that media coverage of Planned Parenthood has been light, given some of the controversial content of potentially illegal harvesting of aborted baby organs depicted in the undercover videos.