Hillary Clinton Suspends Campaign to Find Missing Pantsuit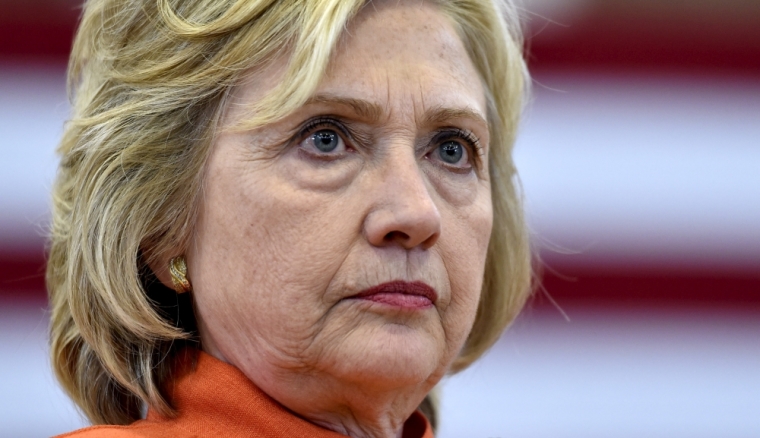 Democratic presidential primary contender, and expected heir apparent to the presidential throne, Hillary Rodham Clinton has suspended her campaign in order to search for one of her most cherished items: a pantsuit.
Fresh off a critically-acclaimed debate performance, the former first lady, former U.S. senator, and former secretary of state announced Wednesday that her campaign will be temporarily suspended in order to find the crucial clothing item.
"It is with great displeasure that I must temporarily suspend my inevitably victorious campaign in order to find my prized piece of clothing … y'all," said Clinton with a sudden southern twang that vanished just as quickly as it had appeared.
"Once my precious two-piece clothing is located and safely returned to me, I vow to return to my long, drawn out coronation process."
Details are not abundantly clear, as Clinton has deleted most of them, but from what can be gathered, the pantsuit disappeared some time earlier this month.
The tangerine orange pantsuit in question is one that holds great significance for Clinton, having worn the garment into battle on several occasions.
Off-the-record comments from some of Clinton's inner circle have implied that the pantsuit also included several important items stitched into its fabric.
These include pocket notes meant to assist Hillary in delivering the proper emotions for each occasion in front of a camera.
Implemented by the same campaign staff who recently encouraged her to show more emotion, without these notes it is feared that Clinton might display the wrong artificially-induced emotion during future interview questions.
"We're really worried about finding that pantsuit," said one exasperated campaign staffer on the condition of anonymity.
"I mean, do you really think she has the ability to convey normal human emotions when normal humans would convey them? Between you and me, I don't think she even has emotions!"
In response to the disappearance of the pantsuit, House Republicans have released a joint statement offering assistance to their ideological opponent.
"We feel very sorry for Ms. Clinton's situation and are expressing our willingness to help in any way possible," stated one Republican, representing the group.
"We believe that the answer to its location lies in the deleted and redacted emails Clinton sent and received during her time as secretary of state. If Ms. Clinton would let us search that correspondence with a fine tooth comb, I guarantee we'll have her orange jump suit — er — pantsuit back to her in no time."
One Clinton staffer has alleged that a "vast rightwing conspiracy" has caused the disappearance of the pantsuit, knowing that it would result in this much fallout.
"This is totally the doing of Faux News as part of their War on Women," claimed the staffer when asked for clarification. "They just hate women … and black people … and immigrants … and everyone. Basically everyone."
While no evidence has surfaced of foul play, the staffer's claim will be the primary source for a lengthy article on The Huffington Post and an hour-long special report by MSNBC.
With the Clinton campaign temporarily suspended, Sen. Bernie Sanders has become the frontrunner for an electorate still wondering why Vice President Joe Biden hasn't yet jumped in.
WARNING: THE ARTICLE ABOVE IS A WORK OF SATIRE. PLEASE SHARE RESPONSIBLY.