Hindu Extremists Attack Cathedral in India, Smash Down Doors and Windows, Accuse Christians of Conversions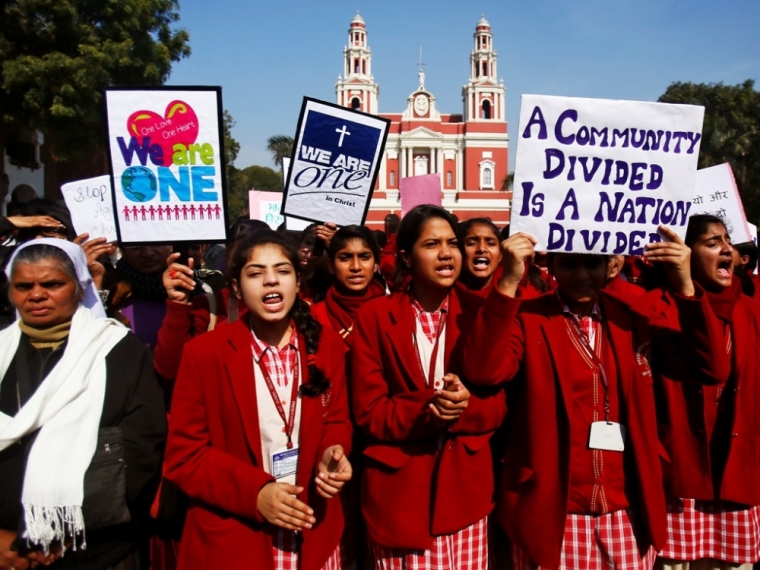 Six people have been arrested after a group of Hindu extremists attacked a cathedral in central India, breaking down doors and smashing windows. The attack, which was caught on CCTV cameras, was aimed at Christians who are being accused by the extremists of converting people into Christianity.
"We arrested six men last night in connection with the vandalism. We are trying to identify more people ... there may be more arrests," senior state police official HC Mishra said, according to AFP.
The attack on the cathedral in Madhya Pradesh state apparently took place on Friday night, police said. The right-wing Hindu Dharma Sena group has accused the church of converting close to 200 local tribal people into Christianity, though it has denied involvement in the attack.
Christian churches and groups in India have routinely faced attacks by Hindu extremist groups that accuse them of converting Hindus to Christianity. Violent attacks on churches have continued throughout the leadership of the Hindu nationalist Bharatiya Janata Party, which won the country's elections in 2014.
Prime Minister Narendra Modi has promised to crack down on religious violence, but reports of such attacks have continued on a regular basis.
Earlier in March, a 71-year-old Indian nun was gang raped inside a Catholic missionary school in West Bengal. The men accused of attacking the nun ransacked the school, ripped apart a Bible, and destroyed a bust of Jesus. The nun, who was taken to hospital, has since said that she has forgiven her attackers.
Attacks have also been reported in several other towns and states, including in the capital of New Delhi.
Persecution watchdog group Open Doors lists India as 21st on a list of countries where Christians face the most persecution. The nonprofit told The Christian Post in January that despite the government's attempts to join the ranks of the most powerful and influential nations in the world, India continues to have a very poor religious freedom record.
"This year, and during the reporting year, India has become a more dangerous place for Christians, largely because Hindu extremists seem to think that the new government there will give them impunity when they attack Christian churches. The episodes of violence there from extremists are on the rise," Open Doors CEO David Curry told CP.
Certain government laws, such as financial benefits available only to "dalits," the lowest caste system, have also forced millions of Christians to choose between their faith and receiving those benefits.
International Christian Concern noted in December that close to 25 million dalits in India have converted to Christianity, but are unable to access the government benefits if they do not revert back to identifying as dalits within the Hindu system.